French bread pizza is one of the fastest, easiest ways to get homemade pizza on the table. It's nostalgic for adults and cheer-inducing for kids, and this (budget-friendly!) homemade version far exceeds the kind from the freezer aisle. It's extra cheesy, a little messy and only needs a handful of ingredients to come together: It's comfort food at its best. We should all be eating more French bread pizza.
One of the best parts of French bread pizza is that the ingredient list is short. For starters, you'll need a loaf of soft French or Italian bread (more on that below). It doesn't need to be fancy -- whatever's in the bakery section of your local grocery store is probably perfect. Grab garlic, a can of pizza sauce, some shredded mozzarella, Parm and fresh basil and you're good to go. If pepperoni is your thing (or you have another favorite topping), get that too. Heat up the oven, and you're in business.
Making French bread pizza isn't hard; you barely need a recipe. However, there are a few tricks to know if you want to make the best French bread pizza possible.
Soft bread is key. Now is not the time to bust out a delicious-looking crusty baguette -- unless you want to scrape your mouth on every bite. A French or Italian loaf that's soft and squishy is what you're after. It doesn't need to be super fresh, either, so feel free to grab a day-old loaf that's on sale.
Flip the bread over and press down. I gleaned this tip from Serious Eats. Pressing down on the sliced bread makes it nice and flat and easy to add toppings to. It also makes it easier to eat.
Toast and season the bread before adding toppings. You want the bread to soak up some of the sauce, but if it soaks up too much, it'll become soggy. To combat this, toast the bread first before topping it. Then add an extra layer of flavor by rubbing a garlic clove over the toasted bread.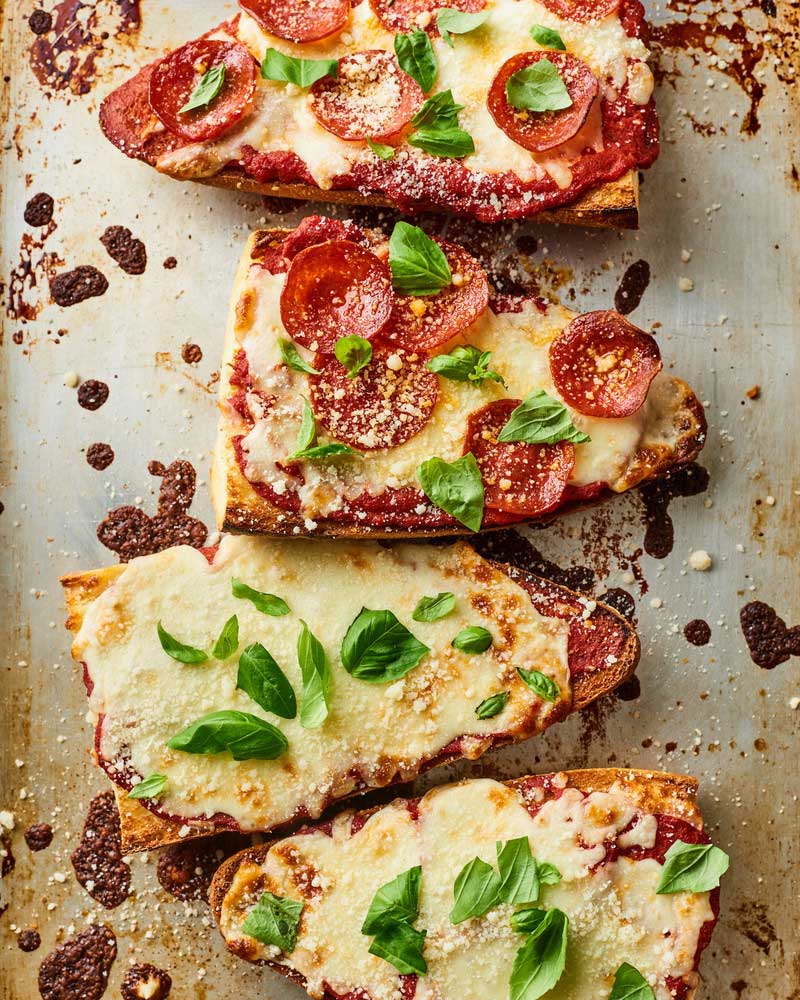 French Bread Pizza
Serves 4
Prep time: 5 minutes to 10 minutes
Cooking time: 15 minutes
1 (12-ounce) loaf soft French or Italian bread
1 clove garlic, peeled
3/4 cup pizza sauce, store-bought or homemade
1 cup shredded part-skim mozzarella cheese
1 cup other toppings: sautéed onions, sautéed mushrooms, pepperoni, cooked sausage, cooked bacon, diced peppers, leftover veggies, or any other favorite toppings (optional)
1/4 cup grated Parmesan cheese
2 tablespoons coarsely chopped or torn fresh basil leaves
Arrange a rack in the top third of the oven and heat the oven to 425 F.
Cut the bread in half crosswise with a serrated knife, then cut each half lengthwise so you have 4 pieces. Place the bread cut side down on a rimmed baking sheet and press down firmly and evenly with your hands until it's compressed by about half.
Flip the bread so that it's cut side up. Bake until lightly toasted, about 5 minutes. Remove from the oven and rub the cut sides of the bread all over with the garlic clove.
Spread the pizza sauce evenly onto the bread. Sprinkle with the mozzarella cheese and pile on additional toppings, if using.
Bake the pizzas until the cheese is melted and bubbling, about 10 minutes.
Sprinkle with the Parmesan and basil. Cut each pizza in half and serve immediately.
Storage: Leftovers can be stored in an airtight container in the refrigerator for up to 3 days.
This article is written by Sheela Prakash from The Kitchn and was legally licensed via the Tribune Content Agency through the NewsCred publisher network. Please direct all licensing questions to legal@newscred.com.