If you haven't yet tried overnight oats, you absolutely have to. This is a hearty and filling breakfast that isn't too heavy and that requires almost no preparation at all. You just soak equal parts oats and milk overnight, and in the morning, you have a cool bowl of plump oats waiting in the fridge.
I like to make a big batch of overnight oats and then layer it in jars with homemade jam for easy grab-and-go breakfasts all week long. A sprinkle of coconut on top makes it feel like a treat.
If you eat the oats at home, just stir the jam directly into your bowl -- this flavors and colors the entire bowl with jammy deliciousness.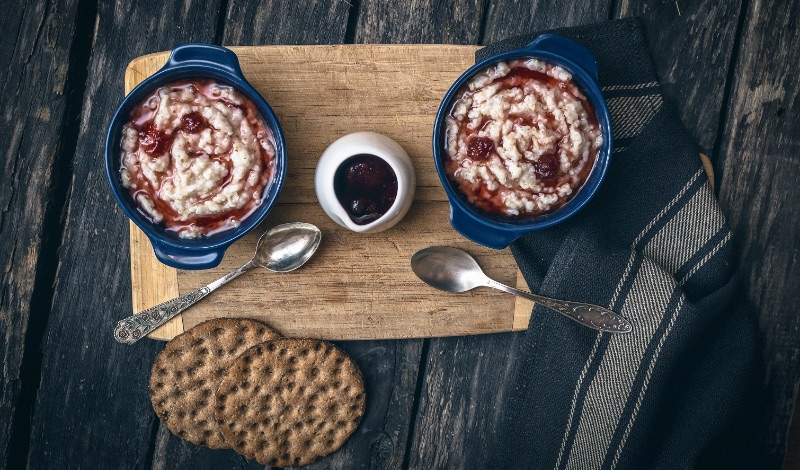 Overnight Oats with Jam and Toasted Coconut
Serves 4.
2 cups old-fashioned rolled oats
2 cups whole milk (or 2 percent milk, skim milk, nut or seed milk, or coconut milk)
1 cup jam
1/2 cup unsweetened coconut flakes, toasted (See recipe note)
In a large bowl (or other container with a lid), combine the oats and milk. Cover and store the container in the fridge overnight. The next morning, layer the soaked oats into jars with jam. Sprinkle the coconut on top. (For crunchier coconut, wait to sprinkle the coconut on top until you plan to eat the oatmeal.)
Recipe Notes
--To toast the coconut, toss shredded coconut in a dry skillet over medium heat until golden. Immediately transfer the flakes to a plate to cool. Alternatively, you can toast the coconut in a 350 F oven for a few minutes until golden.
--Get creative with your add-ins! Nuts and seeds are especially great -- you can soak them along with the oats or toss them into your breakfast bowl or jar before serving.
This article is written by Karen Biton-Cohen from The Kitchn and was legally licensed via the Tribune Content Agency through the NewsCred publisher network. Please direct all licensing questions to legal@newscred.com.