Grilled chicken is synonymous with summer grilling, both for family cookouts and weeknight meals. But chicken is also one of the harder proteins to grill, because the chicken's skin and even the barbecue sauce are prone to burning in the high heat of the grill.
I'm a grill aficionado, and I've burnt my fair share of chicken before figuring out a simpler, tastier way to grill it. This essential step-by-step method is perfect for first-time grillers or anyone who struggles to get delicious grilled chicken every time. Here's how to do it.
Which chicken pieces are best for grilling?
One of the things I love most about this method is that you can buy different cuts of chicken and cook them all at the same time. I often grill chicken breast for meal prep salads, extra drumsticks for my two kids, and flavorful thighs for eating with corn and salad. For the most part, I recommend bone-in, skin-on chicken for the grill, because both the bones and skin help keep the chicken from overcooking and becoming dry. You'll need about 3 pounds of pieces for this recipe.
You can also use this method for boneless, skinless chicken breasts, although the cook time will be slightly shorter. Use a thermometer to test for doneness rather than relying on time alone.
How do I prevent chicken from drying out on the grill?
To avoid dry chicken, we season with a dry brine and then cook the chicken over indirect heat first, which ensures that the chicken is done before the outside is burnished. These steps yield chicken that's incredibly juicy with crisp skin, even after you brush it with a baste or barbecue sauce.
The dry brine is a mix of salt and ground spices, including sumac. Sumac has a wonderful acidity, but if you can't find it, use the same amount of smoked paprika. If you can, season the chicken the night before you grill for added flavor.
What kind of barbecue sauce should I use for grilled chicken?
In lieu of barbecue sauce, I've fallen hard for a baste of honey mustard and apple cider vinegar brushed on during the last bit of cooking. But you could use the same technique -- diluting a bottled sauce with a bit of vinegar -- if you have a favorite barbecue sauce. Just be sure to add it toward the end of cooking, and brush it on intermittently, to prevent burning.
How long does it take to grill chicken?
Pieces of chicken cook at slightly different rates depending on the cut, their weight, and whether they are bone-in. Cook the chicken, covered, over direct heat for about 25 minutes, moving it around every 5 minutes to prevent flare-ups. Begin checking the internal temperature after about 25 minutes and move it over direct heat to finish cooking for 8 to 10 minutes for a total of 30 to 40 minutes cooking time.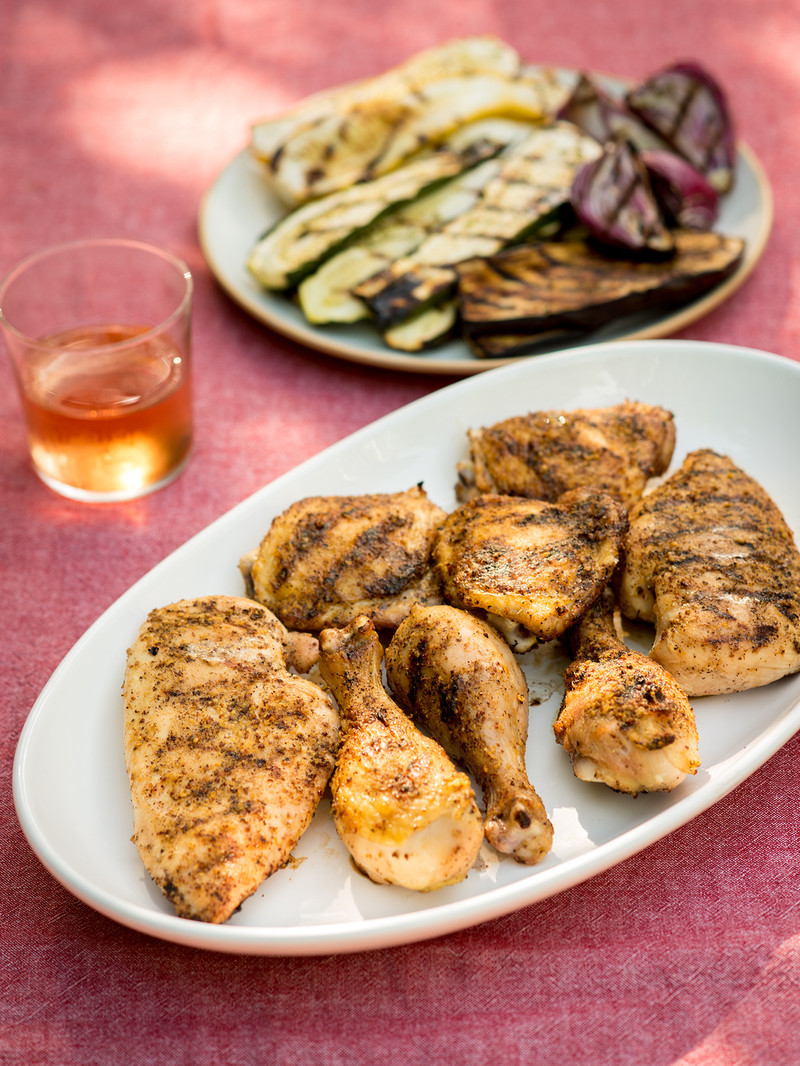 Grilled Chicken
Serves 6 to 8
2 1/2 teaspoons kosher salt
1 1/2 teaspoons garlic powder
1 1/2 teaspoons onion powder
1 1/2 teaspoons ground sumac or smoked paprika
3/4 teaspoon ground coriander
3 pounds bone-in, skin-on chicken pieces
Optional baste:
1/3 cup honey mustard
3 tablespoons apple cider vinegar
1. Season the chicken. Combine the salt, garlic powder, onion powder, sumac and coriander in a small bowl. Pat the chicken dry with paper towels. Season on all sides with the salt mixture; this can be done the day before, several hours in advance, or 30 minutes before cooking (refrigerate if salting for more than 30 minutes). Let sit at room temperature for 15 to 20 minutes while the grill heats. Meanwhile, make the sauce if using.
2. Make the sauce: Stir the ingredients together in a small bowl; set aside.
3. Heat the grill for both medium and high heat cooking. Heat a gas grill by either heating two of three or three of four of the heating elements to medium heat. Heat the remaining element to high. For a charcoal grill, light a full chimney of charcoal, arrange the lit coals on one half of the grill, and heat until the coals get white and ashy. For both kinds of grills, preheat about 15 minutes, until the temperature is 350 F to 400 F.
4. Grill the chicken covered over medium heat for 20 to 30 minutes. Scrape the grill grates clean if needed. Place the chicken on the cooler side of the grill (over the medium burners on the gas grill or the empty side of the charcoal grill). Cover and cook, flipping and moving the chicken around every 5 minutes, until the thickest piece registers 155 F on an instant-read thermometer. It will take 20 to 30 minutes depending on how thick the pieces are. The skin will be light golden brown with some darker spots.
5. Move the chicken to direct heat to crisp the skin, and baste if using sauce. Move the chicken to the hotter part of the grill. If basting, baste the chicken with the sauce. Continue to grill the chicken, flipping and basting every 2 to 3 minutes, until the skin is crisped and dark golden-brown, and the thickest piece register 165 F on an instant-read thermometer, 5 to 8 minutes more.
Recipe notes: The chicken can be seasoned up to 24 hours in advance. You can also use boneless, skinless chicken breast here; just be sure to use temperature to determine doneness, as boneless breasts will cook faster, 20 to 25 minutes of total time.
This article is written by Meghan Splawn from The Kitchn and was legally licensed via the Tribune Content Agency through the NewsCred publisher network. Please direct all licensing questions to legal@newscred.com.