If you're craving banana bread but don't have the patience for it to bake, look no further than banana bread pancakes. Fried in butter, drenched in maple syrup, and packed with banana flavor through and through, these pancakes provide instant gratification.
The ingredients in these pancakes mirror that of banana bread (flour, sugar, a leavener and mashed bananas), so they really do taste like the real thing. The batter also gets a touch of spice from cinnamon and clove and a rich, molasses-y flavor from brown sugar, making them perfectly sweet without tasting like dessert. And instead of adding fat directly to the batter, they're cooked in butter in the skillet, where they crisp up and soak in all its flavor.
3 tips for perfect banana bread pancakes
Before you head into the kitchen to make these pancakes, keep these tips in mind.
1. Start with very ripe bananas. These pancakes only have three tablespoons of brown sugar in them, so they rely on the bananas to provide most of the sweetness. You want your bananas to be bright yellow and spotty, but not brown all over. Avoid using green bananas, as they are too hard and not sweet enough.
2. Cook the pancakes undisturbed. After you add your batter to the pan and spread it out, leave it alone. You'll know that they are ready to flip once you see bubbles forming on the surface. If you attempt to flip them too early you risk ripping them apart, so be patient and give them enough time to set before messing with them.
3. Keep them warm in the oven. Because you'll have to work in batches, keep a sheet pan with a wire rack on it in an oven set to 250°F to keep the pancakes warm as you cook the second batch.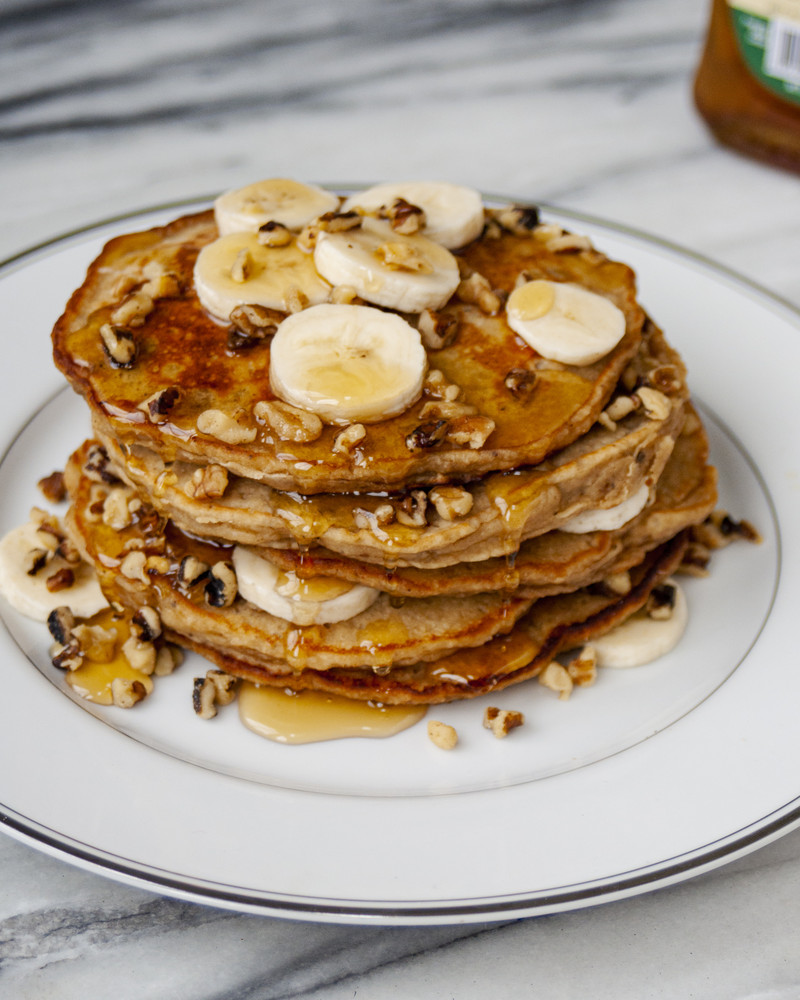 Crispy, Buttery Banana Bread Pancakes
Serves 3 to 4; makes 8 (4-inch) pancakes
For the pancakes:
2 very ripe large bananas
1 cup milk
1 large egg
2 teaspoons vanilla extract
1 cup all-purpose flour
3 tablespoons packed light brown sugar
2 teaspoons baking powder
1/2 teaspoon ground cinnamon
1/4 teaspoon ground nutmeg
1/4 teaspoon kosher salt
1/4 cup chopped walnuts
6 tablespoons unsalted butter, divided
For the topping:
Maple syrup
Chopped walnuts
Sliced banana
1. Mash 2 bananas in a large bowl with a fork until smooth (about 1 cup mashed banana). Add 1 cup milk, 1 large egg and 2 teaspoons vanilla extract, and whisk until combined.
2. Add 1 cup all-purpose flour, 3 tablespoons packed light brown sugar, 2 teaspoons baking powder, 1/2 teaspoon ground cinnamon, 1/4 teaspoon ground nutmeg and 1/4 teaspoon kosher salt. Stir with a rubber spatula until just incorporated but no dry spots remain. Stir in 1/4 cup chopped walnuts.
3. Heat 2 tablespoons of the unsalted butter in a large cast iron skillet, nonstick frying pan, or griddle on medium heat until melted. Drop 3 (1/4-cup) portions of the batter into the pan and spread out each portion into a 4-inch round. Reduce the heat to medium-low and cook until bubbles start forming on the top and the edges start to brown, 3 to 4 minutes. Flip the pancakes and cook until the bottoms easily release from the pan and are golden brown, 3 to 4 minutes more.
4. Transfer the pancakes to a warm oven or plate. Repeat cooking the remaining batter, wiping out the pan between batches and adding more butter between each batch. Serve immediately with sliced banana, walnuts and maple syrup.
Recipe notes: The pancakes can be refrigerated in an airtight container for up to five days or frozen for up to two months.
This article is written by Jesse Szewczyk, TheKitchn.com from The Kitchn and was legally licensed via the Tribune Content Agency through the NewsCred publisher network. Please direct all licensing questions to legal@newscred.com.