Tender, flaky salmon drenched in garlic butter is, hands down, the best thing to cook on your grill. It's exactly what you need to break up the tired cycle of burgers, chicken and hot dogs, and it's by far the easiest way to serve salmon to a crowd.
Salmon can be intimidating to buy and cook (especially a large side of it), but this smart technique is totally foolproof. That's right -- seasoning salmon with garlic, lemon and butter and wrapping it tightly in foil guarantees success every single time.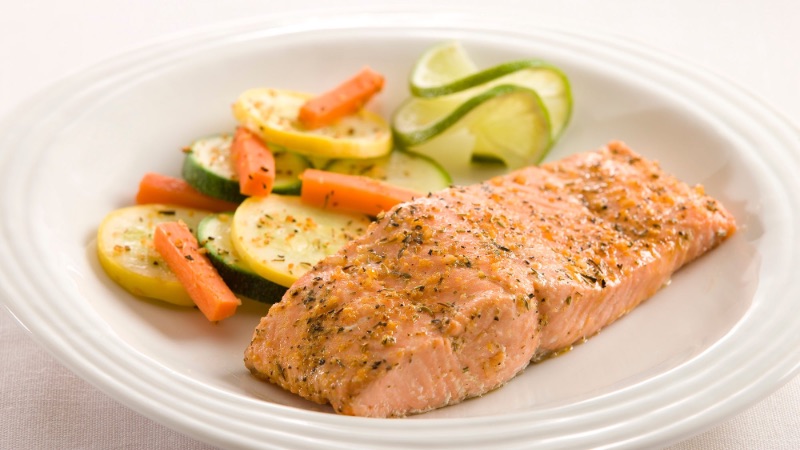 What is salmon in foil?
Salmon in foil is essentially a large-scale version of salmon en papillote, which is a fancy way of saying salmon "steamed in pouch." There are plenty of reasons to love pouch cooking, especially when it comes to fish: You can prepare it in advance, it's easy to grill or bake, it cooks evenly, and cleanup is a breeze.
What to look for when buying a side of salmon
Purchasing a whole side of salmon -- about 2 pounds and enough to feed a small crowd -- can feel more intimidating than buying individual fillets, but it's actually straightforward. Remember that color and smell are the best indicators of quality. Contrary to popular belief, farmed salmon is a perfectly fine option, as is frozen. When buying fresh salmon, the most important factor is that it's sustainably raised (your fishmonger will be able to tell you). If you opt for frozen salmon, be sure to purchase a Marine Stewardship Council-certified label brand.
You'll want the salmon to have a vibrant pink hue, and it should smell clean but not fishy. Ask the fishmonger to remove the scales and pinbones for you, which will get you one step closer to cooking when you get home.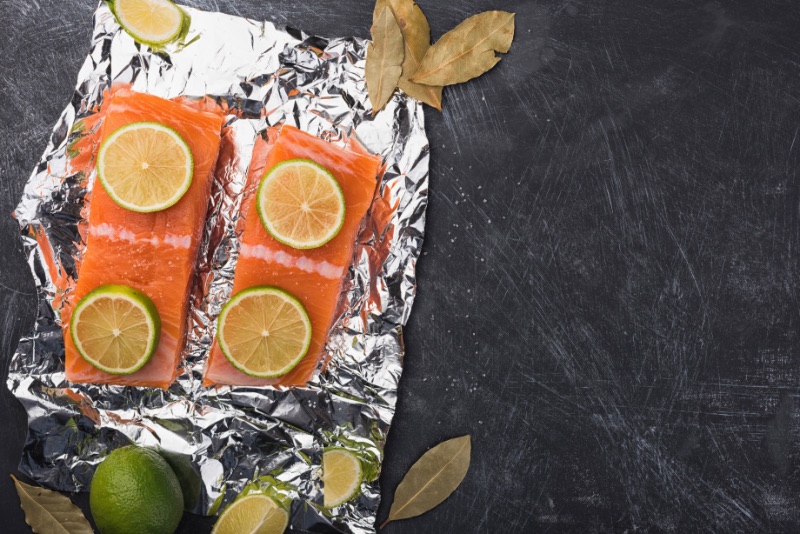 3 key steps for the best salmon in foil
1. Give the salmon a quick brine. The first step is to submerge the salmon in a salt-water brine, which both seasons the salmon and reduces the amount of white albumin that often cooks out of the fish. An hour of brining will give you time to chop the garlic and onions and heat the grill.
2. Make a large foil package. Your salmon needs some room inside its foil cocoon for air to circulate around it -- an 18-inch foil square should do it. If you've got a narrow roll of foil, don't hesitate to layer two or even three sheets of foil to make it wide enough.
3. Season the salmon, and layer on the butter. Once the salmon is brined and your packet is ready, pat the salmon dry and top with garlic, onions and lemon juice. Before closing up the packet, layer on thinly sliced lemons and pats of butter. Tightly seal the packet before taking it to the grill or sticking it in the oven.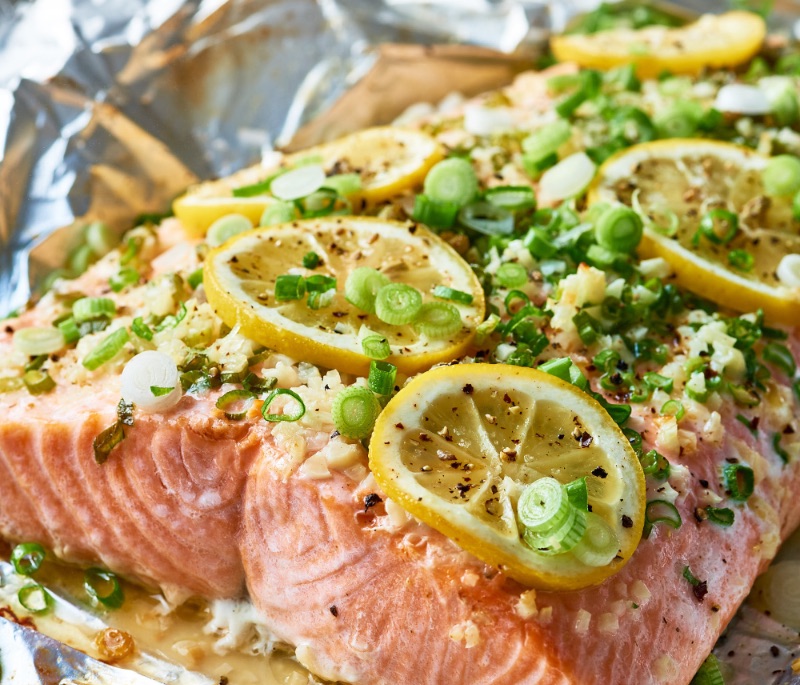 Garlic Butter Salmon in Foil
Serves 6 to 8
2 cups cold water
1 tablespoon kosher salt
1 (2-pound) side salmon, pin bones and scales removed
6 cloves garlic, minced
4 medium scallions, thinly sliced
2 tablespoons freshly squeezed lemon juice (from 1 lemon), plus 1 medium lemon, thinly sliced
4 tablespoons (1/2 stick) unsalted butter, thinly sliced
Soak the salmon in salt water for 1 hour. Place the water and salt in 13-by-9-inch baking dish, and stir to dissolve the salt. Place the salmon skin-side up in the brine. Cover and refrigerate for 1 hour. (This step will reduce the white film that comes from baking salmon in a packet.)
Season the salmon. Prepare a large piece of aluminum foil (about 18 inches by 18 inches). Remove the salmon from the brine and pat dry with paper towels. Place skin-side down on the foil. Sprinkle evenly with the garlic and scallions. Drizzle the lemon juice over the salmon.
Layer the butter and lemon on the salmon. Place the lemon slices and butter evenly over the salmon. Fold up two opposite sides of the foil over the center, then pinch them shut and roll them tightly to seal. Repeat with the remaining two sides to completely enclose the salmon in a foil packet. Place on a baking sheet for easy transfer to the grill.
Grill the salmon. Heat an outdoor grill for direct, medium-high heat. Place the salmon packet on the grill; cover, and cook for 15 minutes. Carefully open the packet, cover the grill, and continue to cook until the salmon is pink and registers 135 F, 5 to 8 minutes. Set aside to rest for 5 minutes before serving.
Recipe notes: If you are using an oven, bake the salmon packet on a baking sheet in a 375 F oven for 15 minutes. Carefully open the packet and continue to bake until the salmon is pink and registers 135 F, 5 to 8 minutes. Rest the salmon for 5 minutes before serving. Leftovers can be refrigerated in an airtight container for up to three days.
This article is written by Meghan Splawn from The Kitchn and was legally licensed via the Tribune Content Agency through the NewsCred publisher network. Please direct all licensing questions to legal@newscred.com.