One of the best breakfast lessons I've learned is that eggs and cottage cheese are a match made in heaven -- and the very best way to pack protein into your morning meal.
Cottage cheese pancakes and omelets are great for mornings when I have a little extra time, but when I'm in a hurry to get out the door, there's nothing better than a couple of egg muffins that I can eat on the go or at my desk. Made in advance, this portable breakfast is just as satisfying straight from the fridge as it is warm, and each one is packed with a double dose of cheese and vegetables for good measure.
Make-ahead egg muffins, any way you like 'em
The beauty of breakfast egg muffins is just how versatile they are. This version packs in a classic combo of broccoli and cheddar, but that's just one of many different options. Nearly all types of vegetables, cheese and meat are fair game; just be sure to keep the amounts constant, since the fillings are what give these muffins body and help them hold their shape.
Most vegetables can be shredded or finely chopped and added raw, such as onions, cauliflower, sweet potatoes, carrots, bell peppers and asparagus. Vegetables with a high water content, however (think: tomatoes, mushrooms, greens and zucchini) benefit from a quick saute first. Skip frozen vegetables here, since they hold a lot of excess water that makes them soggy.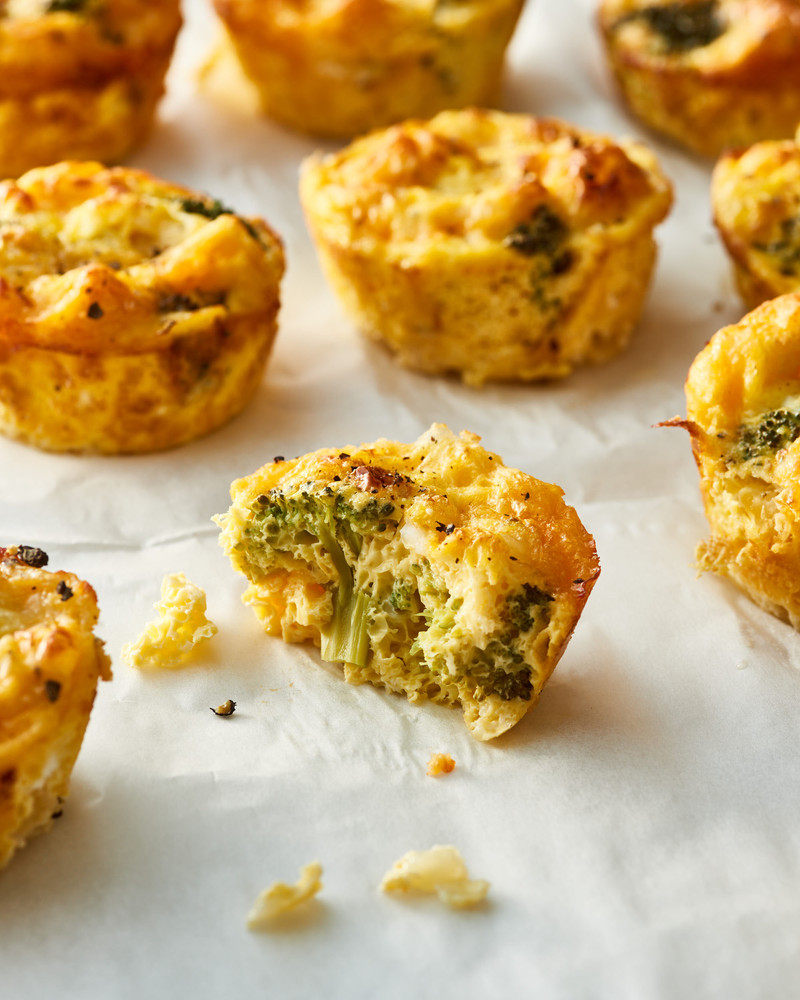 Egg Muffins
Makes 12 muffins
Cooking spray or olive oil
1 medium shallot, diced
1 1/2 cups finely chopped broccoli (about 1 small crown, about 4 ounces)
1/2 cup full-fat cottage cheese
1 cup shredded sharp cheddar cheese (2 ounces)
10 large eggs
1/4 cup whole or 2 percent milk
1 teaspoon kosher salt
1/4 teaspoon freshly ground black pepper
1. Arrange a rack in the middle of the oven and heat to 400 F. Generously coat a 12-well standard muffin tin with cooking spray or olive oil.
2. Evenly divide the shallot, broccoli, cottage cheese and cheddar between the muffin wells.
3. Place the eggs, milk, salt and pepper in a large bowl and whisk until the eggs are completely incorporated. Pour into the muffin wells, filling each 1/2 to 3/4 full.
4. Bake until the muffins are set and lightly browned around the edges, 12 to 14 minutes. Place the pan on a wire rack, and let cool for 2 to 3 minutes. Run a butter knife around each cup to the loosen the muffins before removing them from the pan. Serve warm, or cool completely on a wire rack before refrigerating or freezing.
Recipe notes: Refrigerate leftovers in an airtight container for up to three days, or freeze on a parchment paper-lined sheet pan. Once frozen, transfer to a freezer zip-top bag and freeze for up to three months.
This article is written by Kelli Foster from The Kitchn and was legally licensed via the Tribune Content Agency through the NewsCred publisher network. Please direct all licensing questions to legal@newscred.com.