What's the magic to Jonathan Waxman's legendary roast chicken? "There is actually zero magic," Waxman, chef at NYC's Barbuto, said point blank at the Food & Wine Classic in Aspen over the weekend. "There is no magic whatsoever." All you need is good sea salt and a good chicken.
Say what you will, Waxman, but when a whole room gathers together at a panel with Food & Wine Editor-in-Chief Hunter Lewis, who worked as a line cook at Barbuto once upon a time, to hear about said roast chicken, there's got to be more to it. Indeed, the Internet is full of tips and stories pertaining to said chicken. So, when we went to the panel, we took notes. Waxman's tips may be scattered across the Internet, but we collected all of his wisdom from the talk and laid them out all in one place.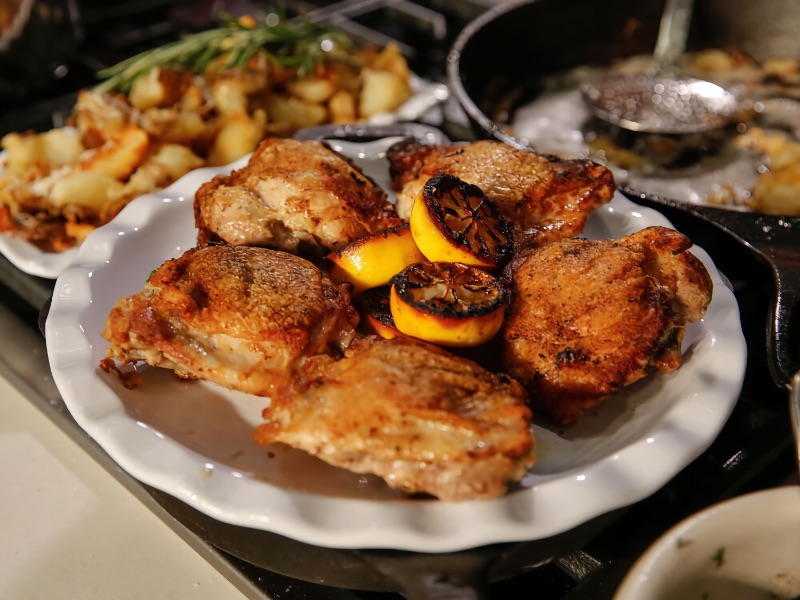 After all, as Lewis said, "Roasting a chicken is something that you should master as a home cook. It really showcases the quality of the chicken, quality of technique, and seasoning. You can't hide behind it."
Here, find step-by-step instructions on how to recreate Waxman's roast chicken at home, plus his thoughts on whether or not to wash a chicken, why he never uses tongs, and the mistake every single home cook makes when cooking chicken.
Start off with the right chicken. "There's so much nonsense about natural and free range. Experiment and just find what kind you like," Waxman says. "I'm anti-chicken wrapped in plastic. You get all that pink juice, it's so gross. But if you get a chicken in a plastic bag, wear gloves, and when you cut the bag open, do it over the sink and let all the juice dribble out, and then you wash the chicken in the hottest water you possibly can so you rinse off all that juice."
Do not thaw the chicken in the oven. "Everybody takes the chicken out of the fridge to thaw it in the oven. Bad idea. Bad mojo to do that." Leave it out at room temperature for an hour.
Next, break down your chicken. Cut right along the backbone with poultry shears and get as close to the backbone as possible. You can also use a chef's knife or cleaver. Then spatchcock the chicken.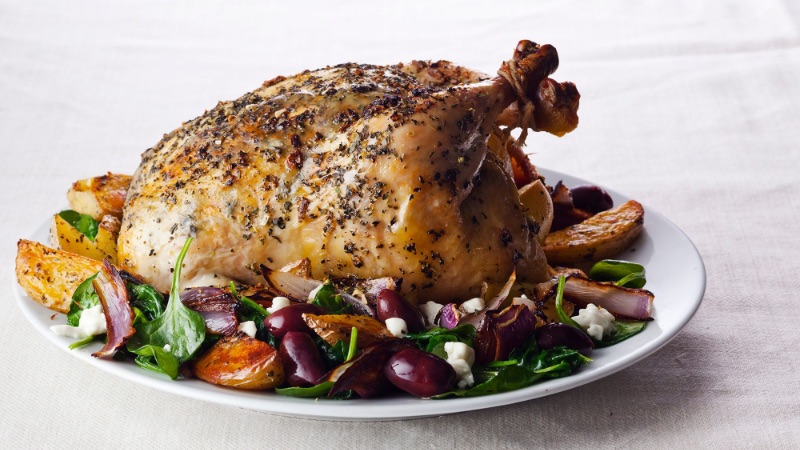 Get friendly with your salt-shaker. "If you're a home cook, season more than you think you should," says Lewis. "What separates a restaurant cook from a home cook is the amount of salt. Chances are, you're not using enough salt."
Show the chicken some love. "Give the chicken a massage," jokes Waxman. "[Then] season with freshly cracked pepper. Broadcast the pepper, because you don't want clumps of pepper getting into the crevices of the chicken."
Beware of overcooking. "This is the big mystery in life: How long does it take to cook a chicken? Generally, it takes between 10 minutes to 12 minutes [per pound]," Waxman said, a pronouncement which elicited stunned gasps from the ground. "Everybody overcooks chicken or they take it out before the skin is golden brown."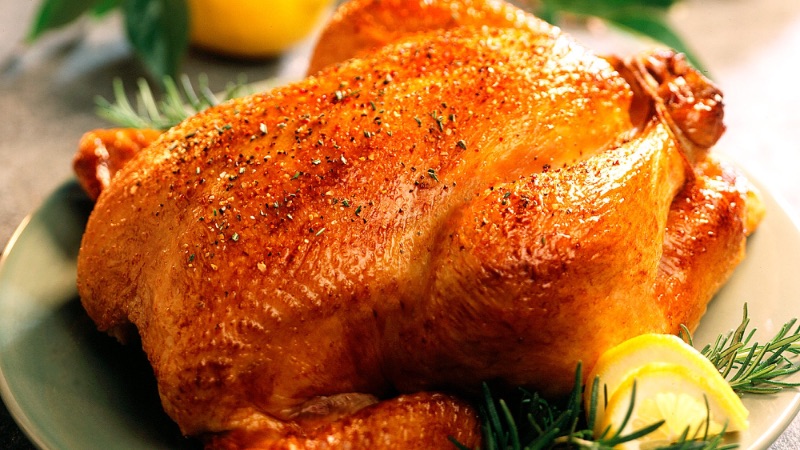 The one thing you can't forget to do. "The single most important thing for a whole roast chicken is to baste. But if you baste the chicken in the first 15 minutes, you're wasting your time. Have a cocktail and wait. When you're basting the chicken, the best thing to have is welder's gloves. Get two pairs of welder's gloves. Tilt the pan, take a spoon, and baste the chicken as often as you can."
Use a pan with extra room. "When you put the chicken in the oven, put it on its back. Put it in a pan so it can move around in," explains Waxman. "You want to be able to shake the chicken, so the skin doesn't get stuck on the pan."
Avoid using tongs. "What am holding the chicken with? A fork. If you use tongs, you rip the skin."
Save the schmaltz. "The [chicken fat and juices] that comes out of the chicken is liquid gold. Don't throw it away. It's better than bacon grease."
Don't want to roast a whole chicken? Cook the thighs, not the breast. "Chicken thighs are going skin side down almost the whole way. This is dead simple," Lewis explains. "Make sure the skin is dry. Chicken breast is fine, but chicken thighs and chicken wings have the best flavor. Thighs have the best skin to meat to bone ratio. Meat closer to the bone is the juiciest." Pan fry the thighs for 25 minutes first, then finish in the oven for another 25 minutes. Flip them over, then roast for 5 more minutes.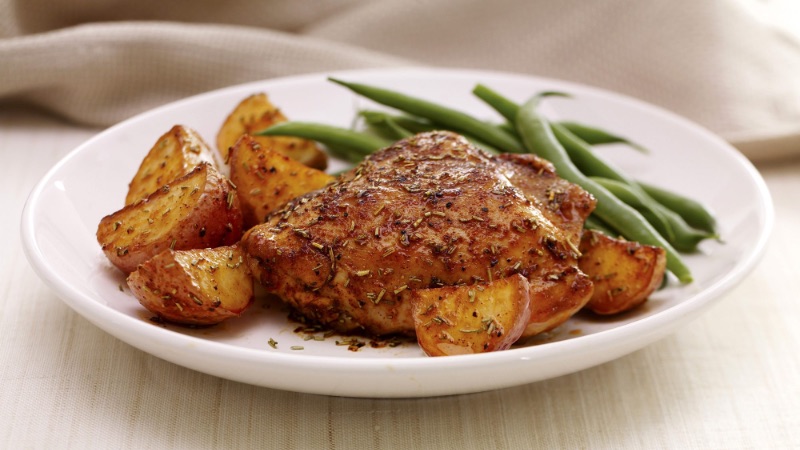 Skip the food processor. "Preferably [Waxman's salsa verde] should be made in a mortar and pestle. You need to have at least three mortar and pestles in your kitchen," advises Lewis. "When you're pounding the mortar and pestle, versus putting something in a blender, you're slowly coaxing out the flavor and the oils of the ingredients. One of the best tools in the kitchen."
Don't forget your side dish. Waxman says that potatoes take about 25 minutes to cook, and he suggests you make an aioli to dress them. A true aioli is just garlic, sea salt, and olive oil. Add two cloves of smashed garlic. Again, it's best prepared in a mortar and pestle.
The ideal cooking temperature isn't government approved. "Don't ever listen to the USDA," Lewis says. "Get a good chicken and don't cook it beyond 155 degrees."
Rest up! Once it's reached 155 degrees, you need to rest the chicken for at least 20 minutes.
This article was written by Elisabeth Sherman from Food & Wine and was legally licensed through the NewsCred publisher network. Please direct all licensing questions to legal@newscred.com.