We can't imagine getting by in the the kitchen without garlic salt! It's a quick way to wake up flavor, and the perfect fix for a bland sauce or a chicken or fish dish that needs an easy oomph. Use it in any savory dish that calls for regular salt, at the stove or on the table. McCormick garlic salt begins with whole, quality heads of raw garlic. We clean, dry and grind the garlic before blending it with a touch of garlic oil and salt.
Creative Uses
Use garlic salt anywhere you'd use salt for savory flavor. Sprinkle it on meat as you brown it for a stew. Season fish before it goes under the broiler or chicken while it bakes. We love to finish sautéed vegetables with garlic salt and black pepper for added flavor.
Simplify any stir-fry by tossing the protein—chicken, shrimp, beef—with a pinch of garlic salt and cayenne pepper before cooking. When the meat's almost done, throw in plenty of fresh vegetables. Say yes to easy weeknight meals!
Garlic salt makes a great base for dry rubs. Toss it with any combination of dried herbs, a bit of crushed red pepper for heat and you're good to go. For sensational ribs, we mix garlic salt with thyme, marjoram, cumin, black pepper and a bit of brown sugar. Get ready to lick your fingers!
Perfect Pairings
Any creamy dip recipe—onion, bacon and tomato, smoked salmon, cheesy spinach, taco queso—is a natural fit for garlic salt. Let the dipping begin!
Beef loves garlic salt. Use it to season ground beef for hamburgers, chili, taco filling and enchiladas, or casseroles such as shepherd's pie, baked ziti and lasagna. We cut back on the plain salt—or leave it out altogether—to let the garlic shine.
You'll love a hint of garlic in mashed, roasted and sautéed potatoes. Sprinkle with garlic salt in place of regular salt and include plenty of ground black pepper. It's a family-pleasing side dish that goes with most anything.
Substitutes
Q: If I don't have garlic salt on hand, what makes a good substitute?
A: You can always substitute your own blend of garlic powder and salt. The ratio is roughly three parts salt to one part garlic powder. Or, if you have fresh garlic on hand, mince it with salt to add to your recipe. One medium-size fresh garlic clove equals 1/8 teaspoon garlic powder.
History/Fun Facts
Garlic is the most pungent member of the lily family, a native of Central Asia and cousin to leeks, chives, onions and shallots. The process we use to dehydrate garlic is similar to toasting. The garlic develops a richer, mellower flavor when oven-dried. It's slightly sweeter than raw garlic, yet equally robust.
Sourcing/Quality
McCormick garlic begins with fresh, whole heads of quality garlic grown in rich soil with plenty of sunshine. We remove the papery husk and gently dry the cloves before grinding them to a powder and mixing them with a touch of garlic oil and salt. The drying process mellows the flavor of raw garlic and contributes a subtle sweetness.
Recipes
Chicken and Vegetable Pasta Salad with Balsamic Vinaigrette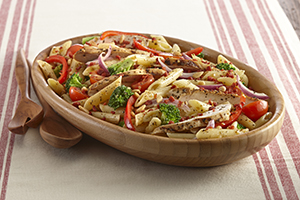 Peruvian Chicken Stew