Years ago I was asked to revamp the menu of a nationally known Mexican restaurant chain. I did research on what was traditional from those dishes that had become "Tex-Mex." Among my discoveries was that originally flour tortillas were used to make quesadillas, because corn was not indigenous because in certain areas of Mexico.
In other parts of Mexico, corn tortillas were the wrapper of choice for quesadillas. Sometimes called empanadas, these turnovers have evolved through the years.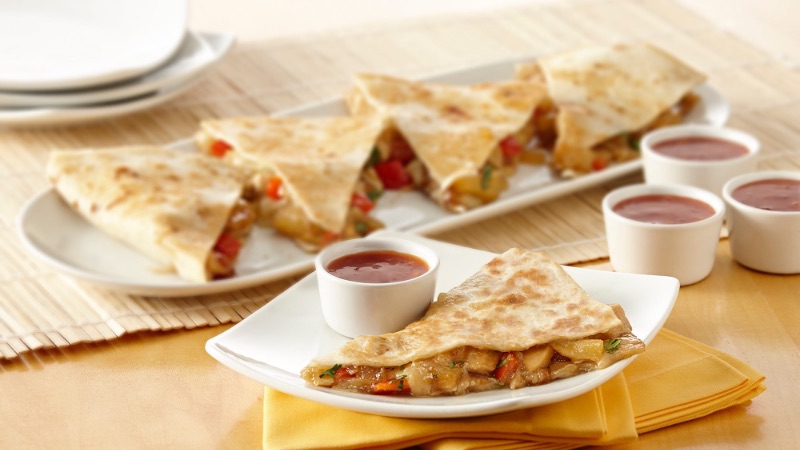 Quesadillas can be found in most Mexican restaurants with many variations. A tortilla is filled, folded over and lightly fried or baked to brown the outside. Sometimes you can find quesadillas layered, fried and cut into triangles.
These chicken quesadillas made it onto the revised restaurant menu and received many positive comments. I like to start with this recipe and then add or subtract ingredients to create my own signature dish. You could embellish these with sauteed squash blossoms (a Mexican classic), cooked potatoes, different chopped chilies or sliced avocados to invent your own combination.
In California, quesadillas (made with either corn or flour tortillas) are a staple for Seriously Simple cooks. They can be simple, with a plain melted cheese center (which kids love), or more complicated creations. Olive oil spray on the pan or griddle keeps the outside crispy without being overly greasy. If you don't have the spray, add a tablespoon of vegetable or light-flavored olive oil to the pan and make sure it is very hot before cooking the tortillas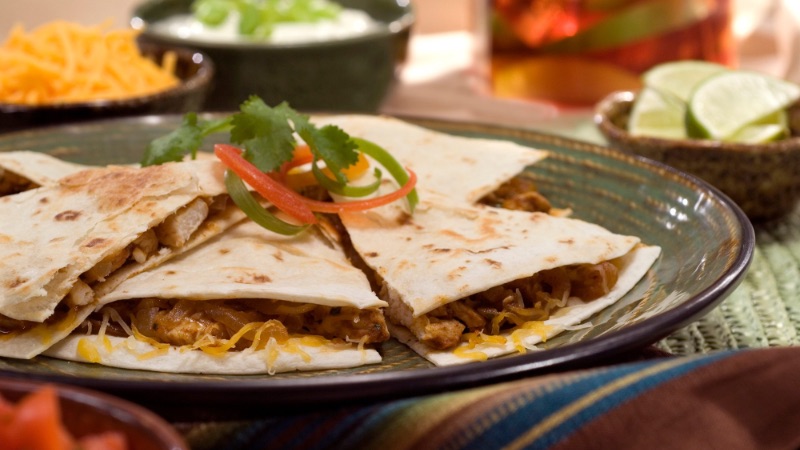 Remember that the key to a good quesadilla is using good quality flour tortillas, whole wheat flour tortillas or corn tortillas, shredded cheese that melts into little strings, and other flavors like salsa, vegetables or herbs you prefer. The quesadilla can be served cut into pieces as a first course or as a main course for brunch or lunch. To drink, chilled Mexican beer or frosty margaritas would make a fine accompaniment.
Variations and tips
--Try other combinations like goat cheese and caramelized onions, apple and cheddar cheese, spinach and spicy Jack cheese, asparagus, red onion and mozzarella cheese.
--Try cooked shredded pork or beef or thinly sliced cooked flank steak.
--Make a few of each tortilla type and see which ones your guests prefer.
--Pick up precooked chicken or meat and shred if in a hurry.
--Try different salsa varieties such as tomatillo, chipotle, tomatillo or even mango.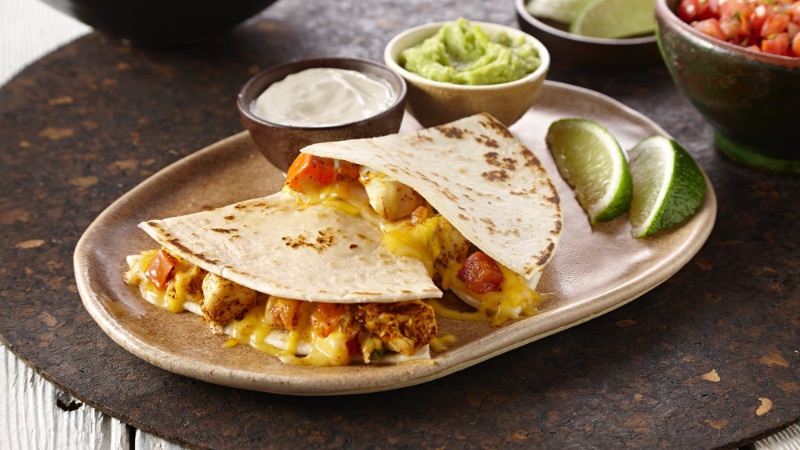 Diane's Seriously Simple Quesadillas
Serves 4
Non-stick spray
4 large flour tortillas
2 cups shredded cooked chicken breast
1 avocado, peeled and thinly sliced
1/4 cup fresh store-bought tomato salsa
2 cups shredded Pepper Jack cheese
For garnish:
1/2 cup store-bought fresh tomato salsa or salsa of your choice
1/2 cup sour cream
Cilantro sprigs
1. Lightly spray a large non-stick skillet or griddle with non-stick spray and place on medium-high heat. Place a tortilla in the skillet, and sprinkle with 1/2 cup of shredded chicken, a few slices of avocado, a tablespoon of salsa and top evenly with 1/2 cup shredded cheese.
2. Fold over the tortilla in half pressing down with a spatula. Cook the quesadilla until lightly brown, about 2 minutes, then turn over and cook the other side until lightly brown, about a minute longer.
3. Repeat the steps to cook the remaining quesadillas.
4. Arrange on individual plates and serve immediately garnished with salsa, sour cream and cilantro.
This article is written by Diane Rossen Worthington from Seriously Simple and was legally licensed via the Tribune Content Agency through the NewsCred publisher network. Please direct all licensing questions to legal@newscred.com.