A few years ago, I visited Turkey and spent an amazing morning at the spice bazaar in Istanbul. I smelled spices and combinations of spices I had never heard of, and I also noticed the familiar fragrance of more common ones.
It was hard not to notice how vibrant Turkish cooking was as we visited many restaurants and homes, which all made our visit so special. Whether we were at a hotel in the caves of Cappadocia, dining in a tiny house with a grandmother cooking for me, or sitting on a terrace above the Bosphorus Strait watching the sun go down, I was enamored with the colors, smells and flavors of Turkish cooking.
When I came home, I couldn't wait to "play" with these new flavor profiles. I loved the intensely smoky flavor of smoked paprika, the citrus influence in sumac and the unique, aromatic and tangy spice of zaatar, which means thyme but is actually a blend of thyme, sesame seeds and sumac.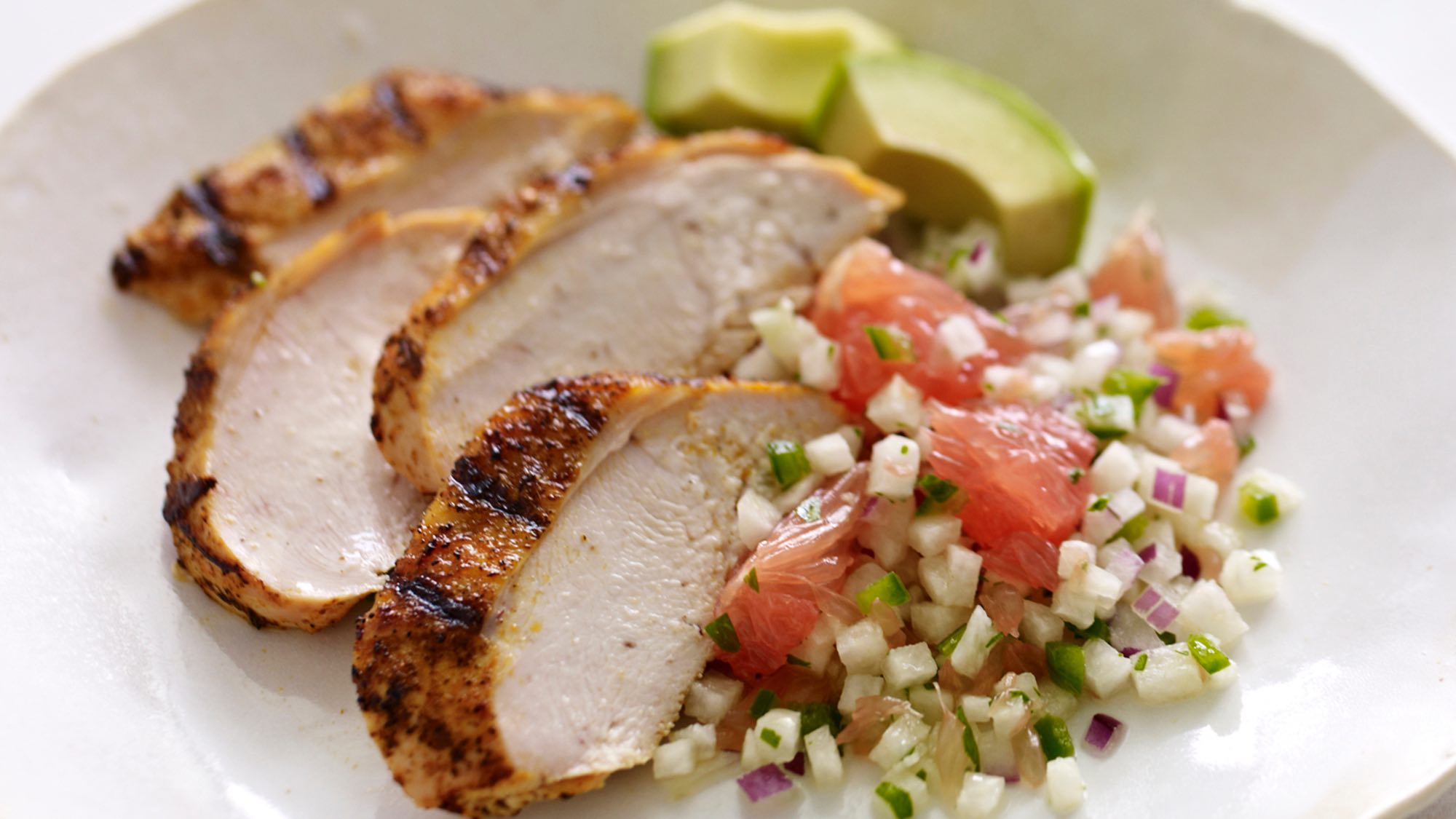 I felt like a whole new world had been opened up to me. I've tried many recipes with these exotic spices, but the one I come back to again and again is this butterflied Turkish grilled chicken with a savory citrus-herb yogurt sauce. I love serving the sauce alongside the cut-up chicken.
I prefer grilling a whole butterflied chicken, because it cooks faster and is really juicy. It's easy to butterfly a whole chicken by removing the chicken's backbone so you can open it like a book, or a butterfly, and lay it flat. If you don't want to butterfly the chicken, ask your butcher to do it for you. Have your butcher cut out the backbone of the chicken to "butterfly" it and flatten it so it will cook evenly.
I like to take a bit of the rub and rub it on the breast meat, using my fingers to carefully separate the skin from the meat. Orange zest adds an unexpected flavor to this delectable herbaceous rub. You can find sumac in small pouches at Cost Plus World Market, along with other herbs and spices.
This is so easy to prepare and offers so much flavor to the chicken. Make sure you preheat your grill to medium-high heat and that your grill has a cover. Depending upon how hot the grill becomes, you may just need to grill it on both sides as instructed below. If the chicken is still not completely cooked, move the bird skin side up to the cooler part of the grill, cover and it and let it finish cooking. An instant read thermometer is a big help. Remember that the chicken will continue to cook off the grill, and the temperature will increase by 5 or so degrees.
Loosely cover the chicken, and rest it for about 10 minutes so the juices will be redistributed in the bird when you carve it. I like to serve a vegetable couscous or rice alongside. Chilled rose, riesling or gewurztraminer would make a refreshing accompaniment.
Turkish Grilled Chicken with Citrus Herb Yogurt Sauce
Serves 4 to 6
For the rub:
1 1/2 tablespoons Kosher salt
1 1/2 teaspoons smoked paprika
1/2 teaspoon ground cumin
1/ teaspoon sumac
1 1/2 teaspoons orange zest
For the chicken:
4 to 4 1/2 pound roasting chicken, cleaned and butterflied so it lays flat in one piece
Olive oil
For the sauce:
1 cup plain Greek yogurt
1/2 teaspoon orange zest
3 tablespoons fresh orange juice
3 tablespoons olive oil
1/2 teaspoon ground cumin
1/2 teaspoon smoked paprika
1/2 teaspoon sumac
1 tablespoon finely chopped mint
1 tablespoon finely chopped cilantro
Salt and freshly ground pepper
1. Make the rub by combining the rub ingredients with a spoon in a small bowl and mix to blend. Reserve.
2. Preheat the grill for medium-high heat grilling.
3. Rub olive oil on both sides of the chicken; season evenly with the rub all over the chicken.
4. Place the chicken on the grill, skin side down, and cook for about 12 minutes. Turn over and cook the other side for about 12 to 15 minutes or until the meat is 165 F near thigh bone. If chicken isn't cooked all the way through, move the chicken to the cooler part of the grill, cover and cook another few minutes or until an instant meat thermometer reads 165 F at the thigh bone.
5. While the chicken is grilling, combine all of the sauce ingredients in a small serving bowl. Taste for seasoning. Reserve.
6. Remove from the grill, place on a wooden platter, cover loosely with foil and let rest for 10 minutes. Carve the chicken into pieces, and serve with yogurt sauce on the side.
This article is written by Diane Rossen Worthington from Seriously Simple and was legally licensed via the Tribune Content Agency through the NewsCred publisher network. Please direct all licensing questions to legal@newscred.com.