Years ago I wrote a book on stir-frying. I learned a lot along the way, developing creative stir-fry dishes including noodles, rice, chicken, pork, beef and vegetables. I think of this quick technique to be one of most efficient and easy cooking methods.
My tips for a successful stir-fry depend upon having as much as possible done in advance: chopping the vegetables, measuring out the seasonings and sauce ingredients. Stir-frying means when the oil is very hot but not smoking you add the ingredients and toss them every 15 to 20 seconds for 2 to 3 minutes or until light brown. Once you learn this method you can have fun creating your own combinations.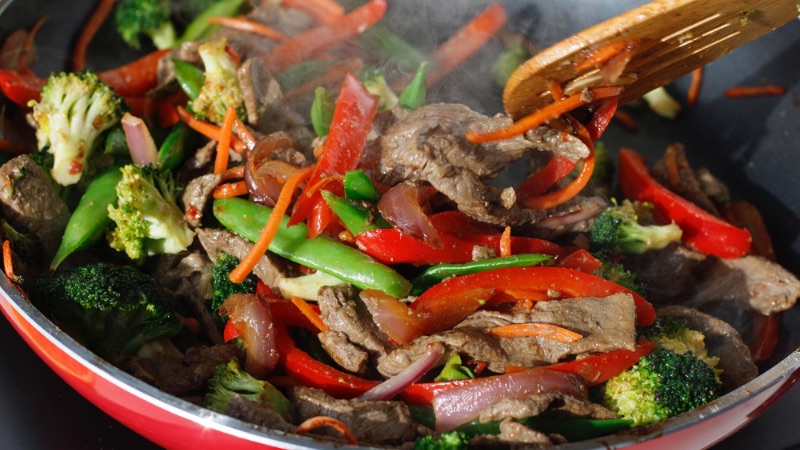 Look for a wok that is heavy aluminum, stainless steel or traditional cast-iron. Make sure it is not too thick, though, or it will take too long to heat up. A 14-inch diameter wok is probably the best all-around size, since it can be used to cook a whole fish or a simple sampling of your favorite vegetables. A cover is also important when you want to stir-fry something, and finish braising it in the wok. You may need to use a wok ring if the bottom of the wok is rounded.
You'll love this fast and incredibly flavorful stir-fry. The onions take on a caramelized sweet essence, while the peppers add color and textural contrast. For an extra flavor dimension add a teaspoon of chopped orange zest. Serve steamed rice or vegetable fried rice as an accompaniment for a quick weeknight dinner.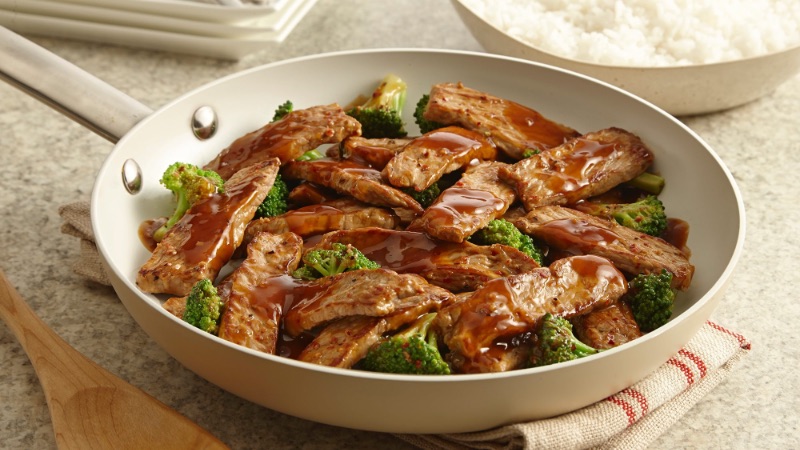 Diane's stir-frying tips
--Use a high heat resistant oil like peanut oil for stir-frying.
--Think about the sizes of the meat and vegetables so that you add them in the logical order for even cooking. For example, add carrots before zucchini or red peppers and asparagus before corn kernels.
--Make sure the wok is very hot and almost smoking to achieve the desired effect of browning the meat or poultry or sealing in the juices of the vegetables.
--If you don't want to marinate the meat or poultry, you can add extra flavor through aromatics or the final sauce.
--If you like a glaze rather than a slightly thick sauce, you can omit the cornstarch that is often recommended in classic Chinese recipes. Instead, make sure that your sauce will have some flavor and substance so when it is reduced it will form a glaze.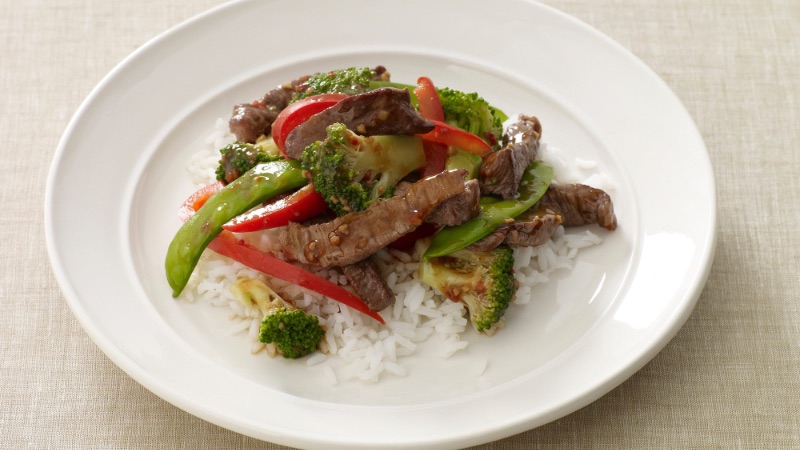 Stir Fry Beef with Caramelized Onions and Red Pepper
Serves 4
For the marinade:
1 tablespoon sherry
1 tablespoon soy sauce
1 tablespoon cornstarch
For the dish:
1 1/4 pounds flank steak, sliced in half down the center and then cut into 1/4-inch thick strips
1/4 cup peanut oil
1 large onion, finely sliced
1 medium yellow pepper, seeded and thinly sliced
1 medium red pepper, seeded and thinly sliced
2 tablespoons balsamic vinegar
1 teaspoon sugar
1/2 cup beef broth
2 scallions, green part, sliced on the diagonal for garnish
1. In a small bowl combine sherry, soy sauce and cornstarch; mix to dissolve the cornstarch. Add the beef and marinate for 15 minutes.
2. In a wok over medium-high heat, add 1 tablespoon of oil, swirling around to coat the sides. When the oil is very hot but not smoking add the half of the beef strips and toss them every 15-20 seconds for 2 to 3 minutes or until brown but slightly pink inside. Spread the meat evenly around and up the sides of the wok so that the meat comes into maximum contact with the heat. Reserve the beef in a side bowl. Add another tablespoon of oil if needed and repeat with the remaining beef. Remove the beef to the side bowl.
3. Add the remaining 2 tablespoons of oil to the wok on medium-high heat. Add the onions and toss every 15 to 20 seconds for 5 to 7 minutes or until nicely softened. Spread the onions evenly around and up the sides of the wok so that the onions come into maximum contact with the heat.
4. Add the peppers and toss 2 more minutes. Add the vinegar and sugar to the onions and peppers and cook until the onions begin to caramelize, about 2 more minutes. Add the broth and bring to a boil on high heat for 2 minute. (If you want the sauce thicker add a little liquid cornstarch.)
5. Return the meat to the wok and heat through. Taste for seasoning and adjust. Transfer to a serving bowl, garnish with scallions, and serve immediately.
This article is written by Diane Rossen Worthington from Seriously Simple and was legally licensed via the Tribune Content Agency through the NewsCred publisher network. Please direct all licensing questions to legal@newscred.com.