As the weather cools I start thinking of produce like winter squash, sweet potatoes, apples and pears. Seasonal fruits and vegetables available make it a little easier to say goodbye to vibrant summer produce, and I'm ready to start spending more time cooking and baking.
I was searching for a Seriously Simple cake to show off fall's produce, and I came upon this recipe in Tanya Holland's book "Brown Sugar Kitchen" (Chronicle Books, $29.95). Sweet potatoes and chocolate chips may seem like an unlikely combination, but they work really well together. I also thought it would be a perfect dessert to serve family and friends on Halloween. After all, it's orange and black (if you add the chocolate glaze). It's a large Bundt cake that will feed a crowd. But don't limit this to Halloween. I'll be serving this throughout the holidays, perhaps for brunch, tea or dessert
This cake is slightly dense with a faint sweet potato flavor and is studded throughout with chunks of chocolate. Serve with pumpkin ice cream, if desired.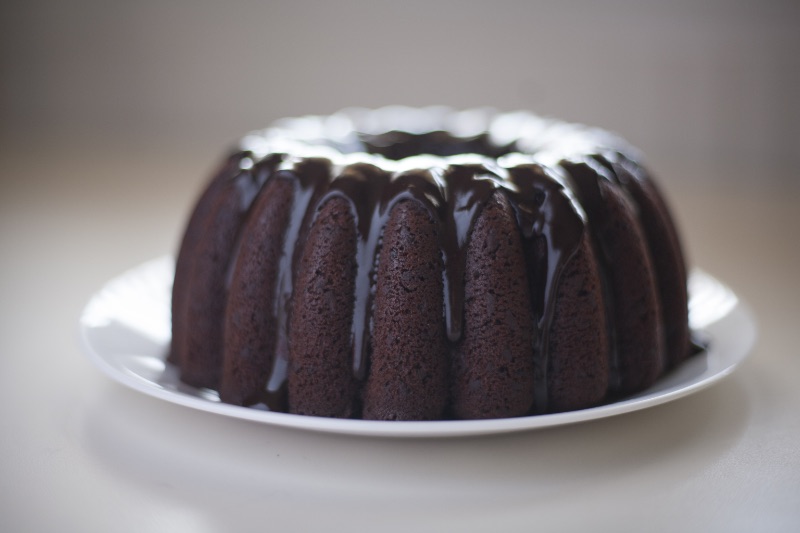 Spiced Sweet Potato Chocolate Bundt Cake
Serves 12 to 16
For the cake:
1 1/2 pounds orange-fleshed sweet potatoes (sometimes called garnet yams)
3 1/3 cups all-purpose flour
2 cups sugar
1 tablespoon baking soda
1 tablespoon ground cinnamon
1 tablespoon ground allspice
1 tablespoon grated nutmeg
1 tablespoon ground ginger
1/2 teaspoon kosher salt
4 eggs
1 cup unsalted butter, melted and slightly cooled
2 cups chocolate chips
For the Chocolate-Chicory Glaze:
10 ounces bittersweet chocolate, finely chopped
1 1/2 cups heavy cream
1/2 cup brewed chicory coffee (substitute with regular coffee if you can't find chicory)
1 cinnamon stick
1. Preheat the oven to 425 F. Place the sweet potatoes on a lined baking sheet and bake for 1 hour or until tender. Cool. Cut in half and scoop out the pulp and mash in a small bowl. Reserve.
2. Decrease the oven to 350 F. Butter and flour a 12-cup Bundt pan.
3. In a medium bowl, whisk together the flour, sugar, baking soda, cinnamon, allspice, nutmeg, ginger and salt.
4. Using a stand mixer fitted with the paddle attachment, beat the mashed sweet potatoes and eggs on medium speed until smooth. Add the melted butter and beat until combined. Reduce the speed to low, and slowly add the flour mixture; mix just until combined. (Be careful to keep on low so flour stays in bowl.) Remove the work bowl from the mixer and, with a spatula, stir in the chocolate chips. Transfer the batter into the prepared Bundt pan.
5. Bake until a toothpick or skewer inserted into the center of the cake comes out clean, 40 to 50 minutes. Transfer to a wire rack to let cool completely in the pan, about an hour. Loosen the cake from the pan using the tip of a dinner knife, then invert a rack over the pan and turn the cake out onto the rack.
6. Make the chocolate-chicory glaze: Put chocolate in a heatproof bowl. In a small saucepan, combine cream, coffee and cinnamon stick; bring to a simmer over medium heat. Pour hot cream mixture over chocolate. Let stand, undisturbed, for about 2 minutes. Discard cinnamon stick; whisk until chocolate is completely melted and mixture is blended and smooth.
7. Drizzle the chocolate glaze over the cake and serve.
This article is written by Diane Rossen Worthington from Seriously Simple and was legally licensed via the Tribune Content Agency through the NewsCred publisher network. Please direct all licensing questions to legal@newscred.com.