I visited Tate's Bake Shop in Southampton, N.Y. a few years back, before it went nationwide with its bagged cookies in supermarkets. I remember thinking I bought the greatest chocolate chip cookie I had ever tasted, because they were buttery, crispy and, frankly, addictive.
I wanted to duplicate the texture and flavor, so I added some oatmeal for part of the flour while attempting to replicate the recipe. I also used a combination of brown and regular sugar, dark (60 percent bittersweet) chocolate chips and dried fruit to give these cookies a crisp, crunchy texture.
There are two schools of cookie eaters: Those that like them chewy and those that prefer crispy ones. I am of the crispy school. These oatmeal chocolate chip cookies can be either chewy or crispy, depending upon how you place them on the cookie sheet.
Rounds of cookie dough will produce thicker, chewier cookies, while flattened rounds of dough will spread into flat crisps studded with chocolate chips and dried fruit. What I love about these cookies is that you can snap them in half because they are so crispy. If you prefer larger cookies, drop golf-ball sized cookies onto baking sheets and bake a few minutes longer.
One of the keys to making superior cookies is to make up the dough a day and a half ahead, cover and refrigerate. This gives the baked cookie a richer, fuller flavor. Bring these to a school event, make for an afternoon tea sweet or a place this happy addition inside your cookie jar. Watch how fast they disappear.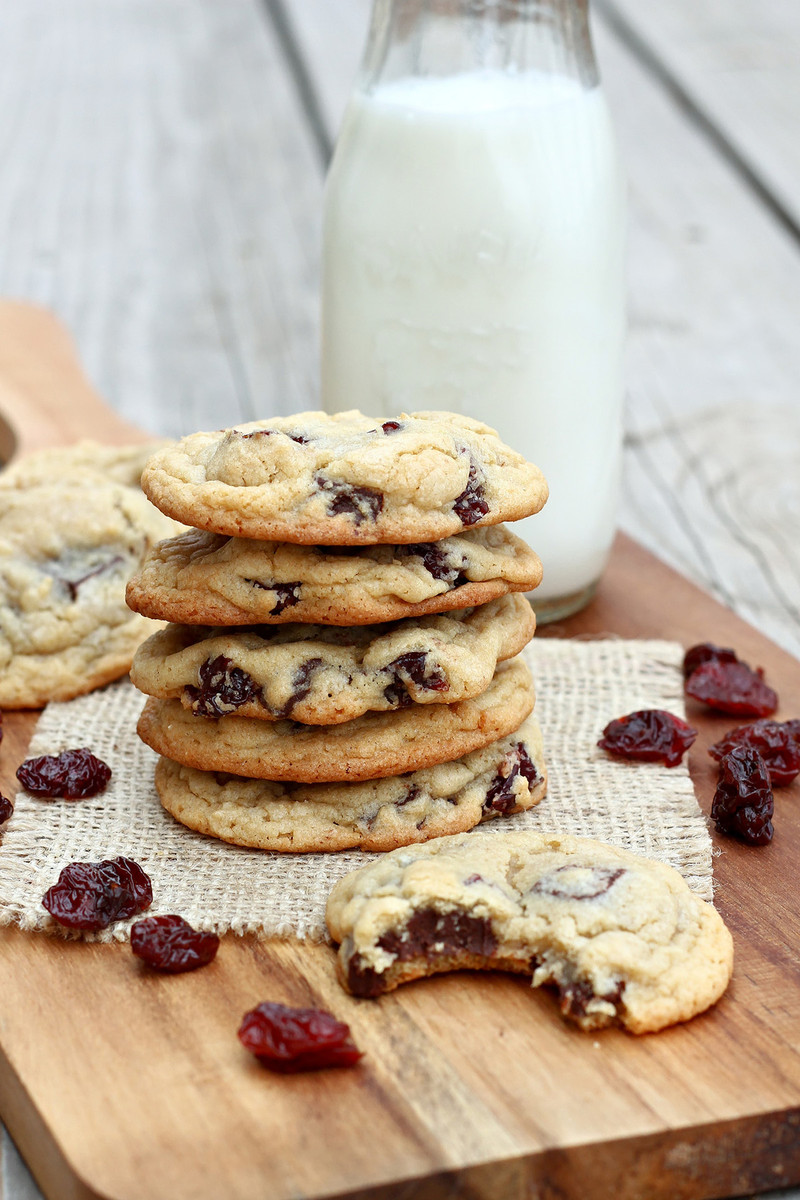 Oatmeal Chocolate Chip and Dried Fruit Cookies
Makes about 5 dozen 2 1/2-inch cookies
1 cup (2 sticks) unsalted butter, at room temperature
1 cup brown sugar
1 cup granulated sugar
2 large eggs
1 teaspoon vanilla extract
1 1/2 cup all-purpose flour
1 teaspoon baking soda
3/4 teaspoon salt
2 1/2 cups old-fashioned oatmeal, uncooked
1 cup chopped nuts, pecans, walnuts or almonds
1 cup dark chocolate chips, 60 percent bittersweet
1 cup dried cranberries or chopped dried apricots or other dried fruit of your choice
1. Preheat oven to 350 F.
2. In a large bowl mix butter, sugars, eggs and vanilla. Beat at medium speed until well blended.
3. Sift together flour, baking soda and salt. Stir into butter mixture; stir in oatmeal. Mix in nuts, chocolate, dried fruit as desired.
4. Scoop the batter into approximately 1-inch balls and place on parchment lined cookie sheets, approximately 2 -inches apart. Flatten slightly with the back of a fork.
5. Bake 11 to 13 min. until lightly most in center and just beginning to brown on edges. Remove from oven, let cool for 1 minute then place on cooling racks to cool.
Advance preparation: Store in airtight containers for up to one week, or freeze for another time.
This article is written by Diane Rossen Worthington from Seriously Simple and was legally licensed via the Tribune Content Agency through the NewsCred publisher network. Please direct all licensing questions to legal@newscred.com.