I remember a time, raising my children, when I was never without one of those zip-top bags of frozen yogurt bites. If they needed something while we waited for dinner to arrive at the table, or a quiet snack at library story time, there they were. And while I loved making baby food for them and freezing yogurt for snacks, there was just no beating the commercial yogurt bites; even I enjoyed my fair share of the sweet, tangy, melt-in-your mouth texture of those bites.
When I discovered I could turn a kitchen staple's leftovers into tender snack bites, I knew I needed to share this splendid secret.
What are dried yogurt bites?
Commercial yogurt bites go by a few names: yogurt puffs, yogurt melts and yogurt bites. The premise is the same: Dots of yogurt are dehydrated, creating a melting bite that is also shelf-stable. The internet is full of claims that frozen yogurt bites are a cheap alternative to these commercial products, and while they are brilliant and delicious (and great for teething babies), you can't plop them in your purse for the park. Unless you buy a super-expensive dehydrator.
How to hack dried yogurt bites at home
The short story: Use aquafaba, the liquid left over from a can of chickpeas, to make a lightly sweetened meringue, and flavor it with yogurt powder and fruit powder if desired. Then dry the resulting dots in a low oven for an hour. This discovery happened by chance when I was testing vegan meringues at home during the same time I discovered that yogurt powder was easily available online.
These bites are best eaten within a week, especially by early eaters, as they become stickier and harder as they age. Store the cooked and cooled drops in an airtight container or a zip-top bag for stashing in your purse or diaper bag.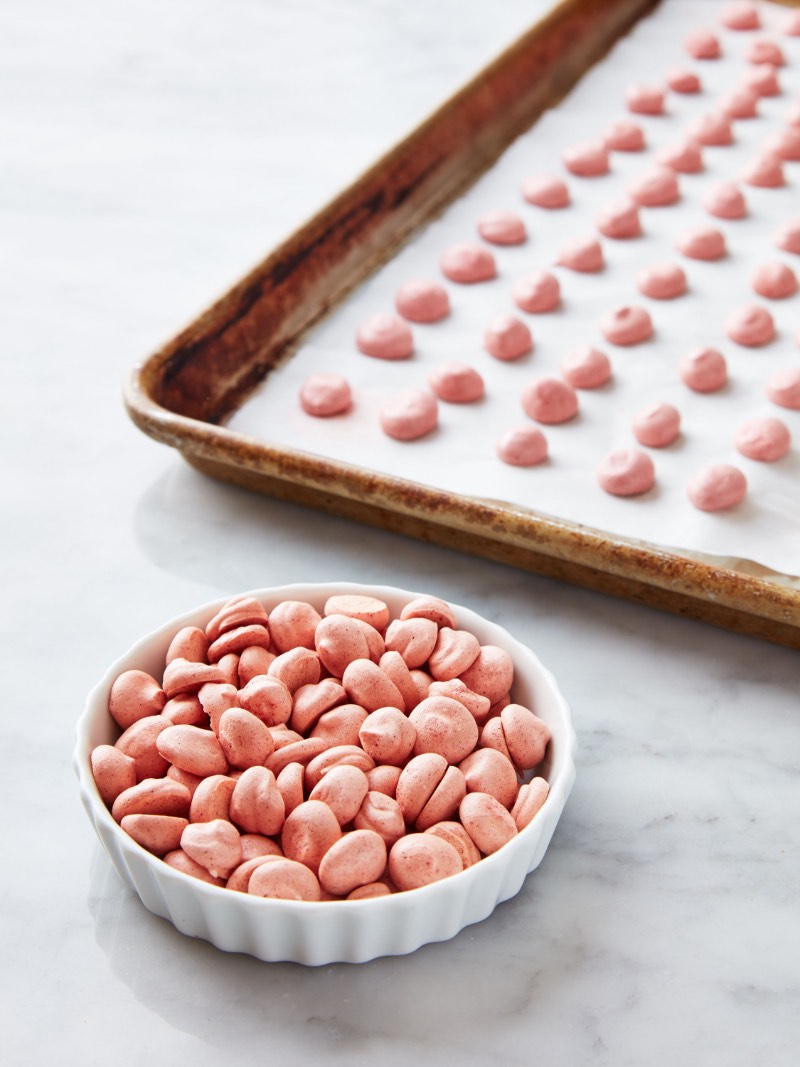 Yogurt Bites
Makes 3 ounces; about 8 dozen dime-sized drops
1 (15-ounce) can low-sodium chickpeas
1/4 teaspoon cream of tartar
2 tablespoons granulated sugar (optional)
1 teaspoon vanilla extract
3 tablespoons yogurt powder
1 tablespoon beet powder
1. Arrange two racks to divide the oven into thirds, and heat to 200 F. Line two baking sheets with parchment paper and set aside.
2. Drain off the liquid from the can of chickpeas through a fine-mesh strainer into a measuring cup. Save the chickpeas for another use. You should have about 3/4 cup of this liquid (called aquafaba).
3. Transfer the aquafaba to the bowl of a stand mixer fitted with the whisk attachment, and add the cream of tartar. (Alternatively, use an electric hand mixer and large bowl.) Whip on medium speed until soft peaks form, about 3 minutes.
4. While continuing to whip on medium speed, gradually add in the sugar and vanilla. Once all the sugar has been added, continue to whip until stiff peaks form, 5 to 7 minutes more.
5. When the aquafaba is fully whipped, gently fold in the yogurt and beet powders until fully incorporated.
6. Transfer the meringue to a piping bag fitted with a small, round tip. (Alternatively, use a zip-top bag as a piping bag and cut a small hole in one corner.) Pipe the meringue onto the baking sheets into dime-sized rounds. The piped rounds can be spaced close together but should not be touching.
7. Bake until dry to the touch, about 1 hour.
8. Remove the drops from the oven and cool completely before storing in an airtight container at room temperature for up to one week.
This article is written by Meghan Splawn from The Kitchn and was legally licensed via the Tribune Content Agency through the NewsCred publisher network. Please direct all licensing questions to legal@newscred.com.