I recently visited the Terranea Resort in Palos Verdes, Calif. I had heard it was more than a beautiful seaside spot, filled with culinary delights. Executive Chef Bernard Ibarra has made a big impact on the property with his culinary additions, and I wanted to see firsthand what this food focus was all about.
Behind the property, on the other side of the highway, is a garden and hen house where a chef/farmer watches over the vegetables and harvests the eggs that are served in some of the dishes. In addition, there is a sea salt conservancy on property that produces Terranea's own signature salt, used not only in the kitchens but also in some of the spa treatments. Chef Bernard Ibarra also launched an on-site honey program.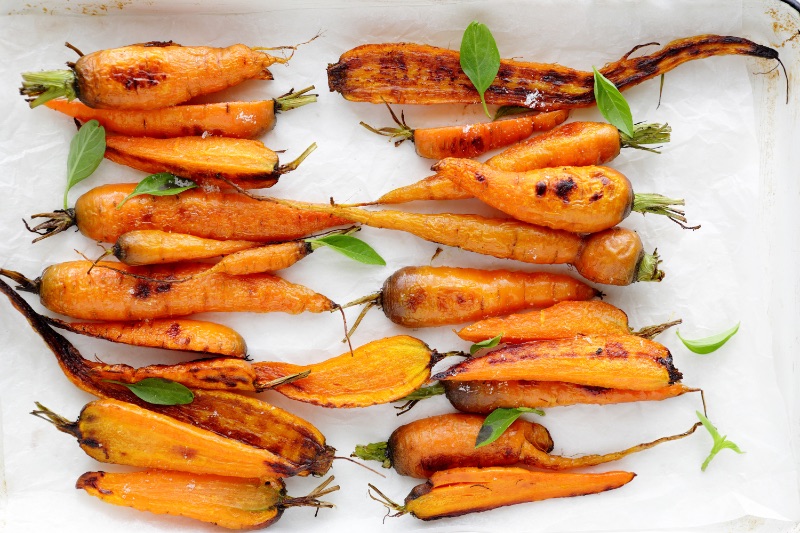 I was looking forward to tasting dishes that came from the mind of this serious culinarian. I dined outdoors overlooking the Pacific Ocean at the resort's restaurant, Mar'sel, and was excited with the chef's take on roasted carrots.
These were no ordinary carrots. In fact, they were very large and presented as a main course, accompanied by a pot of sweet-acidic sabra cream.
I decided to replicate these carrots that required a bunch each of rosemary, thyme and sage. Unfortunately my smoke alarm went off with the roasting of those powerful aromatic herbs. So, I decided to reinvent the idea with the recipe below. You can use large carrots; if you do, you'll need to extend the roasting time by 5 minutes or so, on each side. I also tried cutting the large ones in half, and the dish was a big success. A sprinkle of sea salt adds a subtle flavor. I substituted balsamic syrup for the more difficult to find sabra with an equally tasty result.
If you are serving this as its own course, arrange the carrots on serving plates and either serve a pot or dollop of balsamic cream on the side or drizzle right over the carrots. Finish the carrots with a sprinkling of parsley and rustic thyme branches. They are also a perfect side dish for most main course dishes. A mound of these rustic, roasted spears adds a splash of color to any dinner table.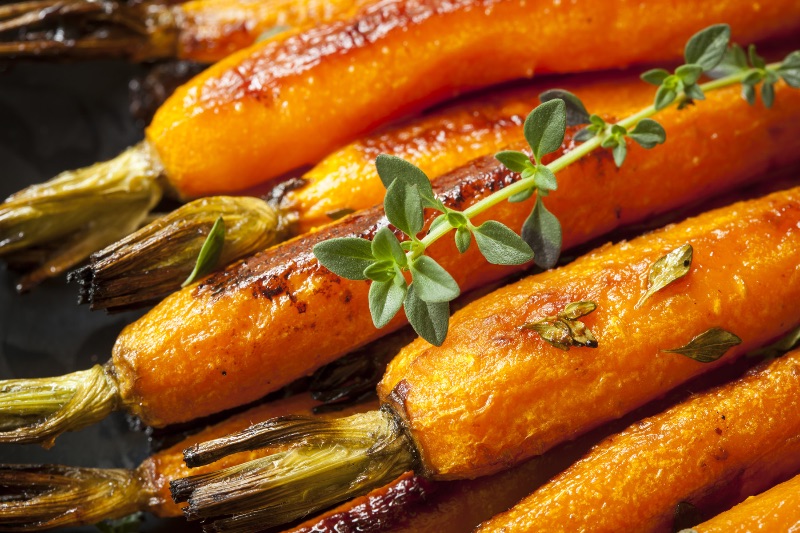 Terranea's Roasted Carrots with Balsamic Cream
Serves 3 to 4 as main dish; 4 to 6 as a side dish
For the carrots:
2 pounds medium size (or large, if desired) carrots, peeled and trimmed with a little green left on
2 tablespoons olive oil
1 teaspoon sugar
1 teaspoon sea salt
1/4 teaspoon freshly ground black pepper
1 teaspoon fresh thyme leaves
For the balsamic cream:
1/3 cup creme fraiche or sour cream
1 teaspoon finely chopped fresh thyme
1 teaspoon balsamic glaze
Salt
Pepper
To garnish:
2 tablespoons parsley, finely chopped
A few thyme branches with leaves
1. Preheat the oven to 425 F.
2. Place the carrots on a large baking sheet. Pour the oil over the carrots, and sprinkle on the sugar and seasoning salt (a mixture of the sea salt, freshly ground black pepper and thyme leaves). Roll the carrots until evenly coated.
3. Roast the carrots for 20 minutes. Roll them around and roast another 20 minutes, or until the carrots are cooked through and nicely browned.
4. Combine the creme fraiche or sour cream, thyme leaves, balsamic syrup, salt and pepper in a small serving bowl, and mix to blend well.
5. Remove carrots from the oven, and place on individual plates or on a serving platter. Drizzle the balsamic cream on top, or serve on the side. Garnish with the parsley and thyme branches, and serve.
Advance preparation: This recipe may be prepared through Step 3 up to 4 hours ahead, and left at room temperature. Reheat at 350 F for about 10 minutes or until heated through.
This article is written by Diane Rossen Worthington from Seriously Simple and was legally licensed via the Tribune Content Agency through the NewsCred publisher network. Please direct all licensing questions to legal@newscred.com.