There is much in the news suggesting that a plant-based diet will lengthen one's longevity. And as important as that is, it is also better for our environment.
Lentils, often grouped as a bean, are in fact in the pulse family: dried legumes. Lentils require no soaking and are an excellent source of iron and B vitamins; and they are high in protein. As a bonus, they are low on the glycemic index for those watching their sugar intake.
There are many varieties of lentils including brown lentils, green lentils, red lentils and French lentils. Use Masoor Dal (brown) lentils in this recipe, as they cook relatively quickly and break down when cooked to act as a natural thickener, perfect for soup.
This is a terrific main course soup for a Sunday supper or chilly afternoon's lunch. The sliced smoked turkey sausage enhances the simple lentil soup base, giving the soup a rustic flair. Of course, you could omit the sausage if you want a vegetarian version. In that case I'd add a few dashes of chipotle tabasco sauce to add some smoky flavor.
The unusual labneh garnish adds a slightly tart and creamy finish to the soup. Labneh is strained yogurt that is much thicker than yogurt and has a pleasant sour taste, not unlike sour cream. Don't worry if you don't have it. The soup still delicious without it.
This soup would be welcome in a host of different venues. If you like tailgate parties, serve this in bowls along with your favorite cold beer. Any type of crusty bread is all that is needed for a simple yet exceptional all-in-one meal. It's also wonderful on a chilly night.
Lastly, this soup freezes exceptionally well. Just make sure to readjust the seasonings when reheating.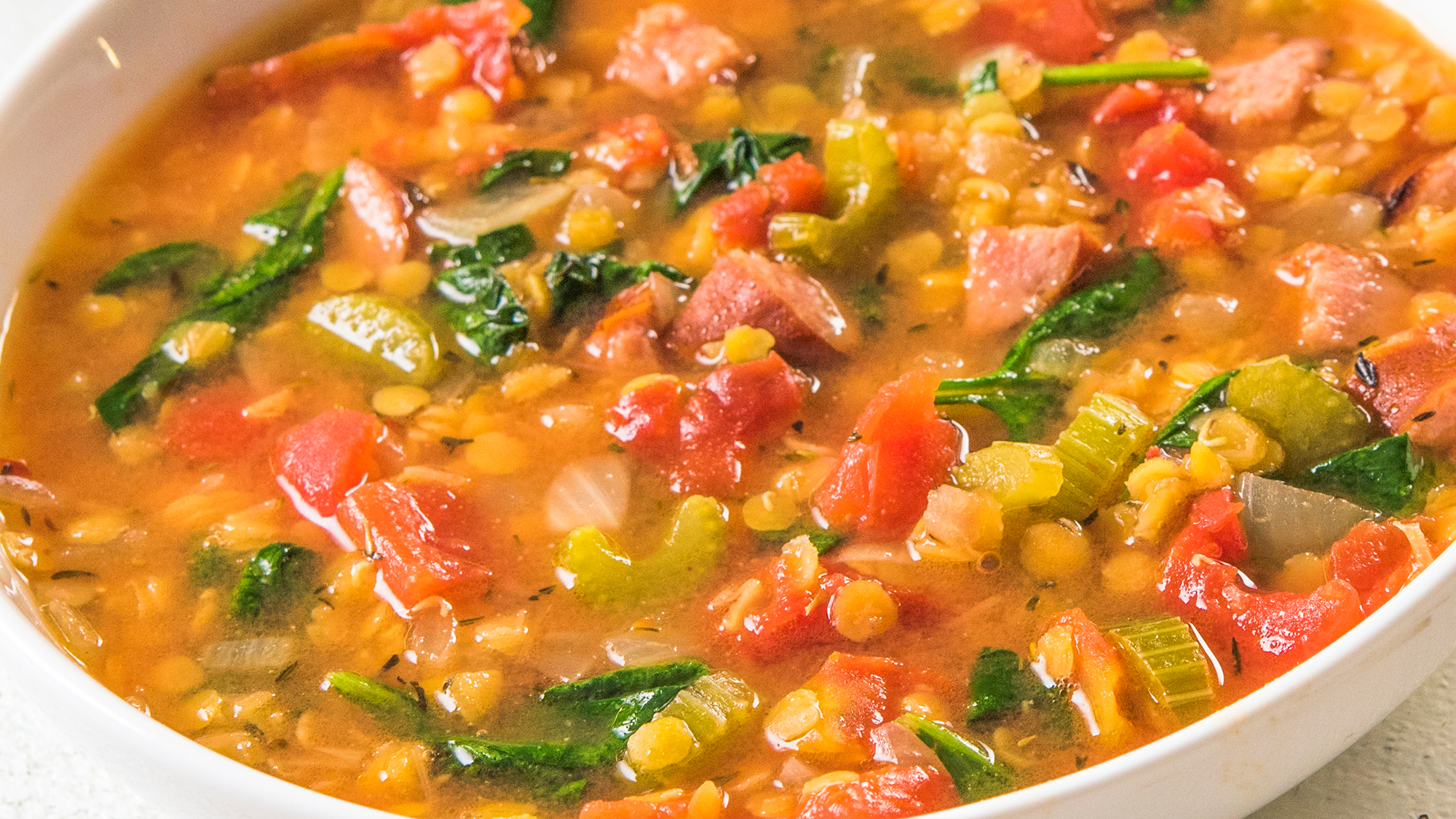 Curried Lentil Soup with Sausage and Labneh Garnish
Serves 4 to 6
2 tablespoons olive oil
1 medium onion, finely chopped
1 stalk celery, thinly sliced
1 medium carrot, peeled, and thinly sliced
1 garlic clove, minced
1 bay leaf
2 teaspoons good quality curry powder
1 cup canned Italian plum tomatoes, with their juice
1 1/2 cups brown lentils, rinsed and drained
6 cups chicken, beef or vegetarian stock
1 lemon, sliced
1 cup medium packed fresh spinach, well rinsed and coarsely chopped
8 ounces sliced cooked kielbasa smoked turkey sausage
Salt and freshly ground black pepper, to taste
2 tablespoons finely chopped Italian parsley
1/3 cup labneh (optional for garnish)
1. In a large saucepan heat the oil over medium-high heat. Saute the onion, celery, carrots, garlic and bay leaf until the vegetables are softened, about 5 minutes. Add the curry powder and stir to release the flavors, about 1 minute.
2. Add the plum tomatoes and their juice, lentils, stock and sliced lemon to the saucepan. Bring to a simmer and cook partially covered and stirring occasionally, until the lentils are tender, about 30 minutes.
3. Remove the lemon slices. Coarsely puree the soup with a blender in batches making sure to retain some texture. Or with a hand blender blend the soup until it is roughly pureed with some texture remaining. (If the soup seems too thick add another cup of stock or water to bring it to the desired consistency.)
4. Just before serving, stir in the spinach and sausage and simmer on low heat until the spinach is wilted but bright green and the sausage is hot. Taste for seasoning.
5. To serve: Ladle into soup bowls, garnish with parsley and labneh, if desired, and serve immediately.
This article is written by Diane Rossen Worthington from Seriously Simple and was legally licensed via the Tribune Content Agency through the NewsCred publisher network. Please direct all licensing questions to legal@newscred.com.