Lentils are gluten-free, a great source of protein and fiber, and low in fat and calories. I love making soups, dips, side dishes, salads and main course dishes with this versatile, diminutive legume. The lentil doesn't require lengthy soaking or preparation and it cooks quickly, making it an excellent Seriously Simple staple in your pantry.
There is a world of lentils at your grocery store, where you'll find varieties in green, brown and red. Green lentils take longer to cook, because they have a firmer texture. If you want your lentil to hold its shape, for a salad or as a bed for fish or chicken, use the French green lentil.
This red lentil soup has a milder flavor and turns a sort of dull gold after cooking. The big flavor enhancer here is the gremolata topping that bring all the flavors together with the bright lemon zest notes, garden fresh parsley and sharp garlic. It brightens up the mild lentil flavor.
Here's the thing. You can make this completely vegetarian if you choose to use vegetable stock and omit the sausage at the end. To add extra flavor, you can add a bit of smoked chile powder or a few drops of chipotle Tabasco sauce at the end. I like to add the sausage at the end since it is precooked. Serve a loaf of whole grain bread and olive oil for dipping. A glass of pinot noir would be a lovely accompaniment.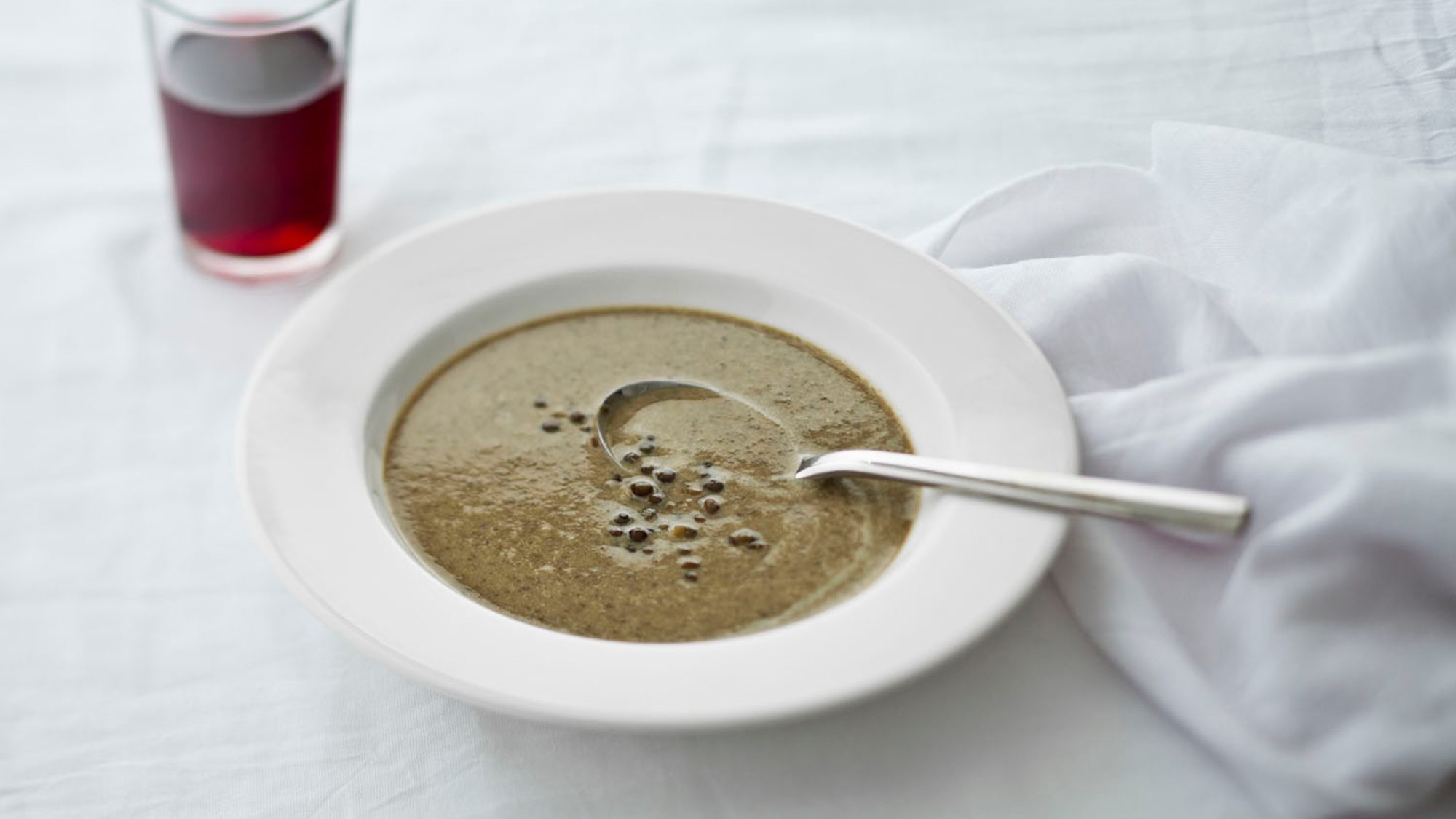 Lentil Soup with Smoked Turkey Sausage and Gremolata Topping
Serves 6 to 8
For the lentil soup:
2 tablespoons olive oil
1 large onion, finely chopped
3 carrots, peeled and coarsely chopped
2 celery ribs, finely chopped
3 garlic cloves, minced
2 cups (1 pound) red lentils, rinsed and picked over
2 quarts chicken or vegetable stock
2 cups diced well-drained canned tomatoes
1 bay leaf
2 tablespoons finely chopped parsley
For the gremolata:
1/4 cup finely chopped parsley
Zest of 1 lemon
1 garlic clove minced
To finish the soup:
1 teaspoon finely chopped fresh thyme leaves or 1/3 teaspoon dried
2 teaspoons balsamic vinegar
1 teaspoon salt
1/4 teaspoon finely ground black pepper
1 pound precooked smoked turkey kielbasa sausage, cut into 1/2-inch slices, optional
1. In a large soup pot over medium heat, heat the oil; add the onion, and saute for about 3 minutes. Add the carrot and celery, and continue sauteing for about 5 minutes or until slightly softened. Add the garlic, and saute another minute or until nicely coated.
2. Add the lentils, stock, tomatoes, bay leaf and parsley. Bring to a simmer, reduce the heat to medium-low, and cook for about 30 minutes or until the lentils are tender, stirring occasionally. Remove the bay leaf.
3. Meanwhile make the gremolata: Combine the parsley, lemon zest and minced garlic together in a small bowl and set aside.
4. Process the soup in the pot with a hand blender or in a food processor, pulsing until the soup is partially pureed but still has plenty of texture.
5. Add the thyme, vinegar, salt, pepper and sliced sausages, and stir; simmer for to 7 minutes more or until the sausage is very hot. Taste for seasoning.
6. To serve, ladle into soup bowls and garnish with the gremolata
Advance preparation: The soup can be prepared up to three days ahead through Step 5 and refrigerated. Cover gremolata and refrigerate. This soup also freezes well. Be sure to adjust the seasonings, and add fresh herbs when you reheat the frozen soup.
This article is written by Diane Rossen Worthington from Seriously Simple and was legally licensed via the Tribune Content Agency through the NewsCred publisher network. Please direct all licensing questions to legal@newscred.com.