Father's Day in our house usually means a barbecue in the late afternoon. This year we are switching it up and having Father's Day brunch. There will be a melon berry fruit platter with fresh mint, Prosecco and peach nectar spritzers, creamy scrambled eggs with fresh herbs, and warm scones. The star dish will be this candied bacon that is crisp, golden brown and deliciously caramelized.
This candied bacon is so good that it is difficult to say how many this really serves. Two pieces per person is what I have allowed here. Applewood smoked bacon is already delicious and when glazed with the brown sugar it takes on another layer of sweet smoky deliciousness. Some chefs call this candied pig, which sounds pretty funny. If you like things spicy, sprinkle on a light dusting of cayenne pepper before you bake it.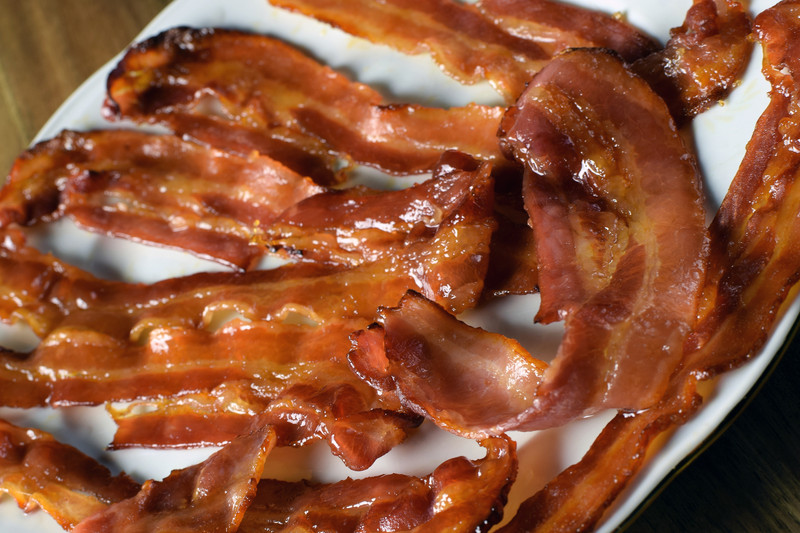 Candied Bacon
Serves 4 to 6
3/4 pound applewood smoked bacon (12 strips)
1/2 cup light brown sugar
1. Preheat the oven to 400 F.
2. Line a sheet pan with parchment paper.
3. Carefully sprinkle about 1/2 to 2 teaspoons brown sugar evenly over each slice of bacon, making sure that the sugar is evenly distributed.
4. Bake for about 15 minutes, turning them over halfway through the cooking. Cook the first side for about 8 minutes and then turn over. To make sure they are candied on both sides, with tongs, slide the unsugared side through the sugar syrup after turning the strips over. You can also use a silicone brush and brush them with the syrup in the pan.
5. Bake until the top is nicely browned, almost a golden caramel color, about 7 more minutes. If the bacon is still not golden in color, bake another few minutes.
6. Use tongs to place the bacon pieces on a wire rack that is sitting on foil to catch any drips. Let cool. They should be very crisp. Serve while warm.
Advance preparation: This can be made four hours ahead, kept at room temperature. Reheat in the microwave for 30 seconds to one minute.
This article is written by Diane Rossen Worthington from Seriously Simple and was legally licensed via the Tribune Content Agency through the Industry Dive publisher network. Please direct all licensing questions to legal@industrydive.com.