Father's Day usually means a zesty afternoon barbecue at our house but this year we're changing it up with breakfast (or brunch, depending upon his schedule). Omelets are easy to make for one or two people but take too much time for a bigger crowd. That's why I love making frittatas for groups. Best of all, you can make them ahead and serve them warm or at room temperature.
Deli omelets were always a favorite when my dad took me to breakfast. It usually meant adding deli meats to the eggs. I took that idea and developed this tasty frittata that is wonderful for any light meal. I love making this flat, omelet-like dish, which can be as simple as adding some fresh herbs and cheese to beaten eggs or as complicated as you would like.
Also great for light suppers or as an appetizer cut into small pieces, this frittata is a keeper. You can either serve a basket of Dad's favorite muffins, slices of coffee cake or toasted bagels to complete the menu. Your dad will thank you.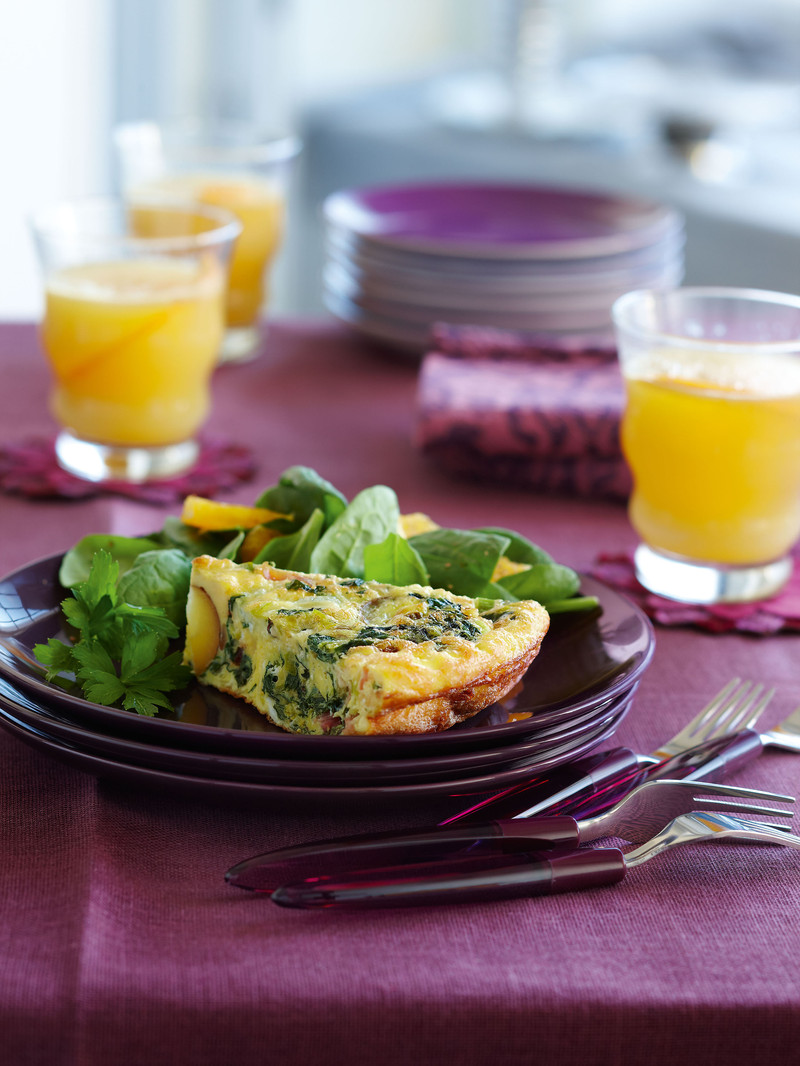 Deli Frittata
Serves 6 to 8
1/2 pound marble potatoes (about an inch in diameter; if larger, cut in half)
2 tablespoons olive oil
2 leeks, white and green part only, thinly sliced and well rinsed
1 bunch red Swiss chard, stems removed and coarsely shredded
Salt and freshly ground black pepper
3 ounces thinly sliced salami or prosciutto, cut into long strips, or 4 ounces crisp bacon, or pancetta pieces
12 large eggs
1 cup shredded mozzarella, manchego, Gruyere or Parmesan cheese
Parsley and basil for garnish
Hot Sauce Drizzle:
1/2 teaspoon paprika
1 teaspoon Sriracha
1 teaspoon olive oil
1. Preheat the oven to 425 F.
2. Place the potatoes in a medium pan of boiling water for 2 minutes. Drain the potatoes and let dry. Reserve.
3. Heat the oil in a 12-inch non-stick skillet with an ovenproof handle (or cover a wooden handle with foil) over medium-high heat. Add leeks and saute until soft but not brown, about 5 to 6 minutes. Add the potatoes and continue cooking, rolling them around, for 3 minutes or until the potatoes are slightly tender. Add the chard and cover the pan to let steam for about 3 to 4 minutes or until the chard is wilted and potatoes are tender. Add the salami, prosciutto or pancetta, stir together and cook another minute. Season with salt and pepper.
4. Combine eggs with cheese, salt and pepper in a medium mixing bowl, and whisk until well blended. Whisk in cheese.
5. Arrange the vegetable ingredients in the skillet evenly and pour over the egg mixture. Cook over medium heat, stirring occasionally, lifting up the bottom with a spatula, allowing more liquid to cook and until the bottom of mixture cooked, about 5 minutes. The top will still be moist and slightly liquidy.
6. Transfer skillet to the oven and bake until the frittata is puffed and brown, and the cheese is melted, about 10 minutes.
7. Combine the drizzle ingredients in a small bowl and mix to blend. To serve, cut into pie-shaped slices, placing a spatula underneath it to ensure it will slide out of the pan easily. Add a bit of the hot sauce drizzle, if desired, and garnish with parsley and basil. You could also serve alongside a small fruit salad. Serve immediately. Or make a day ahead, cover and refrigerate. Reheat, if desired, serve at room temperature or serve chilled.
This article is written by Diane Rossen Worthington from Seriously Simple and was legally licensed via the Tribune Content Agency through the NewsCred publisher network. Please direct all licensing questions to legal@newscred.com.