If you ever find yourself weighing the pros and cons of cooking fish in your small apartment (pro: fish for dinner, con: a lingering odor that means fish for breakfast the next morning, too), you're not alone. Leave it to Food & Wine Culinary Director Justin Chapple, however, to dispel any worries about making salmon, or any kind of seafood, for dinner.
In his new cookbook, Just Cook It!: 145-Built-To-Be-Easy Recipes That Are Totally Delicious, which comes out today, Chapple breaks down a classic French technique that's actually way more practical than it sounds. Say it with us: En papillote.
The traditional technique consists of cooking seafood, along with some kind of liquid and aromatics, in an envelope of parchment paper.
You might be familiar with the method, but you may also have thought it something to reserve for dinner parties or weekend nights when you want to give your meal a little more flair. Not so, says Chapple.
"If there's one thing that I've learned from cooking in a tiny New York City apartment without great venting," he writes, "it's that cooking en papillote is by far the best method for making seafood."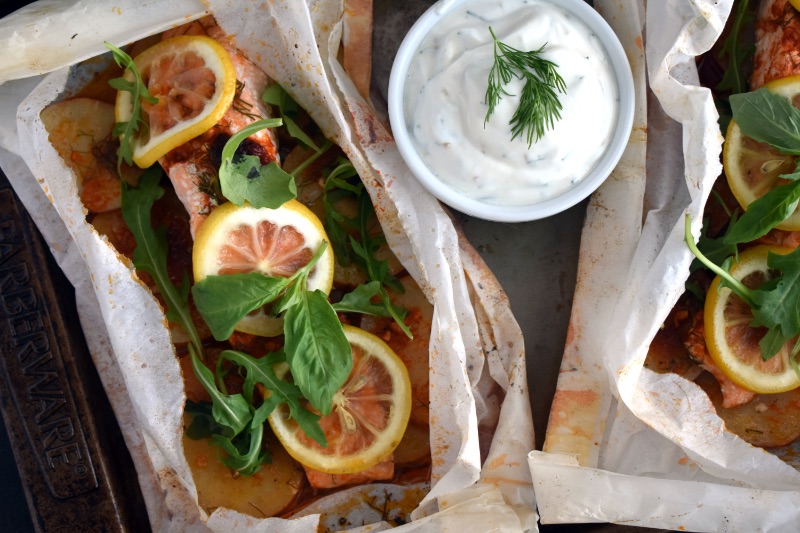 First, it keeps everything contained, so no splattering oil from searing and no odors wafting from the stovetop or sticking to your cookware, either. Second, it's healthy, because you're essentially steaming the seafood in its own juices, or in whatever liquid you choose. Finally, it cuts down on clean-up because once you're done, you simply throw the whole cooking vessel away.
In the book, a bible for quick and easy recipes that you'll want to make again and again, Chapple gives a step-by-step tutorial for mastering en papillote, but here are a few of his key pointers:
"You should use a larger-than-you-think sheet of parchment (I prefer ones that are 15 inches in length for an individual packet)."
"Less is more when cooking en papillote: The more you squeeze into your parcel, the harder it is to wrap up."
"Jack up the flavor of your parcels with herb springs, like basil and cilantro."
"Always bake your parcels on a large rimmed baking sheet."
"Think big." Making individual packets is more common, but Chapple will often make a packet big enough to fit four servings.
For the full tutorial, more details on these tips and three great parchment paper recipes—including sea bass and baby bok choy, and halibut with sweet corn and mushrooms—in addition to so many recipes you'll want to add to your weekly rotation, check out the new book. Once you master this technique, you'll never fear making seafood in your small apartment again. Try it out with Chapple's tried-and-true salmon recipe, featured in Just Cook It!.
As a 1999 New York Times article praising the technique aptly requests, "the envelope, please..."
SALMON WITH HARICOTS VERTS & TOMATOES IN PARCHMENT is excerpted from JUST COOK IT! © 2018 by Justin Chapple. Photography © 2018 by David Malosh. Reproduced by permission of Houghton Mifflin Harcourt. All rights reserved.
Salmon with Haricots Verts & Tomatoes in Parchment
Hands-on time: 20 min
Total time: 40 min
Serves 4
Most people want their salmon with a crisp golden crust. Not me. One of my favorite ways to cook salmon is poaching, and the en papillote method yields a very similar result—tender and juicy and not at all oily, like salmon can sometimes be. The cherry tomatoes in the bundle make the fish even better, adding a little tartness to cut the richness.
4 (5-to 6-ounce) salmon fillets (skinless or not, up to you), rinsed and patted dry
Kosher salt and freshly ground black pepper
½ pound haricots verts, stem ends trimmed
1 pint grape or cherry tomatoes, halved if large
2 garlic cloves, minced
1 lemon, thinly sliced and seeded
2 tablespoons extra-virgin olive oil
Crusty bread, for serving
1. Preheat the oven to 425°F.
2. Season both sides of the salmon fillets with salt and pepper.
3. Lay a 3-foot-long piece of parchment paper on a large rimmed baking sheet. Mound the haricot verts, tomatoes, and garlic on one half of the parchment paper and season with salt and pepper.
Arrange the salmon fillets and lemon slices on top. Drizzle with the olive oil. Fold the parchment over the fish and then, starting at one end, fold over the edge and crimp it to seal. Continue folding over and crimping the edge at 1-inch intervals until you reach the opposite end, then twist the corner to make it airtight. Bake the packet for 15 minutes for medium salmon and 20 minutes for well-done.
4. Using scissors, snip open the packet to release the steam (be careful—it's hot). Using a spoon, transfer the salmon, vegetables, and any juices to a deep platter or four shallow bowls. Serve right away with crusty bread.
This article was written by Alison Spiegel from Food & Wine and was legally licensed through the NewsCred publisher network. Please direct all licensing questions to legal@newscred.com.