Justin Chapple is back with another Mad Genius vegetarian Thanksgiving side dish – and this time it's a riff on the classic green bean casserole. A creamy made-from-scratch sauce replaces canned condensed soup, and in lieu of fried onions, crunchy, toasty, almost-burnt almonds come together with panko for a tasty topping. Justin describes the almonds as "flavor bombs" and promises that they take the dish to "the next level." Read on for his step-by-step method and follow along with the video so you can give it a try at home.
Toast the Almonds
First, you'll need 3/4 cup of raw almonds. Spread 'em out on a rimmed baking sheet in an even layer and pop them in the oven at 350°F for 12 to 15 minutes – essentially, giving them a toast before they bake on top of the casserole and get to that "almost burnt" level. As Justin points out in the video, 12 minutes will yield "slightly toasted" almonds, while the 15-minute almond is "just a little bit darker" and "toasted all the way through."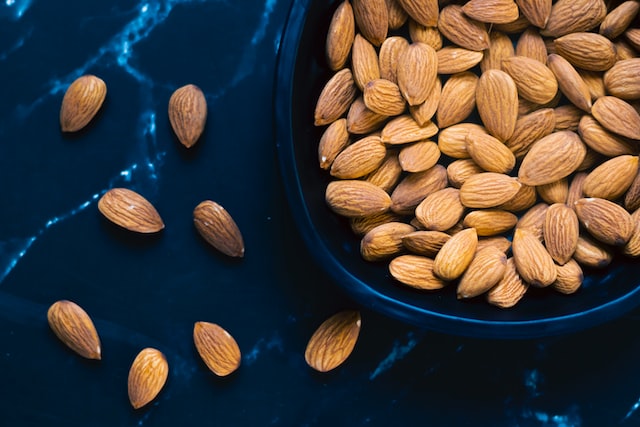 Blanch the Green Beans
Next up, blanch the green beans. If you don't have a large enough pot to accommodate the full two pounds of green beans, Justin recommends doing it in batches. As the green beans finish cooking, give them a dunk in a large bowl of ice water to stop the cooking.
Build the Sauce
As Justin points out, people often use cream of mushroom or cream of chicken soup in their green bean casseroles; however, in this case, he's making his own sauce. It starts with extra-virgin olive oil and unsalted butter heated in a pot over medium. After that, in goes the chopped onion and the thinly sliced garlic, along with a "nice, generous pinch" of kosher salt. The salt, Justin says, will help "extract some of that moisture and soften the vegetables." Cook the mixture for 8 to 10 minutes, and after that, whisk in about 1 1/2 teaspoons of seasoned vegetable base (e.g., Better Than Bouillon) – "a little goes a long way, "Justin says – and half a teaspoon of crushed red pepper. 
Cook for 30 seconds, and then add in the 1/4 cup of all-purpose flour, cooking until it's "foamy and evenly distributed." Next, gradually incorporate two cups of whole milk, whisking it in, and then whisk in two cups of water as well. Let the mixture simmer for five minutes so it thickens. Finally, turn off the heat and stir in the apple cider vinegar. Make sure the sauce is well-seasoned, too (he adds some freshly ground pepper), before adding in the green beans.
Assemble the Casserole
Drain the green beans and add them to the finished sauce. Then, pour everything into a buttered casserole dish, and be sure to grab any leftover sauce from the pot and spoon it on top of the green beans.
Make the Topping and Bake
Before the casserole goes in the oven, you'll want to add that crunchy topping. Take the toasted almonds, chop them up, and mix them in a bowl with half a cup of panko and some olive oil. Then, sprinkle the mixture on top of the green beans evenly and bake the casserole for 20 to 25 minutes at 350°F. The finished casserole should be bubbling with almonds that are "deeply, deeply brown," and yes, almost burnt. Grab the recipe here to give it a try.
This article was written by Bridget Hallinan from Food & Wine and was legally licensed through the Industry Dive Content Marketplace. Please direct all licensing questions to legal@industrydive.com.