Rubbed, smoked, and mopped, Rodney Scott's turkey will be the talk of your Thanksgiving table.
Thanks to Rodney Scott's smoky dry rub and spicy mopping sauce, this turkey is easy to tackle on a kamado-style cooker. While Scott swears by the thermal qualities of a ceramic grill. His turkey can also be cooked in a kettle grill or smoker at 225F
Charleston pit master Rodney Scott is famous for his whole-hog barbecue – a masterpiece of pork smoked over oak coals for hours, mopped with a slightly sweet and spicy vinegar sauce, and chopped into a glorious heap of juicy meat and crispy cracklings, all doused with a little more sauce. Scott, who won the James Beard Award for Best Chef: Southeast in 2018, also applies his signature technique to his Thanksgiving turkey to make a bird that gives his pig a run for its money.
Scott's restaurants smoke hundreds of turkeys in the days leading up to Thanksgiving. If you aren't lucky enough to live nearby, you can achieve the same flavor on your backyard grill. "At home, I always use a Big Green Egg, which holds temperature really well and infuses amazing smoke flavor," he says. The other secret to those impossibly juicy birds? "I really like Butterball turkeys because they cook consistently no matter where we are in the country."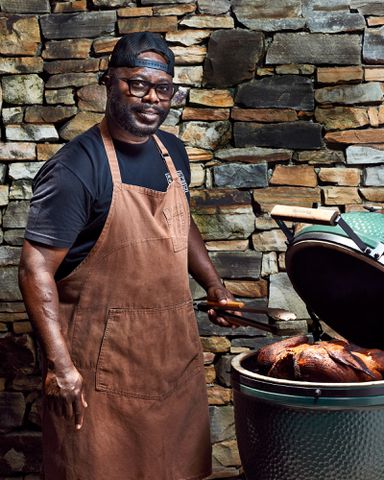 Using his signature Rib Rub and Mop Sauce, Scott applies his pig principles to turkey. "Remember 'mop, flip, mop,'" he said on a recent visit to the F&W test kitchen. Starting with a spatchcocked bird – which he splits by cutting through the breast, leaving the backbone in for more flavor – he seasons the turkey right before smoking. "First, we want to color the bone side and get it nice and charred. When it's ready to flip, it'll look like jerk chicken." Then he takes a mop (at his restaurants he uses a clean full-size cotton floor mop; at home, a smaller basting mop), dunks it into the sauce, and douses the skin side of the bird, taking care not to brush off the seasoning.
With extra-long tongs, he flips the turkey in one graceful move and bastes again, lifting the mop over the meat and letting the sauce drip into every crevice, then patting the meat to make sure it soaks in. Pressing his tongs into the exposed breast meat, he roughs the meat up a little, lightly shredding it before saucing again, using a full quart of sauce in all.
1. Cut Turkey in Half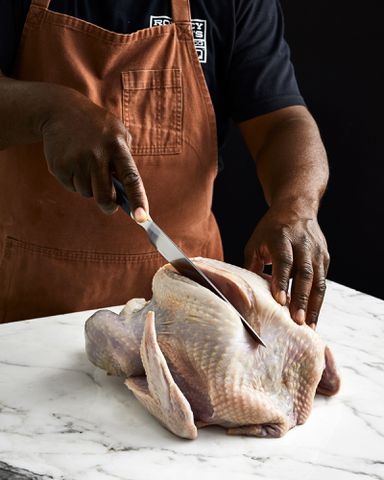 Using a sharp knife, cut turkey in half lengthwise, cutting straight through breastbone.
2. Flatten Turkey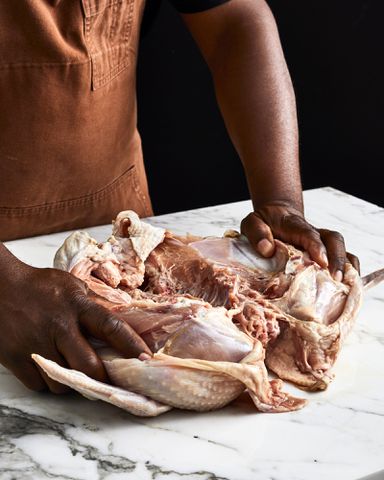 Using your hands, open up turkey and press to flatten; pat inside dry with paper towels.
3. Season with Dry Rub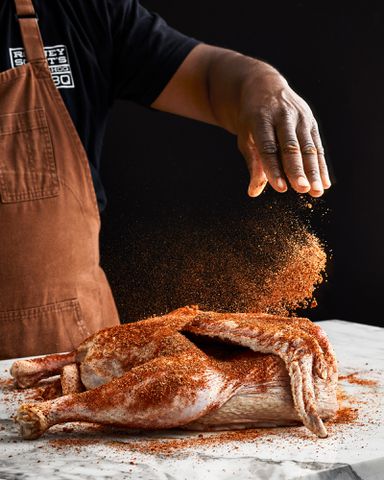 From a height of 12 inches, liberally season all sides of turkey, being sure to season underneath wings. Do not rub seasoning in.
4. Smoke and Mop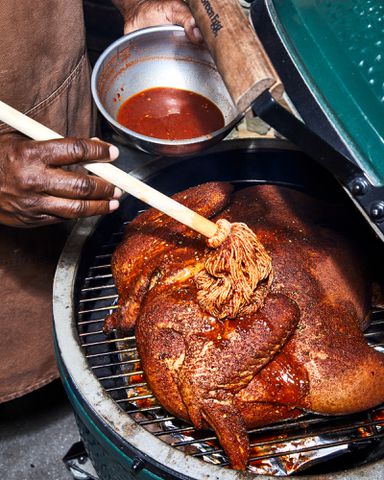 Smoke the turkey, skin side up, for about 2 hours. Uncover and mop with about 1 1/2 cups mopping sauce.
5. Flip the Turkey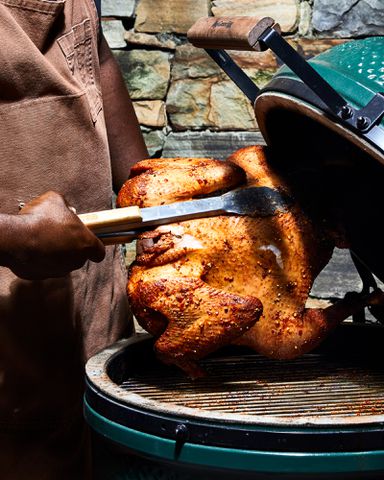 Using tongs and reaching as far under the bird as possible, carefully turn the turkey skin side down.
6. Mop and Finish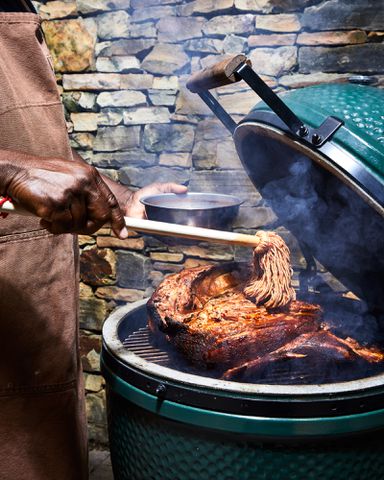 Mop with remaining sauce. Gently insert tip of tongs into breast meat to help sauce absorb. Cover and finish smoking.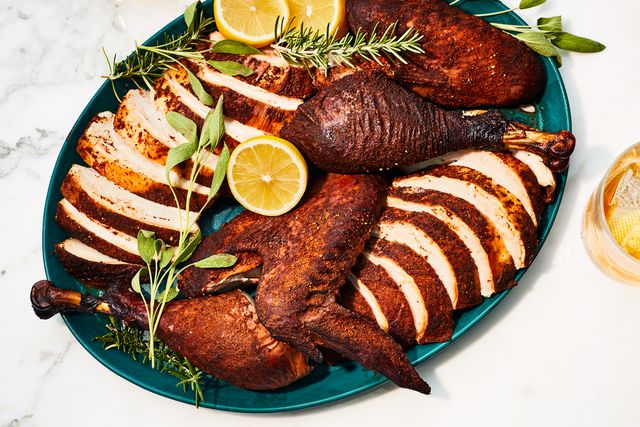 Get the Recipe: Spatchcocked Smoked Turkey
This article was written by Mary-Frances Heck from Food & Wine and was legally licensed through the DiveMarketplace by Industry Dive. Please direct all licensing questions to legal@industrydive.com.