Flavor Profile
If you've ever attended a neighborhood chili cook-off, then you know there are as many chili recipes as there are cooks. But there's also an essential starting point—an earthy, complex, well-balanced flavor to set the stage for your own special additions. You might be surprised to know that chili powder is actually a blend of herbs and spices. Ours begins with whole, ripe chili peppers, toasted and mixed with ingredients including cumin, oregano, garlic and salt. Chili is just one of its many uses. Add it to rubs for pork ribs and chicken wings. Stir it into ground beef with onions and garlic as a base for nachos, tacos or a fantastic burger. Then get creative. Shake in extra oregano, a touch of cumin or additional garlic powder. Use it to make whatever dish you love even better!
Usage
Whether you prefer Texas-style chili without beans, Cincinnati "five-way" or white chili with turkey, the only rule is to begin with a full-flavored, well-balanced chili powder. That's where McCormick comes in!
Chili powder is a natural for the grill. It makes a delicious rub for beef, pork or chicken, whether on its own or mixed with additional herbs and spices. Next time you're grilling steak, rub it first with chili powder and a little salt. Then serve it with a wedge of lime for added zing.
Have you noticed all the chili-spiked desserts showing up at fancy restaurants? It's easy to create them at home. Add a sprinkle or two of chili powder to your favorite recipes for chocolate cookies, flourless chocolate cake or homemade chocolate ice cream—just enough to give the sweetness an earthy edge.
Perfect Partners
Tomatoes and chili powder have a longstanding love affair. And not just in the dish called chili. Add a pinch or two to fresh tomato salsa, tomato soup, tomato sauce for Tex-Mex dishes, or a slow-cooked beef brisket with tomatoes. It adds depth and warmth that counter tomato's acidity.
We love to personalize barbecue sauce—homemade or bottled—with a hint of chili powder. Any barbecue sauce will serve as a good base. Throw in a teaspoon or two of chili powder and simmer to mellow the flavors. Slather it on beef, pork or chicken.
Looking to perk up Meatless Monday? Bean soups, stews and main dishes can always use a sprinkling of chili powder. Round out the flavor with extra touches of garlic, cumin and oregano.
Substitutes
Q: If I don't have chili powder on hand, what makes a good substitute?
A: With a few spice-cupboard staples, you can make your own chili powder.
Just mix equal parts oregano leaves, paprika, garlic powder and ground cumin. Throw in a dash of ground chipotle pepper, if you have it, to lend a smoky edge. Or add ground red pepper, also called cayenne, if you'd like a little heat. You can substitute this blend for chili powder in equal measure and tailor the flavor to suit your own taste.
History/Fun Facts
Texans lay claim to the invention of chili powder, although there's always someone willing to dispute the fact. But everyone agrees that using chili powder is a lot easier than choosing the right chili peppers to dry, toast and grind. Of course chili powder is more than chilies. Most often, it also includes cumin, oregano, garlic and salt.
Popular Recipe Recommendations
Mexican Corn Salad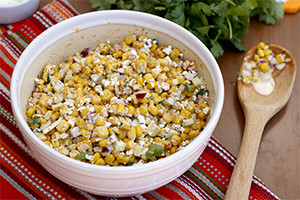 Cheesy Mexican Cornbread Casserole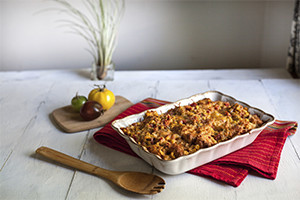 All American Chili