If you love granola, you're going to want a jar of this version in the kitchen all fall along. There's a double dose of pumpkin, along with wholesome ingredients like oats, nuts, seeds and a splash of maple syrup, for a breakfast that tastes like the season. And since Halloween is on the horizon, we also added a handful of mini chocolate chips because we also deserve a little treat to help get the day started.
Give your granola some real pumpkin spice
One of my big pet peeves is when items are called "pumpkin spice" but contain no actual pumpkin. Not here! There is a real dose of pumpkin puree in this recipe, plus the fragrant spice medley of cinnamon, nutmeg and ginger that gives pumpkin spice-flavored foods their mass appeal. This mixture coats all the ingredients and finds its way into all the nooks and crannies of the crunchy clusters.
Stick to the amount of puree given in this recipe; if you add too much, the granola is likely to turn out soft and soggy.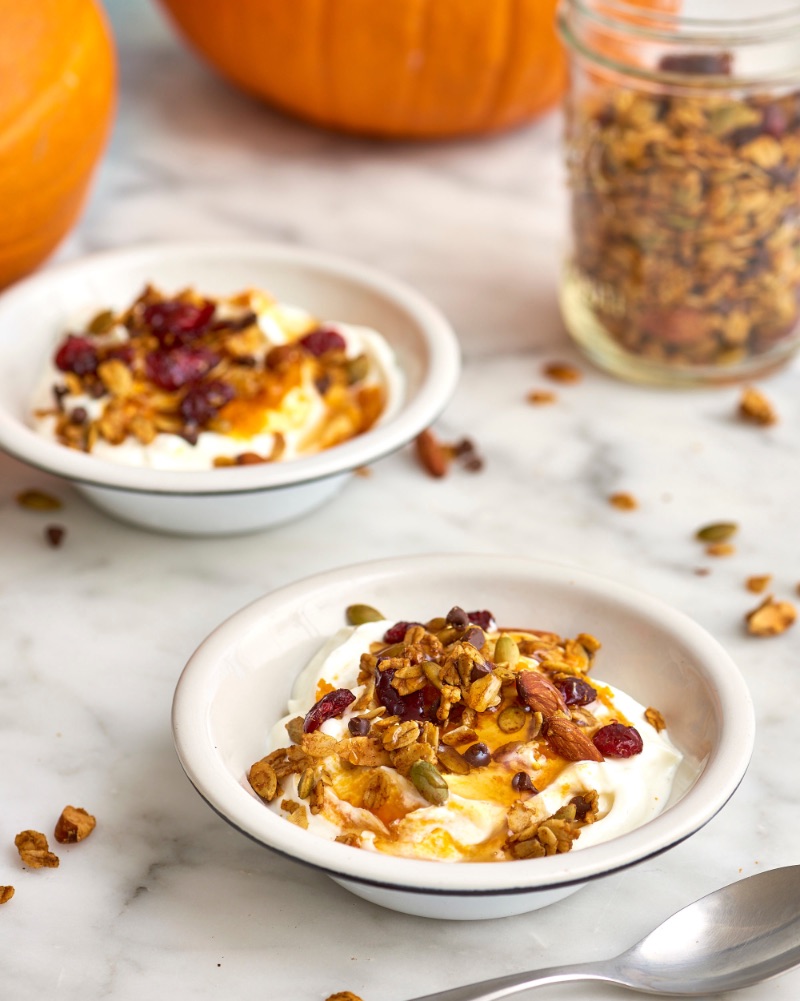 Wholesome Halloween Granola
Makes about 6 cups
3 cups old-fashioned rolled oats
3/4 cup pumpkin seeds
3/4 cup chopped almonds
2 teaspoons pumpkin pie spice, store-bought or homemade
1/4 teaspoon kosher salt
1/2 cup olive oil or coconut oil
1/3 cup maple syrup
1/4 cup pumpkin puree
1/2 teaspoon vanilla extract
1/2 cup dried cranberries
1/2 cup mini chocolate chips
1. Arrange a rack in the middle of the oven and heat to 300 F. Line a rimmed baking sheet with parchment paper; set aside.
2. Place the oats, pumpkin seeds, almonds, pumpkin pie spice and salt in a large bowl, and stir to combine; set aside.
3. Whisk together the oil, maple syrup, pumpkin puree and vanilla in a medium bowl until well-combined. Pour over the oat mixture, and stir until the oats are fully coated. Transfer to the prepared baking sheet, and spread into an even layer.
4. Bake until golden-brown and starting to crisp, 40 to 45 minutes total, stirring once about halfway through. Remove from the oven, and let cool completely on the baking sheet. Transfer to a clean, dry bowl, break into clusters, and stir in the dried cranberries and chocolate chips.
Recipe notes: Store in an airtight container at room temperature for up to one week.
(Kelli Foster is associate food editor for TheKitchn.com, a nationally known blog for people who love food and home cooking. Submit any comments or questions to editorial@thekitchn.com.)
This article is written by Kelli Foster from The Kitchn and was legally licensed via the Tribune Content Agency through the NewsCred publisher network. Please direct all licensing questions to legal@newscred.com.