Make this classic dessert year-round without a campfire or skewers. This s'mores idea requires only your grill and a spatula.
While s'mores may be a summer camp classic, there's no reason not to enjoy the gooey delicacies throughout the year.
In fact, we love this brilliant creation so much that our editors and Test Kitchen staff determined the flavor combination cannot be contained to graham crackers, chocolate squares, and toasted marshmallows alone. We swooned over the s'mores board trend and cheered about this year's Dairy Queen's S'mores Blizzard drop. To date, we've perfected our own recipes for everything from Double-Chocolate S'mores Banana Bread and Soft S'more Cookies to Toasted S'mores Cocktails and a Grown-Up S'mores Torte.
However, on those days when we're craving a classic, nothing satisfies like an original stacked, toasted, and nostalgic s'mores recipe. If the mood hits when we're far from a summer campfire or a stack of skewers, one clever social media trick offers a no-sweat solution.
The Easiest Way to Make S'mores on the Grill
You don't need a firepit or campfire to make these quick and easy s'mores, explains Yumna Jawad (@feelgoodfoodie), the creator of the healthy food blog Feel Good Foodie. You need to look no further than your charcoal grill or gas grill.
Tips
Test Kitchen Tip: If you use wooden skewers, soak them in water for 30 minutes and drain them before using to prevent combustion.
Start by breaking a full graham cracker sheet in half and placing the two squares next to each other. Top one graham cracker half with a portion of chocolate.
Next, turn your attention to the star of the s'mores show: the marshmallow. Jawad suggests grabbing a clean metal spatula, which you may already have as part of your grilling equipment. Press a large marshmallow about halfway down on the top edge of the spatula so it splits in half like a hot dog bun, leaving the top portion of the marshmallow attached.
Position the marshmallow over the grill, and turn the spatula handle often until the marshmallow is evenly toasted. 
With the toasted marshmallow still atop the spatula, place it on the graham cracker square that's topped with chocolate. Use your other hand to place the other graham cracker half on top. Gently press down on the top cracker to hold it in place, and pull the spatula handle away from the s'more so that it's fully assembled and your spatula is all set to wash and use again.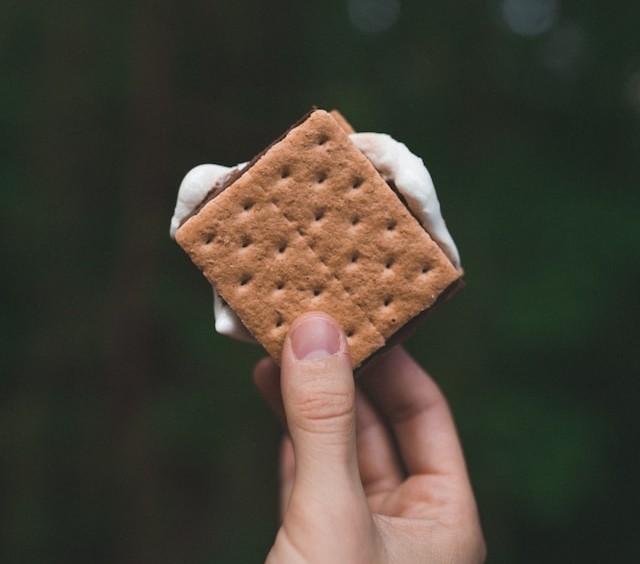 Kenrick Mills 
Quick Ways to Upgrade Grilled S'mores
We love how this outdoor food hack uses tools most of us have handy when grilling. Plus, unlike wooden skewers, which you'd need to soak and recycle, this method creates no waste.
After you master this easy s'mores trick and enjoy your first s'more in its au naturel glory, you might be ready to upgrade the elements for round two. Try one of these options for a next-level grilled dessert.
Cookie S'mores: Replace graham crackers with chocolate chip cookies, stroopwafels, or any other favorite cookie.
PB&J S'mores: Add a schmear of nut butter and jam.
Fruity S'mores: Sandwich in fresh berries, banana slices, or grilled fruit.
Candy Bar S'mores: Use mini candy bars instead of plain chocolate pieces.
Chocolate-Covered Bacon S'mores: Layer in some crispy bacon.
Macaroon S'mores: Sprinkle in some toasted coconut.
Salted Caramel S'mores: Top the toasted marshmallow with a drizzle of caramel and a pinch of flaky sea salt.
Lemon Meringue Pie S'mores: Skip the chocolate (or use white chocolate instead) and pair the graham cracker and marshmallow flavors with lemon curd.
This article was written by Karla Walsh from Better Homes and Gardens and was legally licensed through the DiveMarketplace by Industry Dive. Please direct all licensing questions to legal@industrydive.com.