A subpar salad is a sad thing, but a great salad? That's worth getting excited about. If you're looking to level up your salad-making game, you've come to the right place. I chatted with Victor King, executive chef and co-owner of The Essential and the forthcoming Bar La Fête in Birmingham, Alabama, to get his top tips on building your best salad yet.
To King, the thing that separates an at-home salad from a restaurant-worthy one is creativity. "In my experience, creative salads come together from taste memories," he said. "No two chefs make the same salad; it all comes down to creativity."
Texture
"The best salads are an evolution of textures," King said. Think "big crunches" like celery, kohlrabi, raw beets and radishes; medium-crunch ingredients like cucumbers, puffed grains and gem lettuce; and light crunch foods like sesame seeds, sunflower seeds and fruits. Throw in some creamy elements like cheeses, dressings and cooked grains to complete this symphony of texture. "I love a refreshing crunch with a comforting creaminess," he said.
Other textural elements to consider adding are homemade buttery croutons (toasted in a pan) or an egg.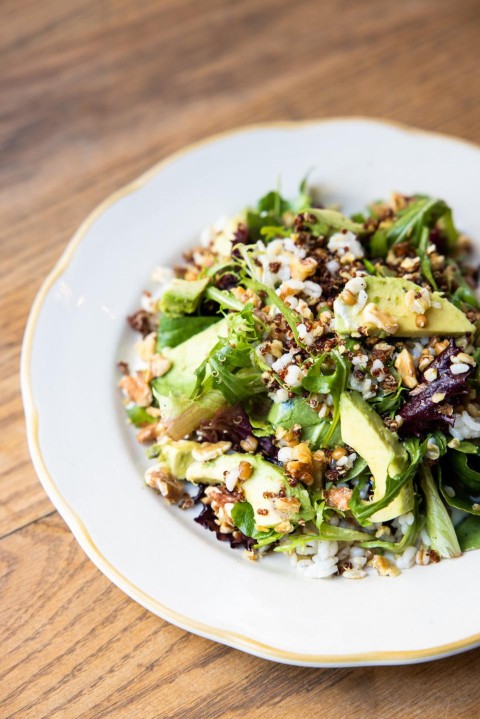 The Essential's five grain salad.
Credit: Caleb Chancey
Dressing
At home, King's go-to is a twist on a Caesar salad dressing. To make it, he combines 1/4 cup mayonnaise, 1/4 cup vinegar, 2 teaspoons fish sauce (or Worcestershire sauce), 2 teaspoons coarse ground black pepper, 2 tablespoons roasted garlic and 1/4 cup finely grated Parmesan or Pecorino.
For a simpler dressing, King mixes together sherry vinegar, extra virgin olive oil and a little bit of tarragon Dijon mustard. "The best dressings are creamy," he said.
Creativity
If you don't like salad, chances are you haven't had a good one yet. A salad isn't (and should probably never be) just a pile of lettuce. "Turn some crunchy vegetables into a slaw or make a warm vinaigrette," King said. He also recommends adding smoky flavor using charred fruits and vegetables, bacon, brown butter or even cheese.
On the subject of lettuce, King notes that the best lettuces are crunchy and a little bitter. Think arugula, radicchio or frisée. "Bitter lettuces have a ton of flavor and add amazing body to salads," he said. "Balance them with some crisp gem lettuce."
Start with a classic: Caesar salad
"This is always on our menu at the restaurant. I don't get tired of it," King said. "The ingredients change throughout the year which keeps it tasting fresh." When making Caesar salad, he recommends using just enough dressing to coat the lettuce; a little goes a long way. For croutons, skip the cubes. "They're silly; they don't go on the fork, and they just flop around," he said. "Make some coarse breadcrumbs and toast them in garlic and butter."
When making a salad at home, don't be afraid to go bold with flavors, ingredients or textures. "People will say salads are about balance, but I disagree. Salads need to pick a direction; balance is for your glass of water," King said. "A Caesar salad, my favorite, should be rich, peppery and zippy with acid. Wedge salads are rich. Crab Louie is sweet. All the classics have a distinct quality that makes them so."
This article was written by Abigail Abesamis Demarest from Forbes and was legally licensed through the Industry Dive Content Marketplace. Please direct all licensing questions to legal@industrydive.com.