Mashed potatoes aren't difficult to make, and they're pretty quick, too. (Quicker still to eat directly out of the bowl.) But Food & Wine Culinary Director Justin Chapple has a Mad Genius Tip that makes mashing potatoes just that much faster and easier.
Forget about peeling potatoes, which is probably the most annoying part of the whole process, and forget about needing multiple tools, too. Keep the peeler in the drawer and don't bother retrieving your masher. All you need is a baking rack (or cooling rack—whatever you want to call it).
Simply boil the potatoes with their skin on, and once they've cooked through, slice them open. Next, press them through the grid of the baking rack. In one swift step, you'll be left with the skins in your hand, and mashed potatoes in the bowl. If that's not mad genius, we don't know what is.
You can use the palm of your hand or a clean kitchen towel, if the skins are too hot, to press the potatoes through the stainless steel grid, and the cooling rack will do the work of mashing for you. If you're using hot potatoes, fresh out of the water (or oven—you can, of course, bake them too), then you won't have to do any reheating. Add some butter, cream, salt and pepper, and your mashed potatoes will be ready to serve right way—or ready to eat straight from the bowl with a spoon.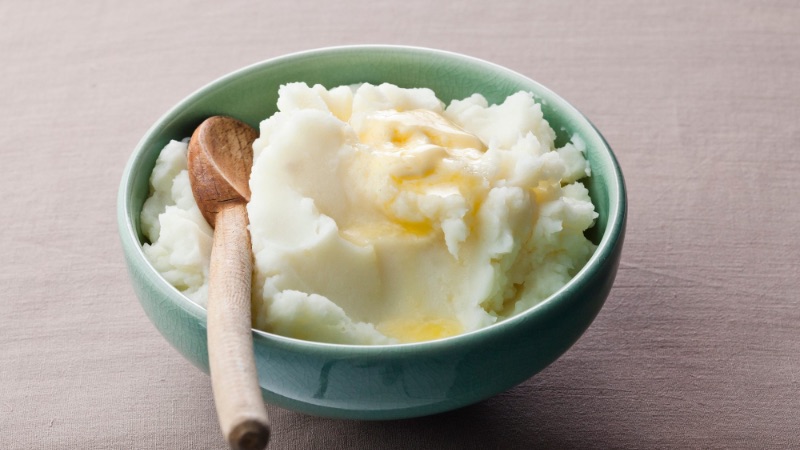 If you're ready to get cooking, check out these 11 mashed potato recipes, including the ultimate pommes puree from Joël Robuchon, which are iconic for a reason.
And if you're not making mashed potatoes, you still might want to consider skipping the peeling and leaving the skin on before boiling. If you score the skin before placing the potatoes in the water, the skin almost slips off when they're cooked. You can thank Chapple for that Mad Genius Tip, too.
This article was written by Alison Spiegel from Food & Wine and was legally licensed through the NewsCred publisher network. Please direct all licensing questions to legal@newscred.com.