Thanks to an abundant CSA share, I spent this past summer grilling heads of romaine. The result is fantastic: lovely charred greens with a touch of caramelized flavor. Wondering what other greens I should be grilling, I reached out to an expert. Memphis Barbecue Co.'s Melissa Cookston is known for her prowess cooking meat (she's the only female barbeque grand champion in the world and has won dozens of barbeque competitions across the globe), but she had plenty to say about leafy vegetables. Her number one tip: Watch your greens carefully as they cook. "This is not something to put on the grill and walk away from," she says, "because greens can go from almost perfect to a wilted mess in a matter of seconds." Here is Cookston's best advice for her six favorite greens to grill, plus a simple baste to use on any of them.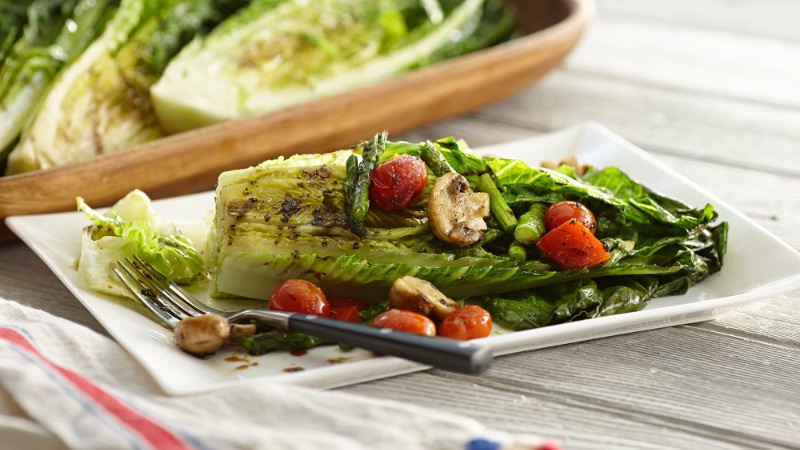 Romaine
Cookston loves how well romaine chars. She recommends removing the outermost leaves, brushing with her baste and grilling whole for 30 seconds to 1 minute per side, or just long enough to generate grill marks. This short cook time means the core will still be a bit cool, but the outer leaves will keep their texture. After grilling, Cookston trims off the root end and serves either as-is, or with Caesar dressing drizzled over the top.
Kale
Cookston says that grilling kale not only gives it a nice smoky flavor, it also removes some of its natural bitterness. She brushes both sides of the leaves and grills them whole, about 1 ½ to 2 minutes per side on a medium-hot grill. Grilling makes the kale leaves crispy, almost like chips.
Radicchio
This perennial Italian chicory is the firmest choice for grilling. Plus, Cookston says, the char and heat tone down its intense bitter taste. She prepares a head by cutting it in half, brushing the cut sides with the baste and grilling at medium-high to high for 4 to 5 minutes.
Belgian Endive
A cousin to radicchio, Belgian endive has "a bit more delicate and less bitter flavor." To prepare, simply trim the root end, cut in half, then brush and grill cut sides on a medium-hot grill for 2 to 3 minutes.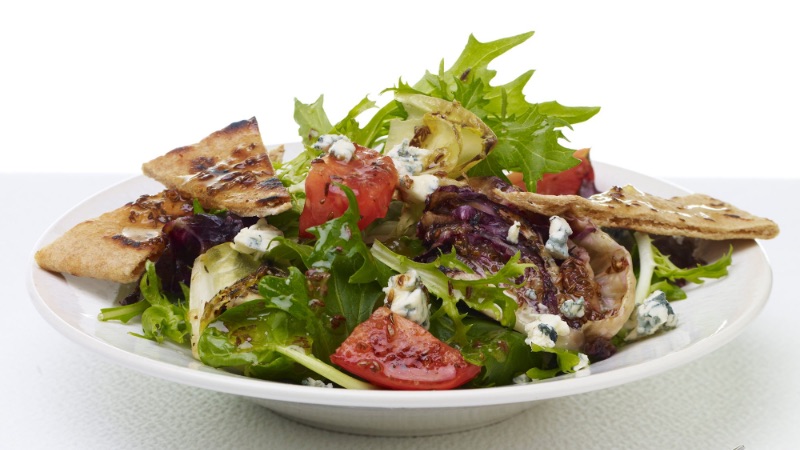 Bok Choy
Cookston prefers cooking tender baby bok choy on a grill with two heat zones. After cutting in half and brushing all sides, she places the head on the hottest portion of the grill for 2 minutes per side to get some grill marks, then moves it to the cooler portion of the grill for 3 to 4 more minutes per each side, or until tender.
Butter Lettuce
"I have become enamored with grilling butter lettuce lately," says Cookston. Although they seem delicate, Cookston says butter leaves are heartier on the grill than the other lettuces. She suggests splitting the lettuce in half, lightly brushing it with the baste and then grilling it cut side down for 2 to 3 minutes over medium heat, or until it is slightly charred and wilted. The texture of this lettuce lends itself to serving with a creamy dressing. If you don't have time to make one, try a store-bought ranch to which you've added some chopped fresh tarragon.
Superquick Greens Grill Baste
2 tablespoons olive oil*
Juice from ½ lemon**
1 teaspoon garlic, minced
¼ teaspoon salt (Alternatively, Cookston suggests sprinkling a coarse salt on your greens after grilling)
¼ teaspoon fresh ground black pepper, coarse grind
Optional add-ins: ¼ teaspoon of ancho chili powder or 1 teaspoon honey
* If you are cooking at very high heat or for more than a couple of minutes, try a high-temperature oil like peanut.
**For a change of flavor, replace the lemon juice with your favorite vinegar.
This article was written by Jocelyn Ruggiero from Food & Wine and was legally licensed through the NewsCred publisher network. Please direct all licensing questions to legal@newscred.com.