Discovering that I could cook shrimp straight from the freezer has to be one of the happiest accidents to come out of my kitchen this past summer. You see, the resulting shrimp are so juicy and flavorful that I can hardly believe I've ever taken the time to thaw shrimp, however easy and short the thawing may be. Straight from the freezer to the sheet pan, these shrimp are coated with Cajun seasoning for a spicy, savory take on broiled shrimp.
Is it safe to cook shrimp direct from the freezer?
Totally! Unlike chicken or salmon that must be cooked to a correct temperature to ensure their safety, shrimp are so small and so quick to cook that it's hard to undercook them or serve them underdone. Cooking them from a frozen state actually helps prevent overcooking, leading to juicer, more tender shrimp.
Broiled shrimp are better shrimp
Using a sheet pan to broil shrimp is hands-down the fastest, easiest way to cook shrimp. The secret is to preheat the oven and the sheet pan while you make the spice blend and coat the shrimp with it. Be sure to use a stainless steel baking sheet.
Serving your super-juicy shrimp
This shrimp-cooking method is my new favorite for serving shrimp over slow cooker grits, but they could easily serve as an appetizer with a cool, creamy sauce for dipping. Alternatively, toss with pasta or add to grain salads.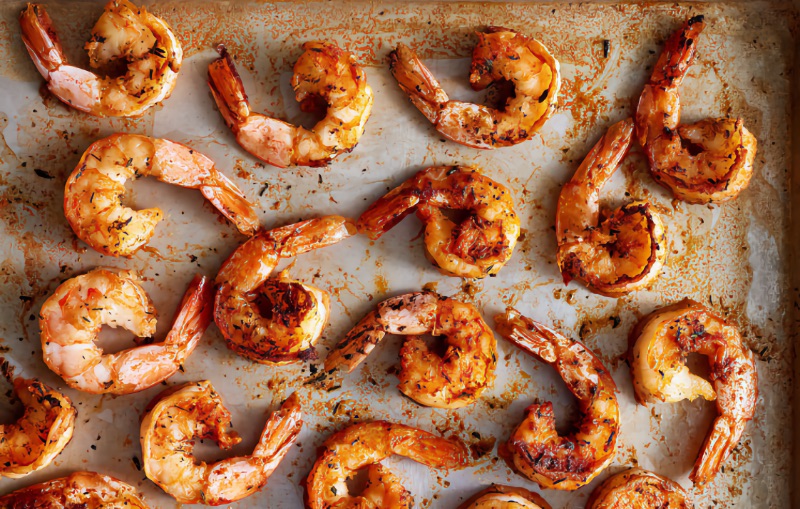 Cajun-Spiced Shrimp
Serves 4 to 6
3/4 teaspoon kosher salt
1/2 teaspoon garlic powder
1/2 teaspoon paprika
1/4 teaspoon freshly ground black pepper
1/4 teaspoon onion powder
1/4 teaspoon dried thyme
1/4 teaspoon dried oregano
1/4 teaspoon cayenne pepper
1 1/2 pounds uncooked cleaned and peeled extra-large frozen shrimp (21 to 25 shrimp per pound)
1. Arrange a rack about 6 inches under the broiling element and place a rimmed baking sheet on it. Set the broiler to high, and let the baking sheet heat for at least 10 minutes.
2. Make a Cajun spice blend for the shrimp. Place the salt, garlic powder, paprika, black pepper, onion powder, thyme, oregano and cayenne in a large bowl, and stir to combine.
3. Place the frozen shrimp in a colander, and rinse under cool running water for about 1 minute; you want to remove any ice crystals and separate any shrimp that are frozen together. Shake the colander to remove as much excess water as possible.
4. Add the shrimp to the spice mixture, and toss to combine.
5. Carefully take the preheated baking sheet out of the oven. Quickly pour the shrimp onto it. You should immediately hear the shrimp sizzle. Use tongs to arrange any shrimp that are too close or on top of each other so that they sit in a single layer, evenly spaced apart.
6. Return the baking sheet to the rack under the broiler. Broil until the shrimp curve slightly and become opaque, about 5 minutes.
Recipe notes: The spice mixture can be made up to three months ahead and stored in an airtight container at room temperature. Leftovers can be refrigerated in an airtight container for up to two days.
(Meghan Splawn is associate food editor for TheKitchn.com, a nationally known blog for people who love food and home cooking. Submit any comments or questions to editorial@thekitchn.com.)
This article is written by Meghan Splawn from The Kitchn and was legally licensed via the Tribune Content Agency through the NewsCred publisher network. Please direct all licensing questions to legal@newscred.com.