You know that boxed cake mix can be upgraded to create any number of upscale cakes, but did you know you can use it for more than just cake? You can use it to make cookies, brownies and more quick desserts in a pinch. With all of the flavors of cake mix out there, there are endless possibilities! Here are five tricks to help you get creative with that boxed mix:
Crinkle Cookies
Using cake mix to make cookies has become my favorite way to use cake mix in the last few years. These are so delicious, friends are often surprised when I describe how easy they are to make. 
In addition to your box of cake mix (my favorite is chocolate, but any flavor works), you will need 1/3 cup vegetable oil, 2 eggs, and about 1 cup of powdered sugar (for rolling). Preheat your oven to 350°F. In a large bowl, mix the cake mix, oil, and 2 eggs until you form a stiff dough (it will resemble the texture of Play-Doh, but hang in there). Refrigerate the dough for about 20 minutes for easier handling. While the dough is chilling, put that powdered sugar in a shallow bowl or plate. After the dough has chilled, roll it into 1-inch balls. Roll the balls into the powdered sugar until they are completely coated. Place the dough on a parchment-lined baking sheet about 2 inches apart. Bake cookies for 11 minutes, and let cool on a wire rack. 
Pancakes 
Fresh pancakes are just minutes away from the table with this super-easy recipe. Yes, you can use pancake mix, but the endless flavor options cake mix provides let you take your pancake game to the next level. Start with a box of any flavor cake mix, and add 1/2 cup flour, 2 eggs, 2 1/2 cups of milk, and 1/4 cup of oil. After mixing the ingredients together, you'll have a pancake mix that is ready to go. Cook the pancakes in a thin layer of butter or oil on a griddle or nonstick pan.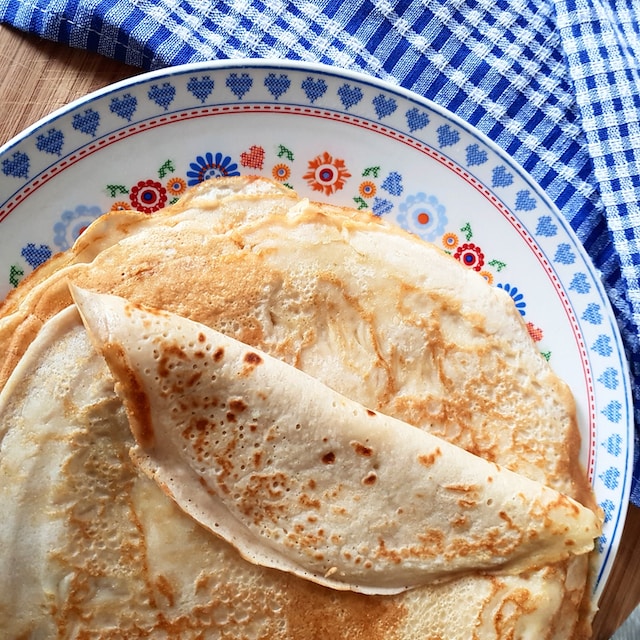 Doughnuts
You can turn cake mix into quick and easy baked doughnuts. In addition to the mix, you'll need 2 large eggs, 1/4 cup vegetable oil, and 3/4 cup milk (use water if you prefer). Preheat your oven to 350°F and prepare a doughnut pan with either non-stick spray, butter, or oil. Mix the dry cake mix, egg, vegetable oil, and milk or water. Pour the batter into the prepared doughnut pan until cups are about half full. Bake the doughnuts until lightly browned, 12 to 14 minutes. Once the doughnuts have cooled in the pan for five to 10 minutes, transfer them to a wire rack and let them cool completely. If you like, go the extra mile and top these easy doughnuts with one of our many frosting recipes.
Muffins
Muffins are just smaller cousins to cake and cupcakes, just with different proportions. To turn any cake mix into a muffin mix, add 1 teaspoon baking powder, 2 tablespoons of flour, 2/3 cup milk, 1/3 cup vegetable oil, and 3 large eggs. Preheat your oven to 375°F. In a large bowl, combine dry cake mix, baking powder, flour, milk, oil, and eggs, mixing thoroughly. Stir in 1 cup of nuts or blueberries. Put about 2/3 of the batter into lined muffin cups or cupcake tins, and bake for 15 to 20 minutes.
Brownies
Even though nothing beats a homemade brownie, there are times when it's convenient to have a quick-and-easy way to make this chocolate treat. Of course, you can use brownie mix. But to be honest, that's not as fun! And if you don't have brownie mix on hand, this is a great option. 
All you need is a box of chocolate cake mix, 1/3 cup vegetable oil, and 2 eggs. The absence of liquid (making it more dense) is the key to turning cake mix into brownie batter. The best part of this trick is that you can get creative like the other variations here. Experiment with vanilla cake mix to make blondies, or go crazy and make some strawberry bars with strawberry mix! Preheat your oven to 350°F. Pour the cake mix, oil, and eggs into a large bowl. Give it a good stir to fully combine the ingredients. Scrape the batter into a 8x8 or 9x9 square baking pan and bake for 20 minutes, or until a toothpick comes out clean.
This article was written by Alexandra Domrongchai from Food & Wine and was legally licensed through the Industry Dive Content Marketplace. Please direct all licensing questions to legal@industrydive.com.