If you're wondering how to make frozen veggies actually crispy, this Liz Moody roasted broccoli recipe is for you.
We love a roasted vegetable – whether it's a creamy-crisp potato or onion-smothered cauliflower – and we love the convenience of frozen veggies. But honestly, we've never thought of smushing the two together into Roasted Frozen Veggies™.
After all, frozen veggies, for all their versatility, tend to get a little soggy when sautéed or roasted on their own. (We tend to use them in casseroles and soups, where their sogginess doesn't affect the texture of your meal.) But a method from Liz Moody, podcaster and cookbook author, may have flipped our frozen veggie assumptions on their heads.
Moody took to Instagram recently to share her recipe for crispy roasted frozen broccoli, which is actually pretty simple.
"It has come to my attention that many of you do not know one of my all-time favorite hacks, which is that you can roast frozen broccoli," Moody said in the video. "I developed this technique for my last cookbook for a chickpea recipe, but it works just as well here. You're going to roast the broccoli completely naked, with nothing on it until it gets brown. Then you're going to add your oil and seasoning – otherwise, the oil traps the water so it can't evaporate."
It's as simple as that. Moody roasts her broccoli at 400°F for about 30 minutes with the broccoli spread out on a sheet pan. After the initial roasting, drizzle with olive oil and sprinkle with seasonings, then toss and roast for another 10 minutes or so.
The broccoli will be brown on the bottom and still vibrant green on the top, perfect for serving on the side with your salmon or chicken thighs. Plus, the soggy texture we've been so worried about is finally a thing of the past.
"Just listen," Moody says at the end of her video. As she pops a floret into her mouth, you can hear the crunch of crisp broccoli.
It's clear that the method works for Moody – you can't fake a crunch *that* delicious-sounding – but we also asked one of our own to try out the recipe at home.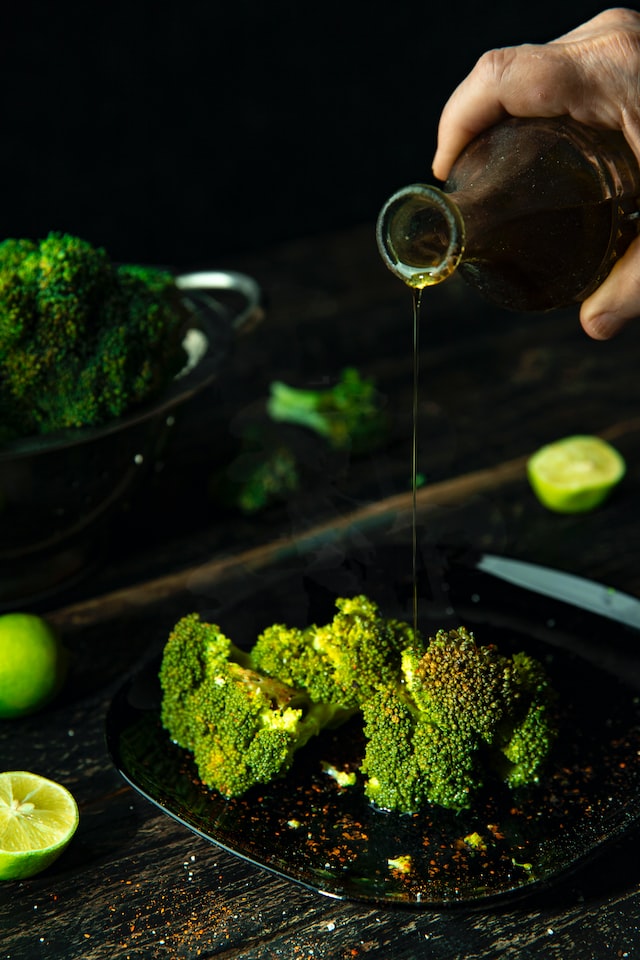 Photo by Sam Hojati
"At first I was a little skeptical of this idea, but when I thought about the science behind it, it made sense. That initial roasting step is essentially thawing and evaporating the water from the broccoli, which you need to get rid of in order to get crispy results. I followed her advice, reducing the oven temperature to 375°F since I was using the convection roast setting on my oven. After 25 minutes, my broccoli had really started to brown, so next time I'd check at 20 minutes. I tossed it with olive oil, garlic powder, salt, pepper and smoked paprika and roasted it for 7 minutes more," Carolyn Malcoun, senior food features editor at EatingWell said. "The florets were legit crunchy! I was pleasantly surprised to see how good the results were and will definitely use this hack again, as I always keep frozen broccoli on hand. I'll try it with cauliflower next, as these chipotle-lime roasted cauliflower tacos are in frequent rotation at my house."
With this recipe in our back pocket, we can't wait to put new spins on this simple recipe, whether that means pairing the veggies with a garlicky tahini sauce or adding a sweet and spicy kick during the last part of the roasting process. Since broccoli can be a pretty healthy veggie to add to your day – it has bunches of antioxidants and vitamin K – being able to keep it on hand in your freezer is a major win.
So give this method for surprisingly super-crispy frozen broccoli a try in your own kitchen and pair it with your favorite seasonings and a delicious source of protein for a nice weeknight meal – but don't be shocked when it makes its way into your regular supper rotation.
This article was written by Leah Goggins from EatingWell and was legally licensed through the Industry Dive Content Marketplace. Please direct all licensing questions to legal@industrydive.com.