As a vegetarian, I sort of assumed I'd have to sit the poke bowl trend out. I wanted to participate -- the concept of mix-and-match bowls bursting with color is exactly the way I like to eat -- but the cubes of raw tuna kept me on the sidelines.
That is, until I discovered tofu poke. This vegan twist on the popular poke bowl swaps the raw fish for marinated, flavor-packed tofu, allowing vegans and vegetarians (and the raw fish-averse in general) to get in on the action. I like to prep the rice, tofu and veggies on Sunday and then assemble the bowls for lunch, but these are equally as fun to make with friends for dinner.
Here, I'll fill in you in on my favorite way to prepare the tofu -- and how to make the best two-ingredient topper.
Heavenly marinade
Trust me -- the idea of eating raw tofu didn't appeal to me at first either. I tend to enjoy my tofu extra-crispy, whether that means roasting it in a hot oven or pan-frying it on the stove. But hear me out: Tossing extra-firm tofu cubes in a simple pantry marinade is faster and easier than any other form of preparation, and the tofu absorbs an incredible amount of flavor.
Let's talk about this marinade. It's a bold, yet well-balanced mixture of tamari or soy sauce, garlic, fresh ginger, lime juice, sesame seeds and toasted sesame oil. In just 10 minutes, the tofu soaks in all the toasty, garlicky, spicy ginger flavor, and leaves behind just enough sauce to drizzle on top of your poke bowls. I'm providing a range for the garlic and ginger, since those can be pretty powerful flavors. Taste and adjust as you see fit.
The drier the tofu, the better it can soak in flavor, so start pressing it at the very beginning of prep. While you're waiting, I encourage you to make a quick batch of lime-soaked cucumber slices; it's a trick I picked up from my friend Sarah at Bon Appetit. After thinly slicing a few Persian cucumbers, you'll salt them and squeeze out any water (to ensure they're super crisp), then toss them in freshly squeezed lime juice. The fresh and crunchy slices are the perfect complement to the tofu.
As far as the rest of the bowl? The only rule is to have fun with it. You can use these bowls as an excuse to clean out your kitchen -- gathering up veggie scraps from the fridge and whatever grain is in your pantry -- or, head to the farmers market or grocery store and pick up whatever looks most beautiful. I like to include as many colors as possible: purple cabbage, multi-colored shaved carrots, bright-pink radishes, and vibrant edamame, to name a few. Oh, and don't feel like you have to limit yourself to vegetables. I always top my bowls with a handful of wasabi peas.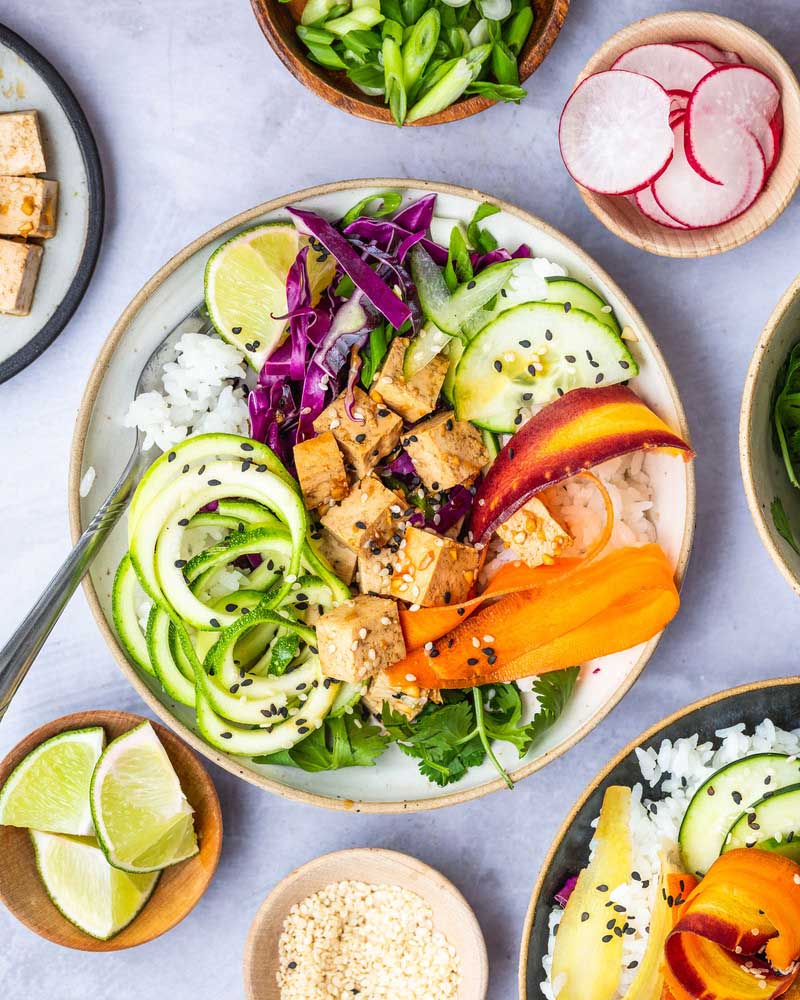 Sesame Ginger Tofu Poke Bowl
Serves 4
For the tofu:
14 to 16 ounces extra-firm tofu, drained
1/4 cup tamari or soy sauce
1 to 2 cloves garlic, grated or minced
1 tablespoon freshly squeezed lime juice
1 to 2 teaspoons grated or minced fresh peeled ginger
1 teaspoon sesame seeds
1 teaspoon toasted sesame oil
For the cucumbers:
2 Persian cucumbers, halved lengthwise, then thinly sliced into half moons (about 2 cups)
Kosher salt
1 tablespoon freshly squeezed lime juice
For the bowls:
2 cups cooked sushi rice or quinoa
Any combination of the following: shredded purple cabbage, cubed avocado, sliced scallions, fresh cilantro leaves and tender stems, sliced radishes, shelled edamame, bean sprouts, shaved carrot ribbons, spiralized veggies, wasabi peas, lime wedges, sesame seeds
1. Press the tofu: Wrap the block of tofu in a few layers of paper towels, then place on a dinner plate or cutting board. Weigh it down with a heavy object like a skillet, pot or large can for at least 20 minutes.
2. Meanwhile, place cucumbers in a medium bowl and add a few pinches of salt. Gently squeeze and toss with your hands until they begin to release liquid. Drain, return to the bowl, add the lime juice, and toss to coat; set aside.
3. Pat the tofu dry and cut into small cubes. Whisk together the tamari, garlic, lime juice, ginger, sesame seeds and toasted sesame oil in a large bowl. Add the tofu, and gently toss to coat. Let sit for 10 minutes. Drain, reserving the excess marinade.
4. Assemble the bowls: Divide the rice or quinoa between 4 shallow bowls. Top with the tofu, cucumbers (seasoning them with more salt, if needed), and any other desired toppings. Drizzle with the reserved marinade, if desired.
This article is written by Grace Elkus from The Kitchn and was legally licensed via the Tribune Content Agency through the NewsCred publisher network. Please direct all licensing questions to legal@newscred.com.