Potato soup is such a fall classic. Tender pieces of creamy russet potatoes mingle with onions, garlic and salty pancetta for a bowl of soul-soothing solace. The only possible upgrade to this classic is to make it easier with the help from the slow cooker. And let's be real -- this soup is 100 times better when it's made in the slow cooker.
To make the absolute easiest potato soup, this recipe relies on pantry staples to create a bowl of creamy, comforting soup that's as easy to make as it is to love.
It's all about the potatoes
First, this is not a chowder; there's no celery or carrot to get in the way of the potatoes. What we have here is a chunky potato soup flavored with onions, garlic and cubed pancetta, made creamy with a can of evaporated milk (yup, no cream here!). Thanks to the slow cooker, the warm and comforting soup is waiting for you when you come home.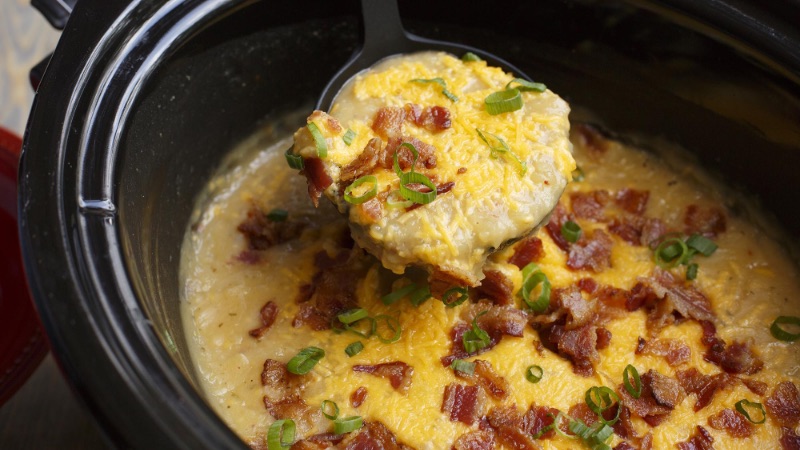 Key steps for chunky slow cooker potato soup
1. Use russet potatoes. Russets -- the potato we reach for most often for baked and mashed potatoes -- are ideal for this soup. They hold up to hours of cooking, while providing plenty of starch to make the soup ultra creamy.
2. Skip the cream and use canned milk. Nothing against heavy cream, but for a soup that cooks for hours in the slow cooker without separating, evaporated milk is the best milk for the job. You can add it at the beginning of cooking without any fuss.
3. Thicken with flour just before serving. You may find the soup to your liking without any additional thickening or mashing. Once the potatoes are tender, though, you can adjust the texture in two ways: First, you can take a potato masher to the soup and make it a little bit smoother. Second, you can thicken the soup by making a quick slurry with some of the soup's cooking liquid and flour in a small bowl.
Serving and storing
Classic potato soup is often served with a generous flurry of grated cheddar cheese and some crisp bacon, but let me offer a personal suggestion: crumbled cheese crackers. You'll get the salty, cheesy flavor of the cheddar with the crunch of the bacon. Heck, you could even do all three.
Once thickened, the soup will hold well in the slow cooker for about an hour-and-a-half. After that, transfer it to the fridge or freezer for long-term storage.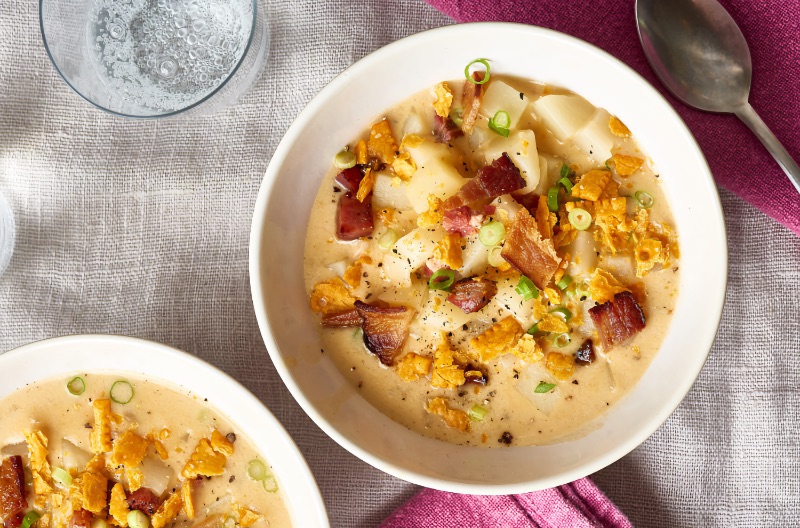 Slow Cooker Potato Soup
Serves 10 to 12
Prep time: 30 minutes
Cooking time: 5 hours to 6 hours
4 pounds russet potatoes (about 8 medium), peeled and diced
4 ounces pancetta, cubed
1 small onion, diced
4 cloves garlic, chopped
1 quart low-sodium chicken or vegetable broth
1 teaspoon kosher salt, plus more as needed
1/2 teaspoon dried thyme
1/4 teaspoon freshly ground black pepper, plus more as needed
1 (12-ounce) can evaporated milk
1/4 cup all-purpose flour
Serving options:
Thinly sliced scallions
Cooked bacon or pancetta pieces
Shredded sharp cheddar cheese
Cheddar cheese crackers, crumbled
1. Before you begin peeling and chopping the vegetables, preheat a 6-quart or larger slow cooker on the low setting. This will help jump-start the cooking process.
2. Place the potatoes, pancetta, onion and garlic in the slow cooker.
3. Pour in the broth and evaporated milk. Give the mixture a stir to combine.
4. Add the salt, thyme and pepper, and stir to combine. Cover and cook until the potatoes and onions are tender, 5 to 6 hours on the high setting or 8 to 9 hours on the low setting.
5. Before thickening the soup, taste and add more salt and pepper as needed. Ladle off 1 cup of the cooking liquid into a small bowl, doing your best to leave behind any vegetable chunks. Quickly whisk the flour into the reserved cooking liquid until smooth -- it should thicken almost immediately. Pour the thickened broth back into the slow cooker and stir to combine. Cover and cook until the soup thickens, about 30 minutes more.
6. Serve the soup with the topping options. If not serving immediately, turn your slow cooker to the warm setting for up to 1 1/2 hours. As the soup cools, some separation might occur, but it's nothing a stir won't remedy.
Recipe notes: Leftovers can be refrigerated in an airtight container for up to five days.
(Meghan Splawn is associate food editor for TheKitchn.com, a nationally known blog for people who love food and home cooking. Submit any comments or questions to editorial@thekitchn.com.)
This article is written by Meghan Splawn from The Kitchn and was legally licensed via the Tribune Content Agency through the NewsCred publisher network. Please direct all licensing questions to legal@newscred.com.