Each year as I begin to plan my Passover dinner, I like to include a dish that has a thread of tradition in it but might be a fresh reinterpretation. For example, this year I plan on serving crispy fish cakes instead of gefilte fish. I have served these for a first course or a main course for family and friends who really loved them, so I expect that I'll have a happy table with this riff on gefilte fish.
I like blending whitefish with salmon for a subtle, mild fish flavor and then blending it with sauteed leeks and carrots. You can either ask your fishmonger to grind the fish, or you can do it right in your food processor. It's easy to shape them into individual cakes and then refrigerate until ready to saute. You might be thinking this is too much work to do just before the service or meal begins, but you can saute them ahead and keep them in a very low oven until ready to serve.
Beet horseradish sauce is a non-dairy sauce that will certainly liven up the dish. I use Beaver horseradish cream because it is relatively mild. Make sure to taste the horseradish cream before proceeding to test how strong it is. You can find roasted beets ready to eat in most grocery stores, making this sauce a snap to prepare.
If you don't mind serving dairy, I also like to serve a sour cream mayonnaise dill sauce (see following recipe) with these crispy gems. Either way, I know your guests will be surprised and happy with this possible new tradition. Try to find a kosher sauvignon blanc to serve alongside as one of the four cups. Happy Passover!
Tasty tips
--Grind the fish in a food processor with the steel blade.
--You can also make these ahead through Step 4, tightly cover and freeze. Defrost and saute them just before serving.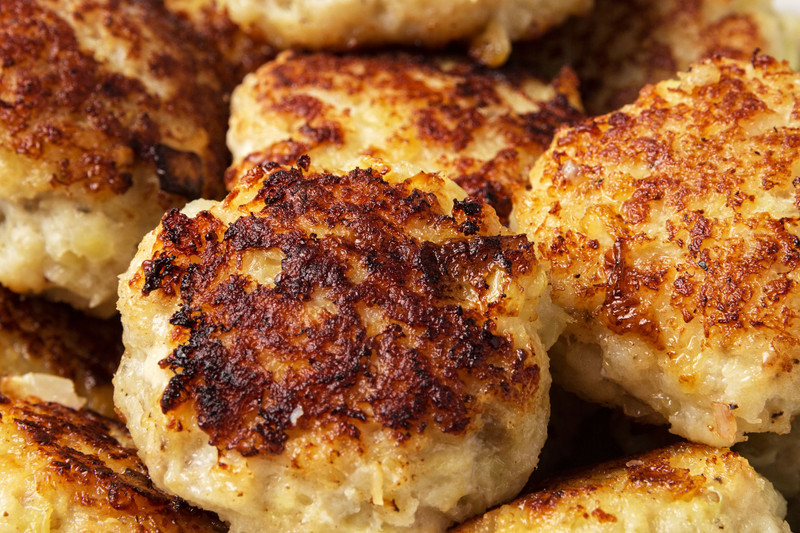 Sauteed Salmon and Whitefish Cakes with Beet Horseradish Sauce
Serves 8, Makes 16 fish cakes
For the beet horseradish sauce:
1 (5-ounce) jar prepared horseradish cream
4 small roasted beets
2 teaspoons red wine vinegar
Pinch sugar
For the fish cakes:
1/4 cup olive oil
4 medium carrots, peeled and finely chopped
3 leeks, white and light green parts only, cleaned and finely chopped
2 large eggs
1/2 cup matzo meal
2 1/2 teaspoons salt
1 teaspoon ground white pepper
1 tablespoon finely chopped parsley
1 tablespoon finely chopped dill weed
1 1/2 pounds skinned whitefish, ground
3/4 pound skinned salmon filet, ground
1/2 cup olive oil, for frying
Lemon slices and parsley or dill sprigs for garnish
1. For the beet horseradish sauce: Finely chop the beets in a food processor by pulsing them. Add the remaining ingredients and pulse to blend evenly. Taste for seasoning. Transfer to a serving dish, cover and refrigerate.
2. Heat 1/4 cup oil in a medium skillet, and saute carrots and leeks over medium heat until nicely softened, about 5 to 7 minutes. Allow to cool for 10 minutes.
3. Beat the eggs with the matzo meal in a large bowl. Add the cooled carrots and leeks, salt, pepper, parsley and dill weed, and continue to mix until well blended. Add the whitefish and salmon, and mix well. (You can use your hands so that the mixture is evenly blended.)
4. Wet your hands, and then divide the fish mixture into 16 cakes, shaping them into patties about 3/4-inch thick and 3 inches in diameter. Place on a cookie sheet. Cover the fish cakes with plastic wrap and refrigerate for at least 1 hour.
5. Heat 2 tablespoons of the olive oil each in two nonstick skillets or a griddle over medium-high heat. Cook 4 fish cakes at a time in each skillet for about 2 to 3 minutes on each side. Flatten the top with the back of a spatula. They should be golden brown on both sides. (They should not be overcooked because they will be reheated in the oven.)
6. Place the fish cakes on a baking sheet. Keep them warm in a 300 F oven. Add the remaining oil and saute the rest of the fish cakes until golden brown.
7. To serve, place two cakes on each plate, overlapping them, and spoon a tablespoon of sauce over the top of each cake. Garnish with lemon slices and dill or parsley.
Sour Cream Mayonnaise Dill Sauce
Makes 1 cup
1/2 cup sour cream
1/2 cup mayonnaise
1 tablespoon lemon juice
2 teaspoons Dijon mustard
2 teaspoons capers, rinsed and drained
2 tablespoons finely chopped fresh dill
2 tablespoons finely chopped cucumber
1. Whisk together the ingredients for the tartar sauce in a small bowl until well combined. Cover and refrigerate until serving.
This article is written by Diane Rossen Worthington from Seriously Simple and was legally licensed via the Tribune Content Agency through the NewsCred publisher network. Please direct all licensing questions to legal@newscred.com.