If you're constantly looking for ways to mix up your weeknight chicken routine, consider this your new addition. It's quick and crowd-pleasing, filled with bright cilantro and saucy lime flavor, and easy to clean up. In other words, your dinner roster will thank you.
It's easy to get in a chicken breast rut, but this recipe will get you back in your groove. The chicken cooks in a fragrant sauce of garlic, butter, lime zest and juice, and fresh cilantro, which boosts the flavor of the chicken and makes it moist. The acid from the limes protects the meat from drying out, while the touch of butter lends just enough richness to each bite. Although not essential, serving the chicken over rice or cauliflower rice is a smart move, because you'll want to enjoy every bit of the sauce.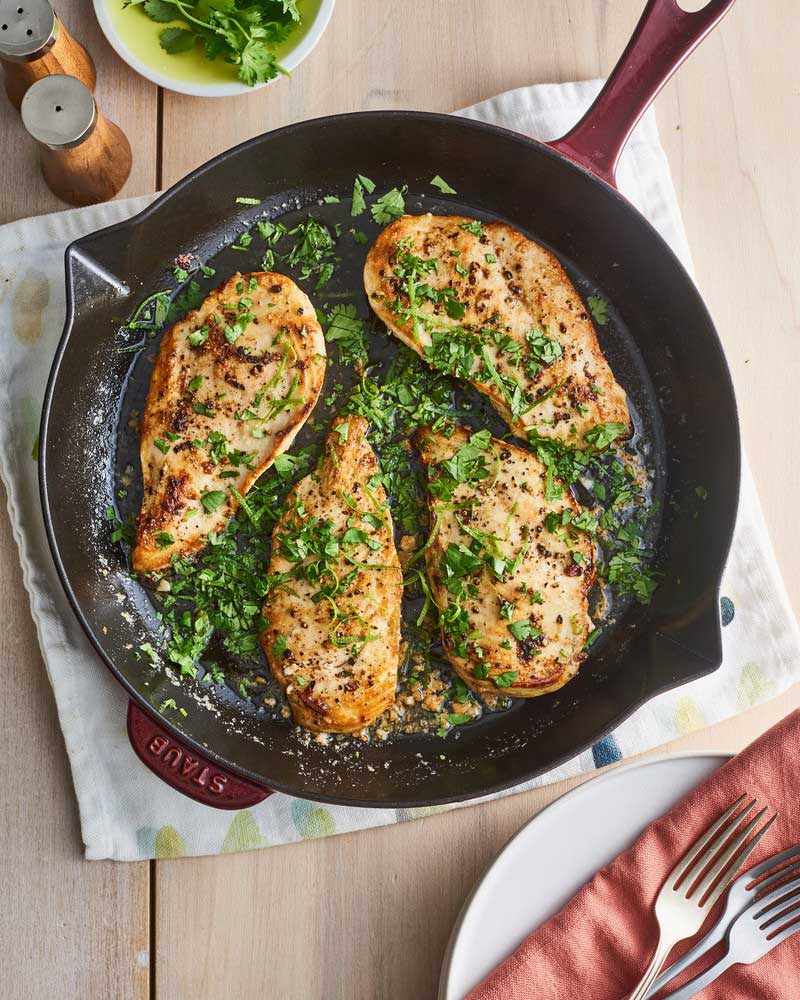 Cilantro-Lime Chicken
Serves 4
1 tablespoon olive oil
4 boneless, skinless chicken breasts (about 2 pounds total), pounded to 1/2-inch thick
Kosher salt
Freshly ground black pepper
2 tablespoons unsalted butter
2 cloves garlic, minced
Finely grated zest of 2 medium limes
1/4 cup freshly squeezed lime juice (from 2 to 4 limes)
1/3 cup chopped fresh cilantro leaves and tender stems
Cooked rice, for serving (optional)
1. Thoroughly pat the chicken dry with paper towels. Generously season all over with salt and pepper.
2. Heat 1 tablespoon of oil in a 10-inch or larger skillet over medium-high heat shimmering. Working in batches if needed, add the chicken and sear until deeply browned on the bottom, 5 to 7 minutes. Flip the chicken, and sear until the other side is well browned, 5 to 7 minutes. Transfer the chicken to a plate; set aside.
3. Reduce the heat to medium. Add the butter, garlic and lime zest, and cook, stirring frequently, for 1 minute. Stir in the lime juice.
4. Return the chicken and any accumulated juices to the skillet. Cover, reduce the heat as needed to maintain a gentle simmer, and simmer until the chicken is cooked through and registers 165 F on an instant-read thermometer, 2 to 3 minutes.
5. Stir in the cilantro, and spoon some of the sauce over the chicken. Serve with rice, if desired.
Recipe notes: Leftovers will keep in an airtight container in the refrigerator for up to four days.
This article is written by Sheela Prakash from The Kitchn and was legally licensed via the Tribune Content Agency through the NewsCred publisher network. Please direct all licensing questions to legal@newscred.com.