No matter how you prepare it, it's clear that we are a nation of coffee lovers. In fact, as a nation, we drink around 95 million cups of coffee per day. 
Now, we're not saying that you've been making coffee the wrong way this whole time. Whatever works for you, right? But what if you have been missing that extra kick, a bolder flavor, something just to give it a little more edge. And, what if we told you that this extra ingredient is likely right in your kitchen cupboard?
"But we can just add syrup!" I hear you cry. Yes, but with it you're adding a massive whack of sugar and artificial flavorings. It's time to get back to basics and even get a little health kick along the way.
Add Spices To Your Coffee 
While syrup is usually the go-to for adding extra flavor to a coffee, adding spices is often the healthier option and is more likely to bring out the taste of the coffee grounds themselves. If you're not keen on your coffee being too bitter, you might want to add a touch of salt to your coffee, too.
The fun part is choosing which spices to add. If you have a bit more of a sweet tooth, you could go with the spices most related to baking like nutmeg, cinnamon, ground ginger etc. You could add some mixed spices like pumpkin spice, British mixed spice for that coffee shop feel. 
Surprisingly, so many perfect additions for coffee are right in our kitchens! Think ground star anise, cocoa powder, even chill and cayenne pepper if you're really not a morning person and want to truly awaken your senses first thing. 
If you're more of a citrus kind of person and prefer a cold brew on these warmer days, adding some lemon or lime peel to your coffee grounds gives it that zingy taste and has the added bonus of using up what otherwise would have been kitchen scraps.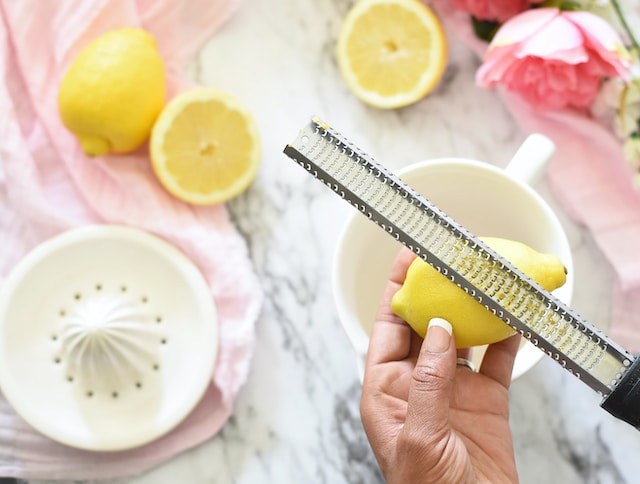 Photo by Deva Williamson 
How To Add Spices To Coffee
So, unlike syrups and sugars, adding spices actually happens in the brewing stage of coffee preparation. For ground spices, add them right into your coffee grounds before brewing. However, if you use whole beans and have some whole spices, grinding these together can really release the aromatics. The only thing to note here is that you need to clean your coffee grinder immediately afterwards OR be prepared to have slightly spiced coffee for the next while. Not really a bad thing!
This article was written by Sarah-Louise Kelly from HuffPost and was legally licensed through the Industry Dive Content Marketplace. Please direct all licensing questions to legal@industrydive.com.