Ready for a Taco Tuesday reboot? Loaded with juicy shreds of chicken, hearty black beans and sweet corn, all swimming in a smoky, spiced broth, this chicken taco soup recipe is one you're going to want to keep close by through the fall and beyond. Clocking in at about 30 minutes, this soup is definitely weeknight-friendly and just what to eat when you want big flavor without a ton time.
Poach the chicken in the soup
My favorite reliable method for getting tender, juicy shredded chicken is poaching. It can simply be done in a saucepan filled with water, but when making soup, there's an even better approach: Instead of cooking the chicken in a separate pot and then stirring it into the soup, this recipe walks you through cooking the chicken breasts directly in the soup. Not only will it help get dinner on the table even faster, but poaching the chicken directly in the soup also imparts more flavor. As it cooks, the savory broth, sweet tomato, and array of smoky spices are infused into the chicken.
When time is of the essence, remember to embrace "the meanwhile" and prep as you cook. Rather than prep all the ingredients before you get started on the soup, start with just the onion and garlic; while they cook, measure out the spices, rinse and drain the beans, and open the tomatoes and stock. If you also clean as you go, there will be hardly any dishes once dinner is ready.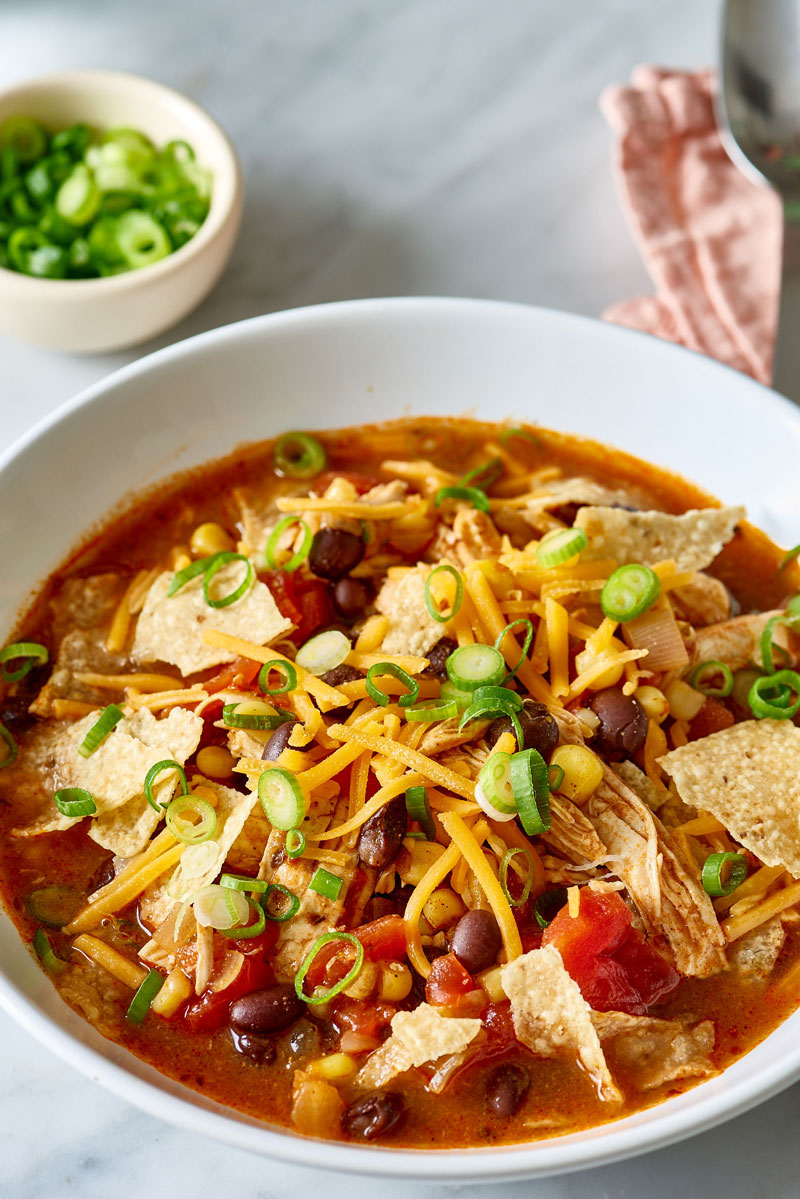 Easy One-Pot Chicken Taco Soup
Serves 4
2 tablespoons olive oil
1 medium yellow onion, diced
2 cloves garlic, minced
1 tablespoon chili powder
1 tablespoon ground cumin
2 teaspoons paprika
2 teaspoons dried oregano
1/2 teaspoon kosher salt
1/4 teaspoon freshly ground black pepper
4 cups (32 ounces) low-sodium chicken broth
1 (15-ounce) can black beans, drained and rinsed
1 (15-ounce) can diced tomatoes
1 pound boneless, skinless chicken breasts
1 cup fresh or frozen corn kernels
For serving (optional):
2 medium scallions, thinly sliced
1/2 cup shredded sharp cheddar cheese
1/2 cup crushed tortilla chips
Heat the oil in a large Dutch oven over medium heat until shimmering. Add the onion and garlic, and cook, stirring occasionally, until tender, about 5 minutes. Add the chili powder, cumin, paprika, oregano, salt and pepper, and cook until fragrant, about 1 minute. Add the broth, beans and tomatoes and their juices, then stir to combine.
Add the chicken and bring to a boil. Reduce the heat to maintain a simmer, and simmer until the chicken is cooked through and registers an internal temperature of 165 , 10 to 14 minutes, depending on the thickness of the chicken.
Transfer the chicken breasts to a cutting board. Shred the meat with two forks, and then return the chicken to the pot. Stir in the corn. Serve topped with the scallions, cheese and tortilla chips if desired.
Recipe notes: Leftovers can be stored in an airtight container for up to five days in the refrigerator or frozen for up to three months.
This article is written by Kelli Foster from The Kitchn and was legally licensed via the Tribune Content Agency through the NewsCred publisher network. Please direct all licensing questions to legal@newscred.com.