With the weather turning chilly in the morning, I recommend whipping up a batch of these heavenly scented pumpkin waffles to warm up. 
Light and airy with a crispy exterior, these waffles fill the kitchen with the aromas we associate with upcoming holidays and warm moments with family and friends. It's true you can probably buy a mix at your market, but these are worth preparing from scratch. If you make up the batter ahead, all you need to do is heat the waffle iron and cook them.
Waffles are a good solution when you have a group that might want breakfast at different times. Just keep the waffle iron on and let your guests or family make them as they wish. I like to serve these with Warm Spiced Persimmon Compote (recipe below) for a seasonal touch. If you don't have time to make the compote, warm maple syrup will do the trick. Grilled or oven-baked chicken mango or apple sausages make a great accompaniment.
You can make the batter up to one day ahead, cover and refrigerate. Remove the batter from the refrigerator 30 minutes before cooking. Whisk the batter and add a few tablespoons of milk if it's too thick. The waffles can also be frozen for one month. Reheat in a 350 F oven until warmed through, about 15 minutes.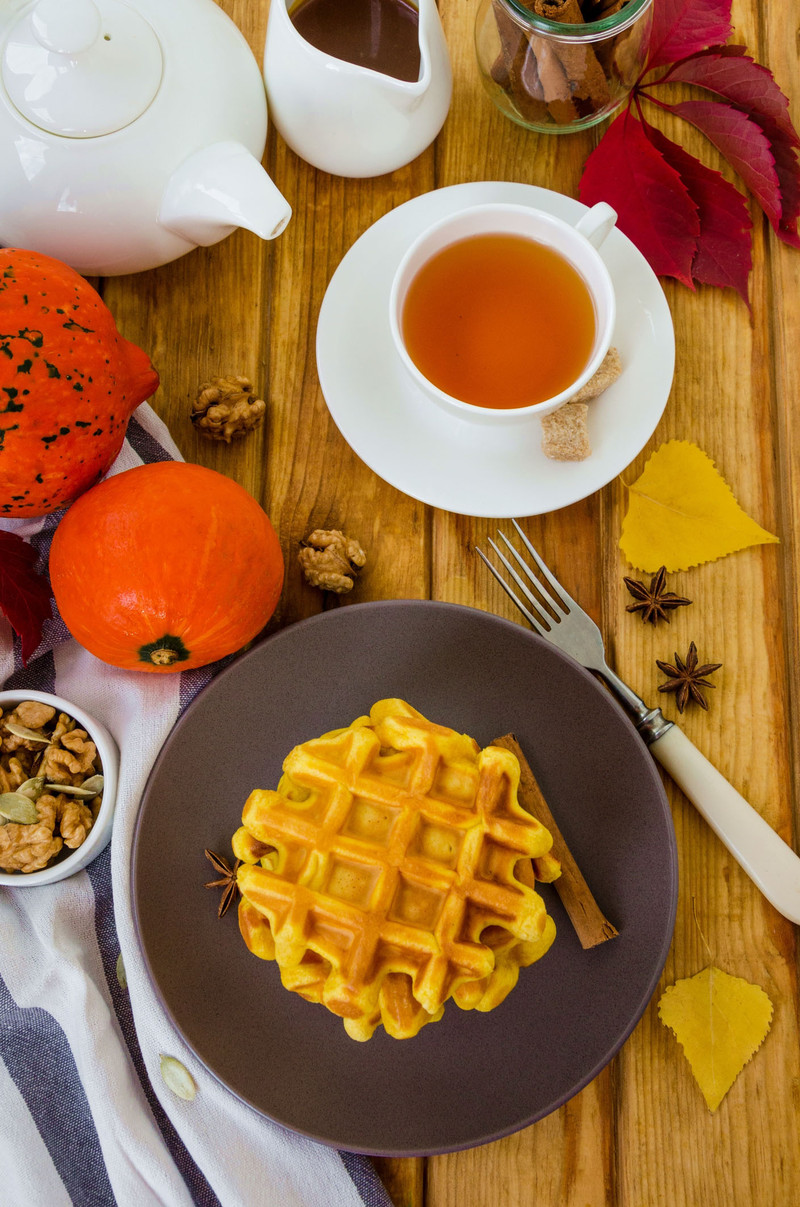 Spiced Pumpkin Waffles
Makes about 10 (4-inch) waffles
2 1/2 cups all-purpose flour
1 tablespoon baking powder
1/2 teaspoon baking soda
1/2 teaspoon salt
1 tablespoon pumpkin pie spice
Pinch freshly grated nutmeg
4 large eggs
1/2 cup dark brown sugar
1 cup pumpkin puree
1/4 cup unsalted butter (1/2 stick), melted
2 cups buttermilk
1 teaspoon pure vanilla extract
Vegetable oil for coating the waffle iron
Powdered sugar, for serving
Pure maple syrup, warmed, for serving
Warm Spiced Persimmon Compote (see below), optional
In a large bowl, lightly whisk together the flour, baking powder, baking soda, salt, pumpkin pie spice and nutmeg.
In another large bowl, whisk together the eggs and brown sugar until any lumps are dissolved and well blended. Add the pumpkin purée, butter, buttermilk and vanilla, and whisk until smooth. Add the flour mixture and blend until smooth.
Preheat the oven to 200 F. Heat a waffle iron according to the manufacturer's directions. Lightly grease it with a paper towel or pastry brush dipped in a little oil. Pour in enough batter just to fill the iron and spread it evenly, and then close the waffle iron. Cook until the waffle iron opens easily, and the waffles are golden brown on the outside and cooked through inside. Remove to a heat-proof platter and keep warm in the oven while you cook the remaining waffles.
Serve the waffles sprinkled with powdered sugar and drizzled with maple syrup. Garnish with a dollop of persimmon compote, if desired.
To adjust the portion, divide the ingredients in half and make 4 to 6 servings.
Make pancakes with the batter by adding a few tablespoons of milk to thin out the batter. Cook the pancakes on a nonstick oiled surface.
If you make the batter ahead, thin it slightly with water or milk.
Serve the waffles as a dessert with a scoop of pumpkin ice cream and warm caramel sauce.
Warm Spiced Persimmon Compote
Make sure to use the sweeter and crisp Fuyu persimmon in this recipe. The persimmons should be firm with slight give when touched. Try this luscious fruit compote on French vanilla ice cream, on toast or as a finishing garnish to pancakes or Pumpkin Spiced Waffles.
Makes about 1 cup
1 cup water
3 tablespoons brown sugar
1 teaspoon pumpkin pie spice
4 Fuyu persimmons, peeled and cut into 1-inch bite-size pieces
1 teaspoon vanilla
Combine the water, sugar and pumpkin pie spice in a medium saucepan. Bring to a boil on medium-high heat to dissolve the sugar, stirring occasionally.
Add the persimmons, stir to coat the persimmons, cover and cook on medium-low heat for about 10 minutes or until slightly softened. Watch carefully and add more water if necessary. Remove from the heat and add the vanilla. Stir to combine. Serve warm.
Advance Preparation: May be prepared up to 2 days ahead through step 2, covered and refrigerated. Store any remaining compote in a container and reheat gently on medium heat before serving.
This article is written by Diane Rossen Worthington from Seriously Simple and was legally licensed via the Tribune Content Agency through the NewsCred publisher network. Please direct all licensing questions to legal@newscred.com.