I have two schools of thought on pasta recipes: They should either be an event or they should take no time at all. When I want to make an event out of pasta, I'll make my own fresh pasta with a homemade sauce (and homemade ricotta, if I'm making lasagna!). These recipes take all evening and are usually accompanied by a bottle of wine.
But for the other times, I just want a quick pasta dish I can get to the table without much fuss. That's where this orzo pasta with sweet winter squash and wilted spinach comes in.
Yes, I know roasting butternut squash isn't usually what you think of when you want a quick meal. Here's how you can get around that: Roast the squash (or several squashes!) on the weekend or whenever you have time. Then it's already prepped and ready to go for whatever dish you want: this pasta dish, a workday salad or an easy rice bowl. Just rewarm it for a few minutes in the microwave, in a low oven or in the skillet along with whatever you're cooking. Of course, if you're in a real hurry, steaming the squash for roughly 10 minutes is the way to go.
In terms of pasta, I like to use orzo when I want the pasta to be the sidekick to whatever vegetable I'm highlighting.
This pasta dish also shows my other bias: I really enjoy winter squashes and sweet potatoes when paired with blue cheese. Plus, mixing the blue cheese in with the warm pasta and squash creates a creaminess in the dish without a heavy sauce. Of course, I understand that blue cheese isn't everyone's favorite; goat cheese also works well for creating this creamy texture (but just isn't the same, flavor-wise!).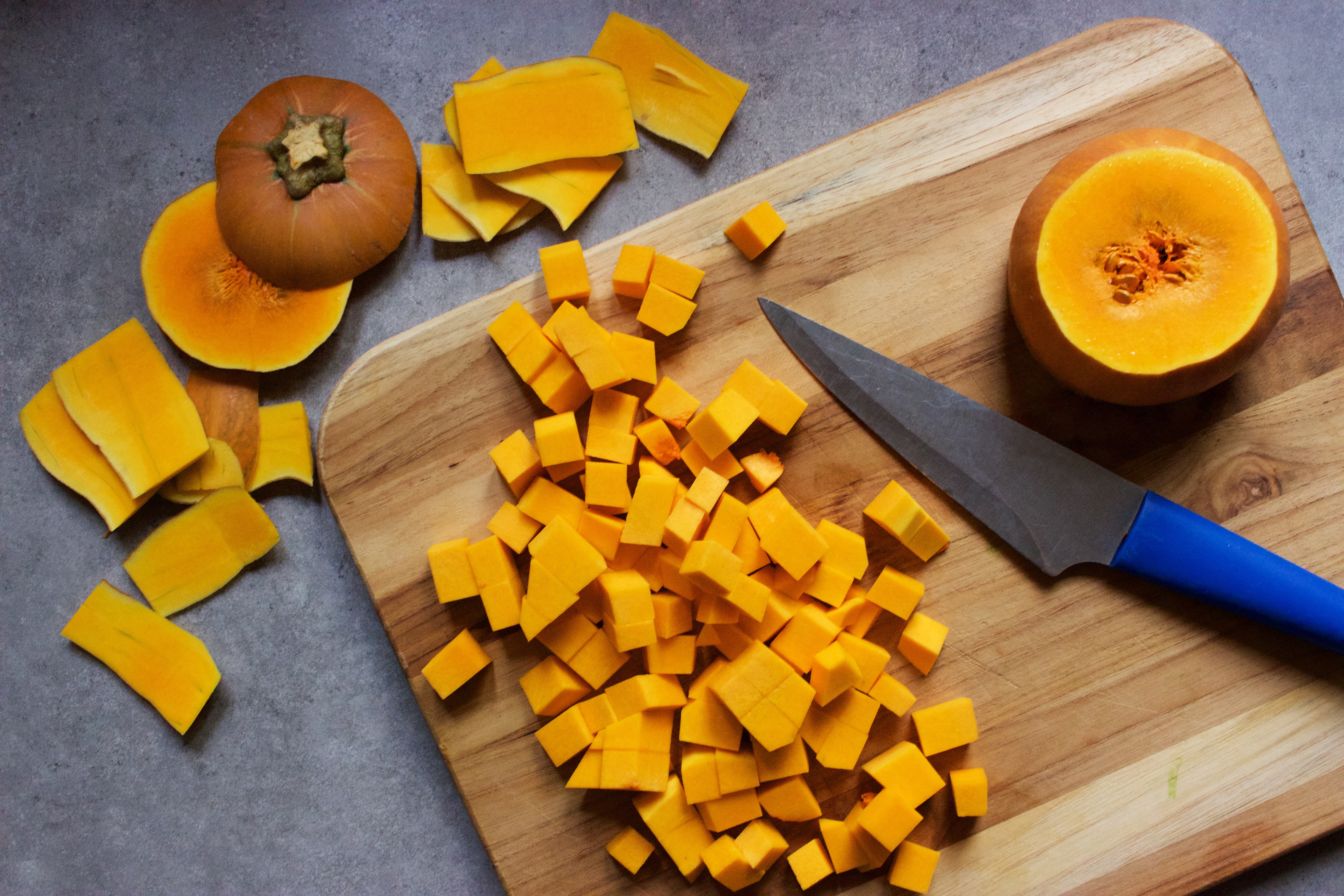 Orzo with Butternut Squash, Spinach and Blue Cheese
Serves 4 to 6
2 1/2 cups cubed butternut squash (1/4-inch cubes)
3 tablespoons olive oil
2 cups shredded spinach
1 clove garlic, minced
1 cup regular or whole-wheat orzo
1/3 cup blue cheese crumbles
1/4 teaspoon sea salt
1/4 teaspoon black pepper
Preheat oven to 425 F. Toss butternut squash with 1 tablespoon of the olive oil. Spread into a single layer on a sheet tray. Bake until squash is tender and starting to brown, 35 to 40 minutes. (Squash can be roasted up to five days ahead and kept refrigerated. Rewarm before serving.)
Place the spinach in a large bowl and set aside. In a small skillet, heat the remaining 2 tablespoons olive oil until just warm. Stir in garlic, remove from heat, and allow it to sit until ready to use.
Place the orzo in a pot and cover with at least 2 inches of water. Bring to a boil, reduce to a simmer, and cook until tender but not mushy, 8 to 9 minutes. Drain and immediately pour the hot orzo on top of the spinach. Let sit for a few minutes to slightly wilt spinach.
Add butternut squash to the pasta, along with the blue cheese, and season with salt and pepper. Toss until well-combined, and serve warm.
Recipe notes: Roast the squash whenever you have a spare moment, and keep it in the fridge for up to five days. Warm it in the microwave, a low oven, or in the skillet with the garlic before tossing with the pasta. Leftovers will keep for up to four days in an airtight container in the refrigerator.
(Erin Alderson is a contributor to TheKitchn.com, a nationally known blog for people who love food and home cooking. Submit any comments or questions to editorial@thekitchn.com.)
This article is written by Erin Alderson from The Kitchn and was legally licensed via the Tribune Content Agency through the NewsCred publisher network. Please direct all licensing questions to legal@newscred.com.