If you're looking for a classic quiche recipe, this ham and cheese number is your answer. While you can make it the day you plan to serve it, quiche is also a great make-ahead menu item. The crust can be blind baked up to two days before you fill it, and the full quiche can be baked and cooled up to three days in advance. Once it's reheated and on the table, you'll never know the difference.
A few shortcuts make this the easiest-ever quiche
Thanks to a store-bought pie crust and diced, cooked ham, this recipe is as easy as it gets. You'll par-bake the crust, sprinkle on the cheese and ham, pour in the egg and dairy mixture, then bake until set.
When it comes to the cheese, I like a blend of sharp cheddar, which adds a tangy, complex flavor, and Swiss, which contrinutes a sweet and mild nuttiness. However, feel free to add just one or the other.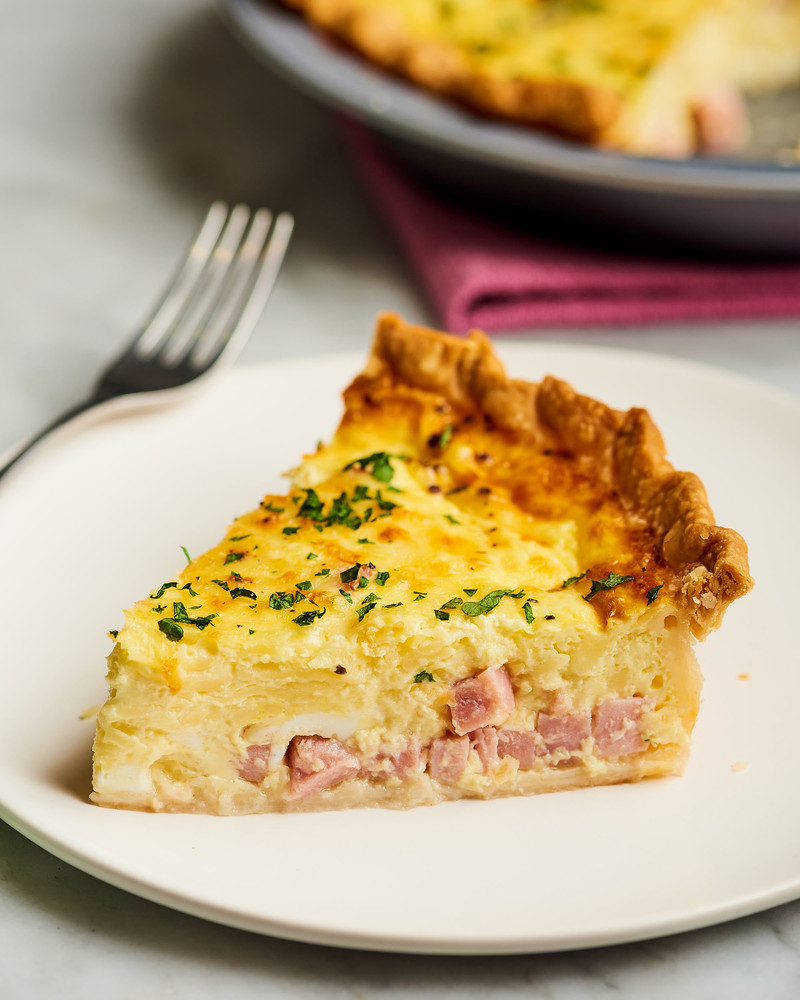 Ham and Cheese Quiche
Makes 1 (9-inch) quiche
Serves 8
1/2 (14.1-ounce) package refrigerated or frozen pie dough, thawed if frozen (or use homemade)
1 1/2 cups shredded sharp cheddar or Swiss cheese, or a combination
1 1/2 cups diced cooked ham
3 large eggs
1 1/2 cups whole milk, half-and-half, or heavy cream
1 teaspoon kosher salt
Freshly ground black pepper
1. Roll the dough to fit slightly larger than a 9-inch standard (not deep dish) pie plate. Press into the plate and fold the overhang underneath. Crimp as desired. Freeze for 30 minutes. Meanwhile, arrange a rack in the lower third of the oven and heat to 350 F.
2. Line the crust with parchment paper and fill with pie weights or dried beans. Bake in the lower third of the oven for 20 minutes. Remove the weights and parchment. Bake again until just starting to brown, 10 to 15 minutes more. Set aside to cool slightly.
3. Whisk the eggs, milk, salt and several grinds pepper together in a medium bowl until frothy and combined; set aside.
4. Sprinkle half the cheese over the pie crust. Top with the ham, then sprinkle with the remaining cheese. Pour the egg mixture into the crust.
5. Bake until the edges are set but the center still jiggles just a little, 30 to 40 minutes. Cool for at least 20 minutes. Serve warm, at room temperature, or cold.
Recipe notes
Dairy choice: Whole milk will give you the lightest quiche, heavy cream will give you the richest quiche, and half-and-half will land you somewhere in the middle.
Make ahead: The crust can be blind baked and cooled up to two days in advance; store tightly wrapped at room temperature. The quiche can be baked, cooled, and refrigerated up to three days in advance. Let come to room temperature or reheat in a 300 F oven before serving.
Storage: Leftover baked and cooled quiche can be stored wrapped in the refrigerator for up to five days. Reheat in a 300 F oven until just warm to the touch.
This article is written by Grace Elkus from The Kitchn and was legally licensed via the Tribune Content Agency through the NewsCred publisher network. Please direct all licensing questions to legal@newscred.com.