Ever wonder why snack mixes are called party mixes? I suspect it's because, like parties that have an interesting mix of people, snack mixes are always an interesting combination of ingredients, with every handful different from the last. This recipe is a hybrid of traditional Chex mix and those delicious honey-mustard crunchy pretzels. Are you ready to join the party?
A good mix of crunchy things is the name of the game here. Pick your favorite unsweetened Chex cereal and add mini pretzels, peanuts and, my personal favorite, bagel chips. Coat everything in a mixture of melted butter, honey, lots of mustard powder, and onion powder before baking it in a low-heat oven for maximum crispness.
There's a lot of flexibility in this recipe; you can swap in your favorite nuts if you don't like peanuts, or try cute little oyster crackers instead of bagel chips. This sweet-savory snack mix makes a big batch and keeps very well, so it's perfect for your next game-day gathering or movie night.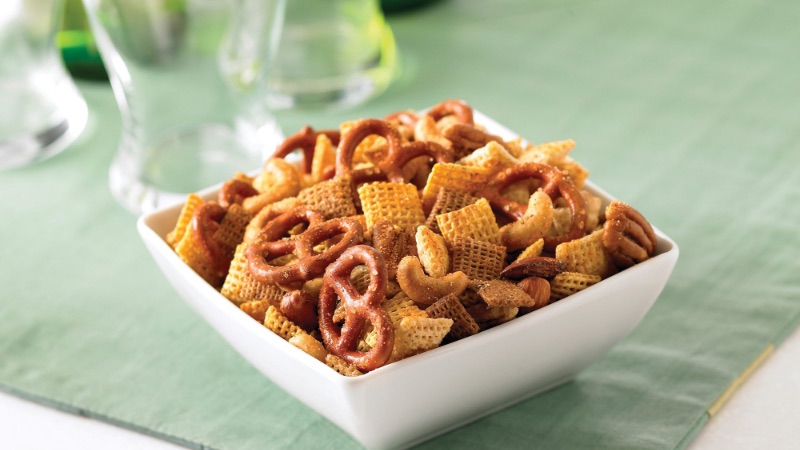 Honey-Mustard Snack Mix
Makes about 10 cups
5 cups Chex cereal of your choice (or combination)
2 cups mini pretzels or mini pretzel rods
2 cups regular bagel chips (broken into small pieces) or mini bagel chips
1 1/2 cups honey-roasted peanuts
1 stick (8 tablespoons) unsalted butter
1/4 cup honey
3 tablespoons ground mustard powder
1/2 teaspoon no-salt onion powder
1/2 teaspoon fine salt
Arrange a rack in the oven and heat to 300 F. Line a rimmed baking sheet with parchment paper.
Place the cereal, pretzels, bagel chips and peanuts in a large bowl and mix to combine.
Melt the butter in the microwave or over low heat on the stovetop. Whisk in the honey, mustard powder, onion powder and salt until smooth. Pour over the cereal mixture and stir to thoroughly coat. Transfer the mixture to the baking sheet and spread into an even layer.
Bake, stirring every 10 minutes, until the mixture is light golden-brown and toasted, about 30 minutes total. Let cool to room temperature, stirring it occasionally and breaking up the clumps with your hands.
Recipe notes: If you can't find bagel chips, use oyster or bruschetta crackers instead. Store in an airtight container at room temperature for up to one week.
This article is written by Christine Gallary from The Kitchn and was legally licensed via the Tribune Content Agency through the NewsCred publisher network. Please direct all licensing questions to legal@newscred.com.