Shrimp on the grill is the very best shrimp there is — it cooks quickly and picks up smokiness and char. But you don't have to limit yourself to simple shrimp skewers. Here, we're taking inspiration from pasta and lemon garlic butter shrimp for a no-mess packet dinner you'll crave all summer long.
The secret to cooking pasta in a foil packet is three-fold: Use a quick-cooking shape like orzo, make sure the liquid covers the pasta completely, and tightly seal the packets. Your protein and vegetables need to be relatively quick-cooking, too, so if you want to substitute chicken for the shrimp, cut it into small pieces so it cooks at the same rate.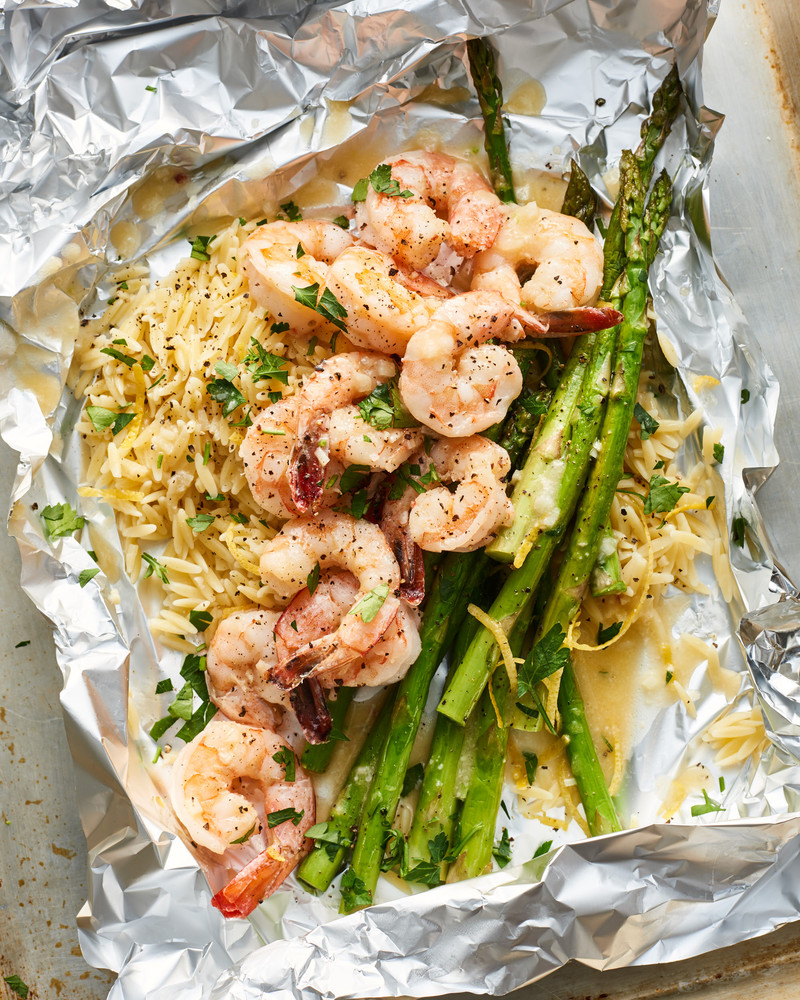 Lemon Garlic Butter Shrimp and Asparagus Packets
Serves 4
1 medium lemon
4 cloves garlic
1/2 teaspoon kosher salt
1/2 teaspoon freshly ground black pepper
1 1/2 pounds large peeled and deveined raw shrimp
1 cup dried orzo pasta
1 bunch asparagus (about 1 pound)
6 tablespoons unsalted butter
Coarsely chopped fresh parsley leaves, for garnish
1. Heat an outdoor grill to medium-high, direct heat (400 F to 425 F). Tear 8 (8-inch long) sheets of aluminum foil. Stack 1 sheet on top of another sheet, then repeat with the remaining 6 sheets. You should end up with 4 stacks of foil.
2. Prepare the following, placing them all in a large bowl: Finely grate the zest of 1 medium lemon until a large bowl until you have 2 teaspoons. Squeeze 2 tablespoons juice from the lemon into the bowl.
3. Whisk together 2 teaspoons finely grated lemon zest, 2 tablespoons freshly squeezed lemon juice, 4 cloves minced garlic, and 1/2 teaspoon each salt and freshly ground black pepper in a large bowl. Add 1 1/2 pounds large shrimp (peeled and deveined) and toss to coat.
4. Divide 1 cup dried orzo between the four packets, then top with the shrimp and any liquid left in the bowl. Divide 1 pound trimmed asparagus and 6 tablespoons cubed unsalted butter between the packets. Tightly seal the packets. Grill or roast until the orzo is cooked and the shrimp are opaque, 18 to 20 minutes. Garnish with chopped fresh parsley.
Recipe notes: To cook these packets in the oven, roast at 425 F for the same amount of time. Leftovers can be refrigerated in an airtight container up to four days.
This article is written by Meghan Splawn, TheKitchn.com from The Kitchn and was legally licensed via the Tribune Content Agency through the NewsCred publisher network. Please direct all licensing questions to legal@newscred.com.