Sticky-sweet, smoky, salty ribs are one of summer's greatest pleasures. I've made smoked ribs an annual tradition in our house, taking advantage of long holiday weekends to slow-smoke dry-rubbed baby backs on our charcoal grill. Needless to say, this is a recipe I've spent years perfecting.
Folks, don't fear backyard grill smoking! You don't need any special equipment. With just a bag of wood chips and your grill, you can easily make the best smoked ribs you've ever eaten.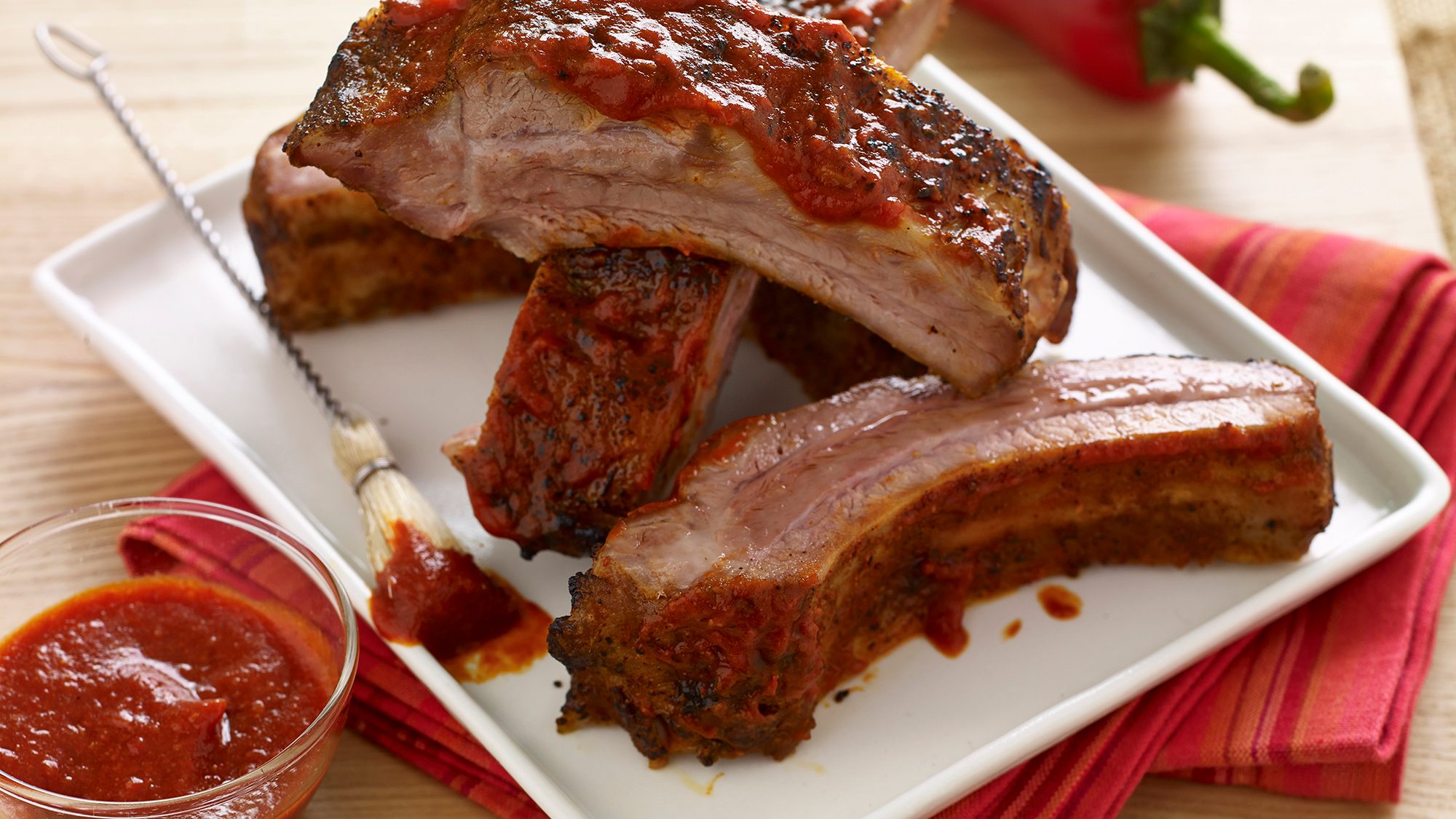 The only smoked rib recipe you need to try
Ribs are my favorite entry point for anyone looking to try smoking at home. They aren't quite as cheap as pork shoulder, but they also don't require hours of smoking to become tender.
Ribs will teach you everything you need to know about smoking in just a single afternoon. This recipe is both straightforward -- walking you through each step, from rib prep to the final round of saucing -- and easily customizable to suit your tastes. There's no belabored process here; just a handful of essential steps that will leave you with tender ribs that have that perfect sticky layer of burnished barbecue sauce and plenty of smoked flavor.
Prepping the ribs
This recipe works best with baby back ribs. You can use St. Louis-style ribs, as well, but they require a bit more prep. For baby backs, two sets of ribs (two racks) generally feed four to six people with a few accompanying side dishes. If you've got a large grill, you can double this recipe. Alternatively, you can use an inverted roasting rack as a rib holder and stand four or more racks upright on smaller grills.
You'll need to remove the rib's membrane (on the back side of the racks, closest to the bone) to ensure they are tender. A spoon works really well to pull up the membrane; just wiggle it between a bone and the membrane and pull up. Once you've got a small section of membrane, use a paper towel to grip the membrane and pull it off in one piece.
Before smoking, you'll also want to dry-rub the ribs. Spread a thin layer of mustard all over the ribs and then sprinkle with the rub. The rub in the recipe below is my personal favorite, but you can mix things up as long as you stick to the same sugar-salt ratio. If you can, rub the ribs the night before for even more flavor.
Turn your grill into a smoker
Big smokers work by applying a slow-and-steady stream of smoke to lumps of wood or wood pellets for several hours. To turn your backyard grill into a smoker, you need to be prepared to slowly add wood as needed during the smoking time.
The wood chips will burn more consistently if they are soaked for at least an hour (or as long as overnight) before they're put to use. When you're ready to smoke, you'll make a boat out of aluminum foil to hold the wood chips and then prepare the grill for indirect heat either by lighting a chimney of charcoal and setting it to one side in the grill or by turning on just one or two gas burners. Your objective is to set the ribs over the area without the heat and smoke, and to keep the heat at or below 300⁰F while smoking.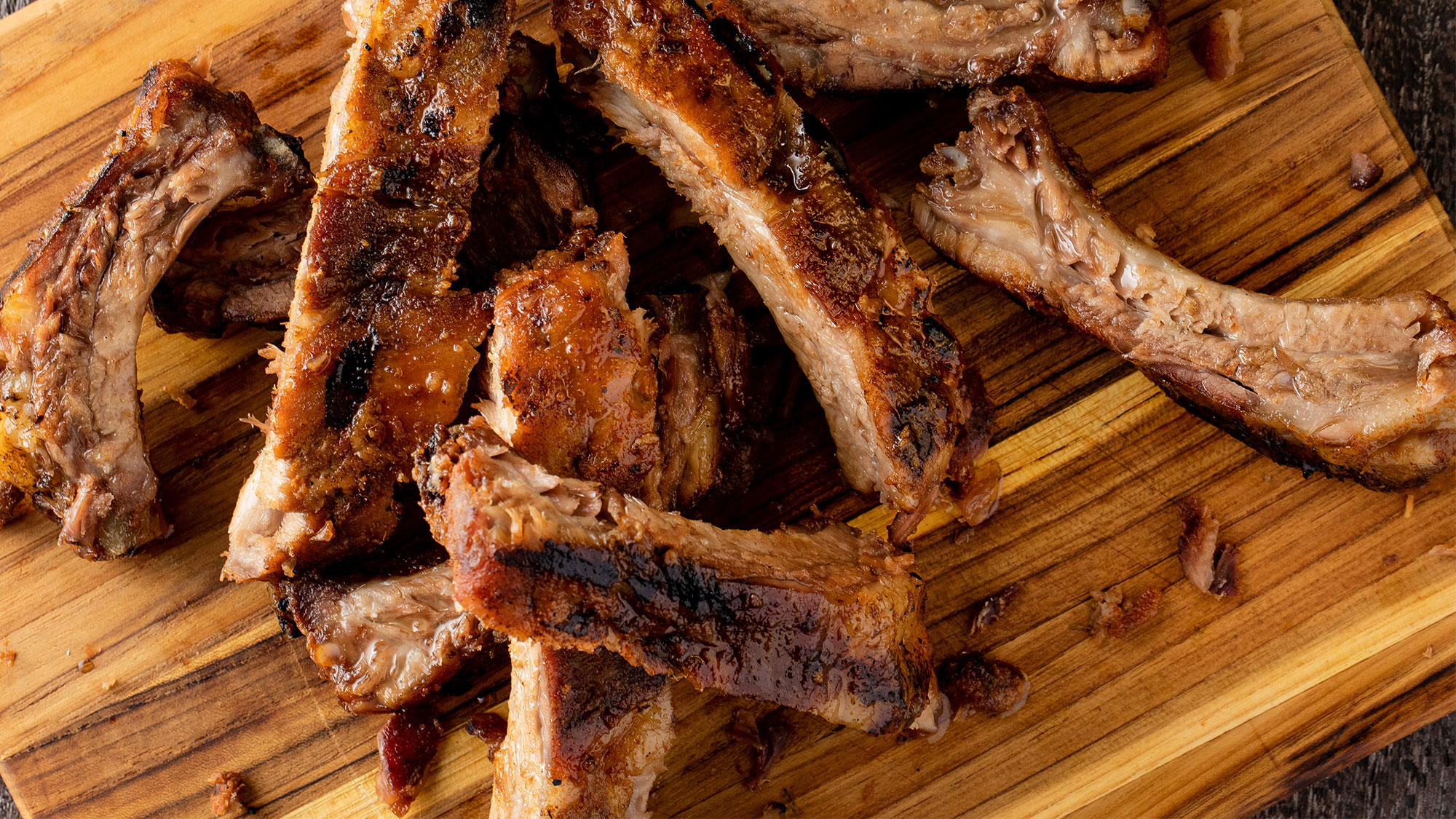 Timing
A lot of barbecue enthusiasts swear by a "3-2-1" method for smoking ribs: three hours of smoking, followed by two hours of cooking the ribs wrapped in foil, and finally an hour of cooking and saucing the ribs on the grill (without smoke). I find three hours of smoking to be a bit too much smoke and opt instead for more of a "2-2-finish" method (much less catchy, I know), which means you only need to smoke these ribs for two hours on the grill. Then, you'll wrap them in foil and continue to cook them on the grill or bring them inside to finish in the oven.
Knowing when they're done
Perfectly cooked ribs shouldn't be falling off the bone. That's an indication they've cooked too long. You can use a thermometer to check that they hold a temperature over 190⁰F for more than one hour, or you can use this easy test. Slide a pair of tongs under the middle of the rack and pick the ribs up gently so they create a rainbow shape. If the middle of the rainbow bends and the bark of the ribs cracks, your ribs are ready for saucing.
Finishing your cooked ribs really is as simple as sticking them back on the grill over high heat and basting them with sauce. If you went to charcoal grill route for smoking or you don't want to use the grill again, you can also do this step in the oven at 375 F. The nice thing is that you can do all the cooking in advance and even cool and store your ribs, and then reheat them with sauce and the hot heat of the grill when you're ready to serve.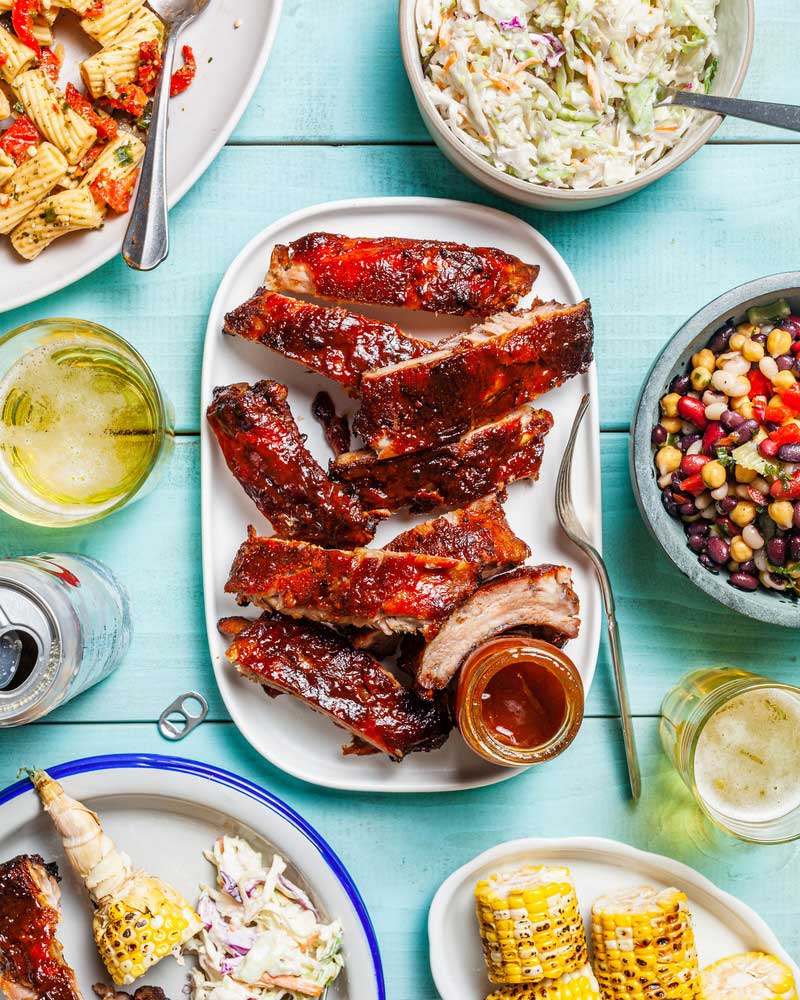 Smoked Ribs
Serves 4 to 6
1 quart wood smoking chips
1 tablespoon packed dark brown sugar
1 tablespoon kosher salt
1 tablespoon smoked paprika
1 teaspoon garlic powder
1 teaspoon onion powder
1 teaspoon freshly ground black pepper
1/2 teaspoon cayenne pepper
2 racks baby back ribs (about 4 pounds total)
1/4 cup Dijon mustard
1 cup barbecue sauce (optional)
1. Soak the wood chips. Place the wood chips in a large bowl, and top with water. Place a small plate over the chips to weight them down. Soak the chips for at least an hour or overnight.
2. Make the spice rub. Stir the brown sugar, salt, paprika, garlic powder, onion powder, black pepper and cayenne together in a small bowl.
3. Prepare the ribs. For super tender ribs, remove the membrane that covers the bone on the underside of the ribs: Flip the ribs over so that they're meaty side down. Slide a butter knife in between the ribs and the thin membrane; it's easier to start in the middle of the rack. Once you've got a few inches pulled up, use your hand to gently pull up the membrane to completely remove it. If it's slippery, grasp it with a paper towel.
4. Season the ribs. Brush the ribs on all sides with the mustard. Sprinkle the spice rub all over the ribs, including the ends, and gently rub it in.
5. Make a foil boat for the wood chips. Drain the wood chips. Tear off a double layer of heavy-duty aluminum foil that's about 11-by-17 inches. Make a foil boat by rolling the edges up to be roughly the size an 8-by-8-inch pan (or make it smaller to accommodate the size of your grill). Place 1 cup of the soaked wood chips in the boat.
6. Prepare the grill for smoking. For a gas grill: Remove the grill grates. If there are two burners, place the foil boat on one of the burners. If there are three or more, place the packet on the middle burner. Replace the grill grates. Light the burner under the foil boat and keep the other burners off. Cover and heat for 20 minutes, adjusting the heat as needed to maintain a grill temperature of 300⁰F, usually medium heat.
7. For a charcoal grill: Remove the grill grates. Light a full chimney of charcoal and arrange the coals on one side of the grill. Place the foil boat directly on the coals. Replace the grill grates. Cover and let the chips get smoky, about 15 minutes.
8. Smoke the ribs for 2 hours. Set the ribs, bone side down, on the grill grates that are not directly above the heat or smoke. For smaller grills, a rib rack or an inverted roasting rack can help hold the ribs upright in a tight space. Cover and grill the ribs, checking the smoke and temperature every 30 minutes and moving the ribs if needed to avoid flare ups. Add more wood chips 1 cup at a time as needed to maintain a low, even smoke. The ribs are done smoking when the exterior is beginning to brown, some fat is rendering out, and the ribs are cooked (but not tender), about 2 hours. If you're smoking with charcoal, you'll need to light at least one more chimney of charcoal and add it to the grill about halfway through cooking. If you plan to finish cooking your ribs in the oven, preheat it to 250⁰F during the last 30 minutes of smoking.
9. Cover the ribs, and cook for 2 hours. After 2 hours of smoking, the ribs will have taken on as much smoke as they'll need but they won't be tender yet. Wrap each rack of ribs completely in heavy-duty foil. Continue cooking on the grill, maintaining a low heat between 250 F and 300 F. Or, place the wrapped ribs directly on a rack in the oven at 250⁰F and place a baking pan on a lower rack to catch any drips. Cook until the racks easily bend in the middle when picked up with tongs but don't break (an internal temperature between 185⁰F and 190⁰F), about 2 hours.
10. Grill the ribs over high heat and sauce. This optional last step is for those of us who love sticky ribs. Unwrap the ribs. Turn the grill up to medium-high heat and place the ribs, meaty side down, directly on the grill for 5 minutes. Flip, and brush with the sauce. Grill until the sauce is thickened and beginning to brown, about 5 minutes more. If you went the charcoal grill route for smoking or you don't want to use the grill again, you can also do this step in the oven at 375⁰F; about 10 minutes of baking will do the trick.
11. Slice and serve the ribs. Let the ribs rest on a cutting board for 10 minutes. Use a sharp knife to cut between the bones to create single rib servings. Serve with additional sauce as desired.
Recipe notes: Leftovers can be refrigerated in an airtight container for up to four days.
(Meghan Splawn is associate food editor for TheKitchn.com, a nationally known blog for people who love food and home cooking. Submit any comments or questions to editorial@thekitchn.com.)
This article is written by Meghan Splawn from The Kitchn and was legally licensed via the Tribune Content Agency through the NewsCred publisher network. Please direct all licensing questions to legal@newscred.com.