Keep your pie, your layer cake, your tiramisu and your tortes. When it comes to dessert, there is one old-fashioned showstopper that I know will win hearts and minds every single time: butterscotch pudding, made from scratch.
Butterscotch pudding is my thing, you guys. It evokes wonder and amazement ("Did you really make this from scratch?") and yet it is so easy and homey, made from fresh milk and cream, right on your stovetop.
I remember the first time I ever made butterscotch pudding; it was a rich, eggy recipe that yielded thick, creamy custard that tasted like butter and brown sugar (that's all butterscotch is ... butter and brown sugar cooked together). I couldn't believe how easy it was, and my guests raved. You mean that boxed pudding wasn't the only way to go? I was hooked.
Many batches of pudding later, and with one whole book about pudding and other no-bake desserts ushered out into the world, I can say pretty confidently that I know pudding well.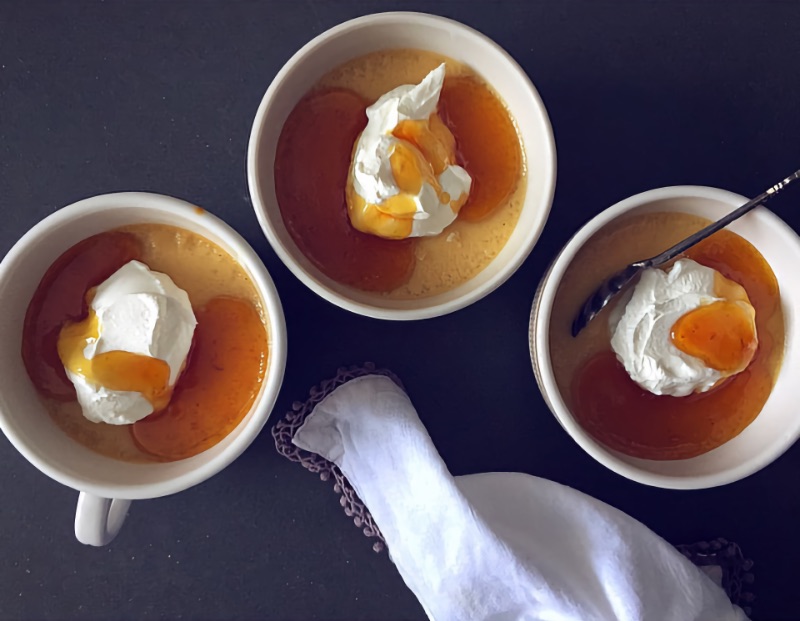 But butterscotch is still my favorite, hands down.
This is a really simple recipe. You just have to be comfortable cooking sugar on the stove; remember, it gets really hot and it's important to practice good safety measures when cooking sugar, especially when it's mixed with butter. Use a deep saucepan and go slowly.
Once it's done you'll see just how deeply pleasurable it is to make old-fashioned pudding from scratch. There are so many advantages to pudding -- you can make it ahead, it's nearly always gluten-free, it can be eaten warm or cold -- but in the end, the chief pleasure of pudding, in my mind, is the deep nostalgia and comfort of a dish of pudding, eaten with a spoon. So, from my kitchen to yours, here is your step-by-step guide to perfect butterscotch pudding.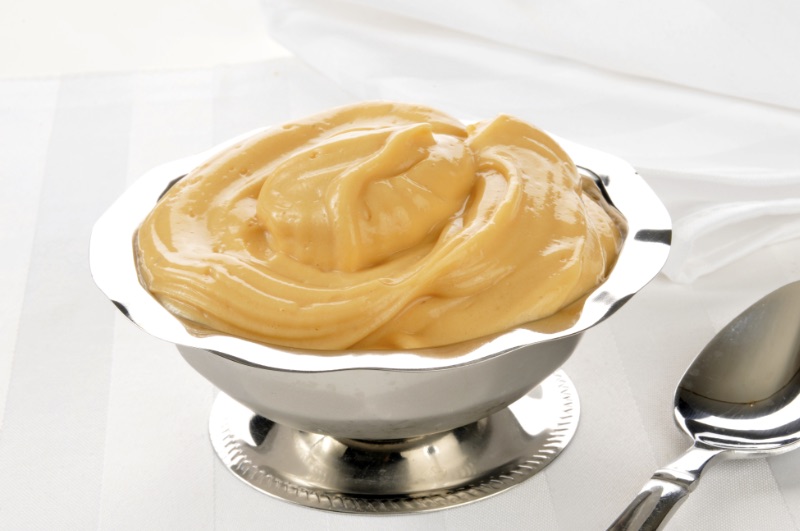 Butterscotch Pudding
Adapted from "Bakeless Sweets" by Faith Durand
Makes 8 1/2-cup servings
Ingredients
1/4 cup cornstarch
1/2 teaspoon salt
2 1/2 cups whole milk
3 large egg yolks, beaten
4 tablespoons (1/4 cup) unsalted butter
3/4 cup tightly packed dark brown sugar
1 cup heavy cream
1 teaspoon pure vanilla extract
Equipment
Large bowl
Whisk with a long handle
4-quart saucepan
Hot pads or oven mitts
Shallow glass container with lid
Fine mesh strainer (optional)
Plastic wrap or wax paper
1. Make a cornstarch slurry: Whisk the cornstarch with the salt in a large bowl. Slowly whisk in the milk until the mixture is smooth. (If you want to be sure you didn't miss any lumps, reach into the bowl and gently rub out any lumps between your fingers.)
2. Whisk in the egg yolks: Whisk in the egg yolks and set the bowl aside.
3. Melt the butter and brown sugar: To make the butterscotch, melt the butter in a deep 4-quart pan set over medium-high heat. When it has melted completely, whisk in the sugar.
4. Cook the butter and brown sugar: The sugar will look lumpy and grainy at first. Whisk vigorously with the butter. As it melts, it will smooth out and then become a liquid bubbling mass.
5. Whisk the melted sugar until it emulsifies: You will see the melted butter pooling up around the sugar; keep whisking until the butter and brown sugar are smooth and homogenized.
6. Cook just until smoke appears: Continue cooking the brown sugar until a small amount of smoke appears. Immediately remove the pan from the heat. (Be careful! The sugar is very hot.)
7. Whisk in the cream: Slowly whisk in the cream. Be very careful as you do this; the cream and sugar will steam up violently. Whisk thoroughly. It is normal for the sugar to seize into small, hard bits as the cream is added. Return to low heat and continue whisking until the sugar has melted.
8. Temper the cornstarch slurry: Add most of the hot butterscotch liquid to the bowl with the eggs and milk and whisk.
9. Return to the pan and cook: Return the tempered slurry to the pan to cook. Raise the heat to medium-high. Whisk thoroughly and energetically (it's a workout!) as it comes to a full, rolling boil.
10. Boil for 2 minutes: Once the pudding comes to a full rolling boil, with popping bubbles of pudding, continue whisking and cook for 2 minutes. Then remove the pan from the heat and turn off the stove. Whisk in the vanilla.
11. Strain into a container (optional): For smoothest results, strain the pudding through a fine mesh strainer into a glass container. (This step is optional but it does make the pudding silkier.)
12. Cover the surface directly with plastic wrap or wax paper: This prevents a "pudding skin" from forming.
13. Refrigerate for up to 3 days: Chill for at least an hour or up to 3 days.
14. To serve, whip lightly: Whip lightly with a whisk or the paddle of a stand mixer to make the pudding extra creamy for spooning and serving.
Recipe notes: Truly traditional butterscotch doesn't get cooked quite to smoking. I like a hint of smokiness in my butterscotch, but if you prefer yours milder, then take the butter and brown sugar off the heat as it forms a bubbling, molten mass, and do not wait to see any smoke. To serve, I love butterscotch pudding with whipped cream, but you can also try it with creme fraiche and a sprinkle of salt or turbinado sugar.
(Faith Durand is executive editor of TheKitchn.com, a nationally known blog for people who love food and home cooking. Submit any comments or questions to editorial@thekitchn.com.)
This article is written by Faith Durand from The Kitchn and was legally licensed via the Tribune Content Agency through the NewsCred publisher network. Please direct all licensing questions to legal@newscred.com.