These are the foods that give you the biggest (and smallest) bang for your buck at the grocery store right now.
The price of just about everything these days seems astronomical, as the U.S. Department of Labor reported that every category increased by 8.5%, on average, from March 2021 through March 2022. Unfortunately, the hardest-hit categories are our most necessary commodities: food, gas and shelter. Food prices have seen the largest price increase—8.8%—in the last 12 months, and they're not expected to level out any time soon.
While there are certainly some savvy strategies for saving money at the grocery store during inflation, one of the most important tools we have is the Department of Labor's monthly Consumer Price Index reports. These reports break down how much every category of food—from baked goods to frozen fish and spices—has been affected by inflation, both month-by-month and year-over-year.
We've broken it down to highlight the five food categories most affected by inflation, and the five that have experienced the lowest impact in the last 12 months, to help guide your grocery habits in these trying times.
The 5 Foods Most Affected by Inflation
The following foods have been hit the hardest by inflation in the period from March 2021 through March 2022. It's worth staying up-to-date with the last monthly Consumer Price Index reports to know how prices are fluctuating on average.
1. Citrus fruits
Sadly, the food most affected by inflation is citrus, which has seen a whopping 19.5% increase in prices in the last year. Oranges of all kinds, in particular, are seeing the biggest change compared to lemons, limes and grapefruit, according to the report.
However, while we love this sweet-tart fruit for its flavor and immune-supporting vitamin-C content, there are actually plenty of other foods that haven't been so hard-hit by inflation that actually pack even more vitamin C than an orange. Some favorites include broccoli, bell peppers and kiwi.
2. Bacon and sausage
Meat products are likely one of the items you've noticed impacting your wallet the most. Bacon, sausage and other processed pork products have been the hardest-hit of the meat category, with prices 16.5% higher than last year, on average. Bacon, in particular, has seen an 18% increase.
It may be worth looking into the offerings of local or regional farmers and butchers to try to get a better price on bacon, and checking out the frozen section for better sausage prices. Additionally, you could always mix up your intake by subbing in plant-based options, like homemade Vegan Bacon or veggie sausage to get your fix and stretch your dollar along the way.
3. Crackers and bread
Usually one of the most cost-effective products in the store, bread and crackers have seen a rise due to inflation, seeing a 16.3% increase in the category. CNN reports that this is due in part to Ukraine exporting less wheat and grain products due to the war with Russia, which has an impact on global availability. (Russia is currently not able to export its wheat and grain products either.) These countries are responsible for approximately 30% of global wheat and grain exports, so this is a tough blow for countries across the world.
Unfortunately, this means we will not likely see a reprieve in this category anytime soon. Storing your bread in the freezer is a great way to extend its shelf life, and utilizing stale bread for recipes like Panzanella Salad or Roasted Garlic & Leek Bread Casserole can help make the most of your loaf and prevent food waste. You may also have slightly better luck shopping from local bakeries, though flour is currently very expensive as well.
4. Beef and veal
Beef is another product in the meat category that's taking a lot of heat from inflation, with prices up 16% for the overall category. Uncooked beef steaks have seen a 16.4% year-over-year increase, while veal has seen a hefty 18.8% increase.
Opting for ground beef will save you a few bucks over other beef products, but you'll do even better if you can stretch it as smartly as possible. Try Grilled Beef-Mushroom Burgers with Quick Pickles, or toss in an extra can of beans into Cowboy Beef & Bean Chili. Better yet, pick up some dried beans to save even more at the register.
5. Some fats and oils
The overall fats and oils category has seen an average 14.9% rise in the last year, with margarine and nut butters seeing the largest price growth—each by 15.8%. This may just be the excuse you need to start occasionally cooking with butter again, as it's shown the lowest increase in the category.
Additionally, it may actually be worth cooking with olive oil over sunflower, vegetable or soy options, as the World Economic Forum reports that these oils have seen one of the largest price increases worldwide. Especially if you have multiple mouths to feed at home, it could be worth shopping for your favorite olive oil and nut butters in bulk online or at stores like Costco and Sam's Club. You can also make your own nut butter at home.
The 5 Foods Least Affected by Inflation
Finally, some good news! While all food categories have seen price increases in the last year, there are still plenty of favorites that have experienced significantly smaller bumps than those listed above. It's still worth seeking out local or regional purveyors, when possible, as well as shopping the canned aisles and freezer sections for several of these options to further stretch your dollar.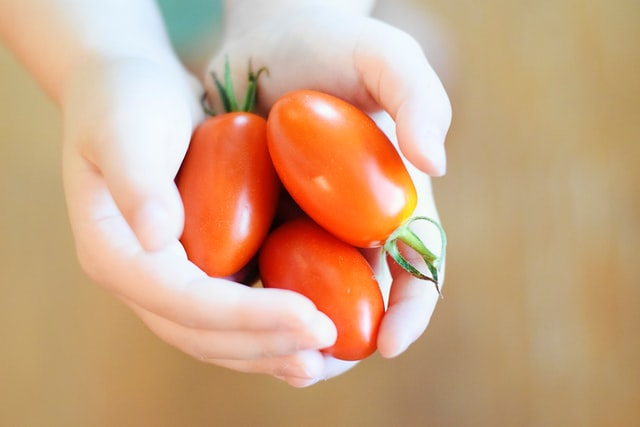 Photo by Davies Designs Studio on Unsplash
1. Tomatoes
Interestingly, tomatoes have seen the lowest increase in price over the last year, at just 1.7%. This is great news as you're preparing for summer's bounty. Some states may already be seeing beautiful heirloom varieties arrive at their local farmers' markets and grocers.
Tomatoes are an excellent source of the antioxidants lycopene, beta carotene, lutein and zeaxanthin, which promote heart health, help lower blood pressure and stave off chronic disease. Plus, there are plenty of ways to turn overripe tomatoes into delicious dishes if you stock up on too many.
2. Cheese
Another relief: cheese prices haven't been terribly affected by inflation, at least as of this month. This is especially interesting since other dairy products, such as whole milk, have seen a major increase, at 14.5%. Cheese offers a host of health benefits, from helping build muscle to fighting off heart disease and diabetes (yes, really!).
Plus, you can also freeze some cheeses, which will allow you to take advantage of any BOGO deals or shop in bulk while prices are relatively low. Also try incorporating various cheeses to get kids to eat more veggies, like in the One-Pot Mac & Cheese with Cauliflower & Brussels Sprouts.
3. Ice Cream
Your inner kid will be pleased to learn that ice cream has seen a relatively low increase in prices during the last year, at 3.1%. While budgets feel tighter than ever right now, you can feel good about picking up your family's favorite carton as the temperature heats up. Ice cream will also make for a more cost-effective celebratory treat than other desserts (like baked goods) right now, due to inflation, so check out these 15 Ice Cream Cake and Pie Recipes to get inspired in the kitchen.
4. Potatoes
Potatoes have long been a staple food for many Americans, as they offer a host of health benefits. Thankfully, potatoes have only seen a 3.4% increase in price over the last year. Besides being incredibly delicious, potatoes offer fiber, are an excellent source of B vitamins and potassium and are great for your gut, thanks to being a source of resistant starch. Plus, they are incredibly versatile.
Whether you're picking up a package of frozen hash browns or a bag of fresh russets, potatoes are a favorite ingredient for stretching meals. Buying them in bulk versus one or two at a time is much more economical, so make sure to store potatoes properly.
5. Canned fish and seafood
Finally, a major protein source that hasn't been majorly impacted by inflation. It's no secret we love making healthy, delicious and cost-effective recipes with canned tuna, salmon and other tinned seafood, from pasta dishes to salads and casseroles. Plus, buying canned salmon still allows you to reap all the amazing omega-3 health benefits without having to pay for expensive fillets.
Consider making salmon burgers with canned salmon, instead of your go-to beef burgers. Don't be afraid of using anchovies to make just about any savory dish even more flavorful and delicious, whether it's a simple bowl of pasta or a hearty chicken dish.
Bottom Line
While the prices of some foods, such as citrus, bread and beef, have greatly increased due to inflation, the costs of other foods, such as tomatoes, potatoes and cheese, have remained more stable. Incorporating some clever swaps or uses for both expensive and more budget-friendly foods can help control your spending at the supermarket.
This article was written by Lauren Wicks from EatingWell and was legally licensed through the Industry Dive Content Marketplace. Please direct all licensing questions to legal@industrydive.com.