Garlic butter steak bites are everything you love about a steakhouse steak, with none of the work. Instead of cooking a whole steak, making a pan sauce, slicing the steak, and dipping into said sauce, these pieces of New York strip steak get cooked in a gorgeous garlic butter that's built in the same pan the steak is cooked in. Pretty ingenious, right? Here's how you can have perfect steakhouse bites any night of the week.
Building a better garlic butter for steaks
These steak bites were built on the idea that with one garlic butter sauce formula in your back pocket, practically anything can get the garlic-butter treatment. While the formula is universal, we've tweaked it slightly here to ensure the steak pieces brown but the garlic doesn't burn.
Use the widest pan you've got to bring a stick of butter to a simmer, then add the steak bites — cubes of New York strip steak — to the hot butter. The garlic gets added after the steak is nicely seared so that it doesn't burn. Serve these bites over mashed potatoes or buttered noodles, or alongside a simple arugula salad for dinner.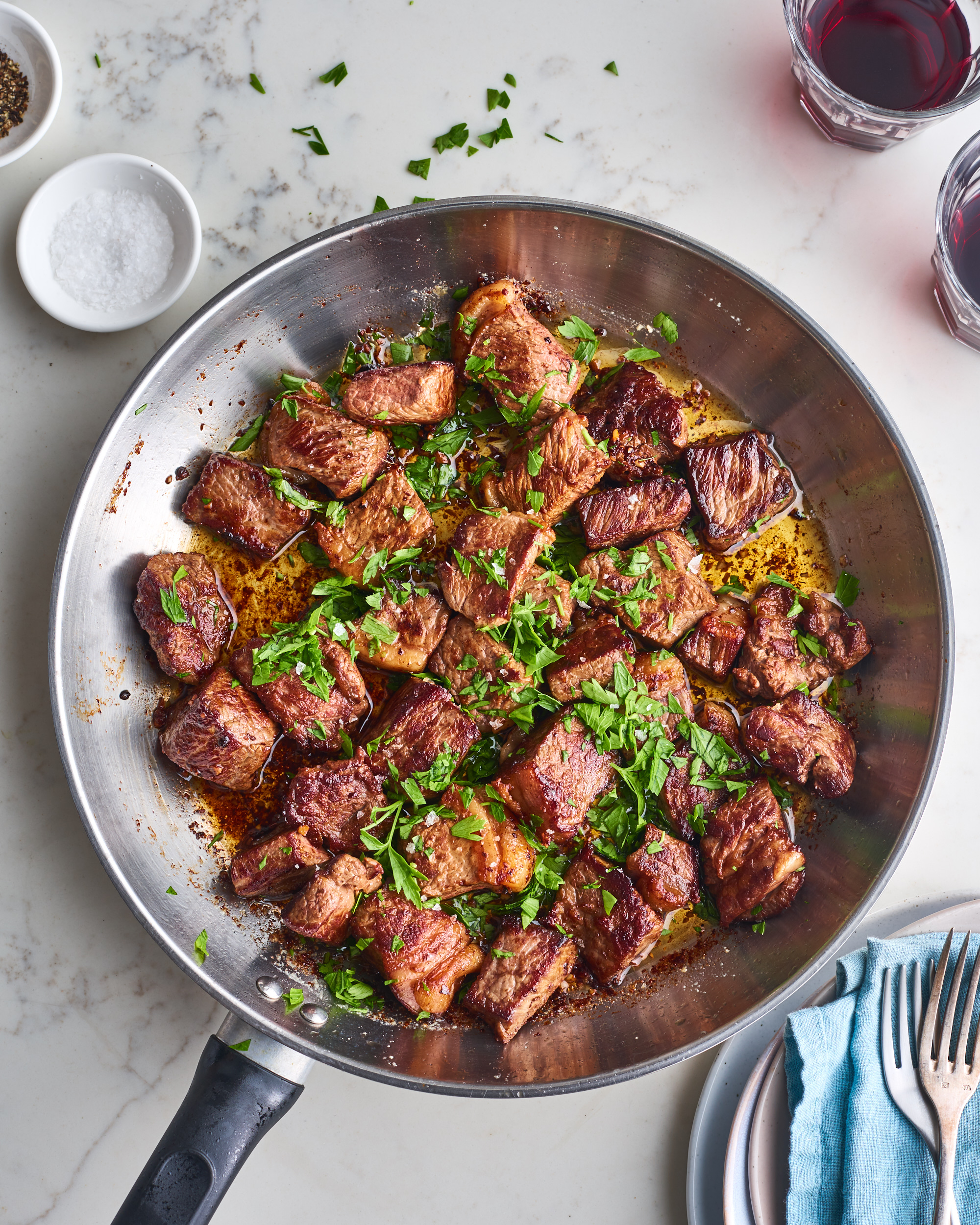 Garlic Butter Steak Bites
Serves 2 to 4
4 cloves garlic
1/2 teaspoon freshly ground black pepper
1/4 cup chopped fresh parsley leaves
2 pounds thick-cut New York strip steaks
1/2 teaspoon kosher salt
8 tablespoons (1 stick) unsalted butter
1. Mince 4 garlic cloves. Transfer to a bowl and add 1/2 teaspoon black pepper. Chop until you have 1/4 cup fresh parsley leaves, then transfer to a small bowl. Cut 2 pounds New York strip steak into 1-inch cubes, then season them with 1/2 teaspoon kosher salt.
2. Melt 8 tablespoons (1 stick) unsalted butter in a large skillet over medium-high heat. Add the steak cubes and sear until browned, flipping them halfway through, 6 to 8 minutes total. Add the garlic and pepper and cook for 1 minute more. Remove from the heat and garnish with the parsley.
Recipe notes: Leftovers can be refrigerated in an airtight container up to four days.
This article is written by Meghan Splawn, TheKitchn.com from The Kitchn and was legally licensed via the Tribune Content Agency through the Industry Dive publisher network. Please direct all licensing questions to legal@industrydive.com.