As someone who consumes far too much muesli with yogurt, it's not surprising that bircher muesli (or "overnight oats," as it has popularly become known) is also a favorite of mine. Overnight oats are incredibly easy to make ahead of time, and they're perfect for on-the-go breakfasts.
This particular recipe is a fun variation on my usual overnight oats. It takes a bit of extra time to make the crumbly streusel topping, but it's definitely worth it. Dessert for breakfast? Oh, yes.
You don't need to cook the oats at all for this recipe. Just layer your dry ingredients in a jar, pour the liquid ingredients over top, shake and chill. Overnight, the oats absorb the liquid and soften, while the dried fruit becomes plump. I love mixing coconut yogurt into the oats, as it adds flavor and extra creaminess that overnight oats can lack when made with just milk.
The exciting part (for me, at least!) comes with the crumbly "pie crust" topping. It's caramelized and crispy, so it's a great pairing with the soft oats beneath. I find one spoonful of topping is just about right for me, so this recipe will stretch to last for several servings -- which means at least four easy breakfasts, ready to go. If you feel like the topping is too sweet for breakfast or if you simply don't want the hassle of making it, feel free to leave it out altogether or just sprinkle your favorite granola over top instead.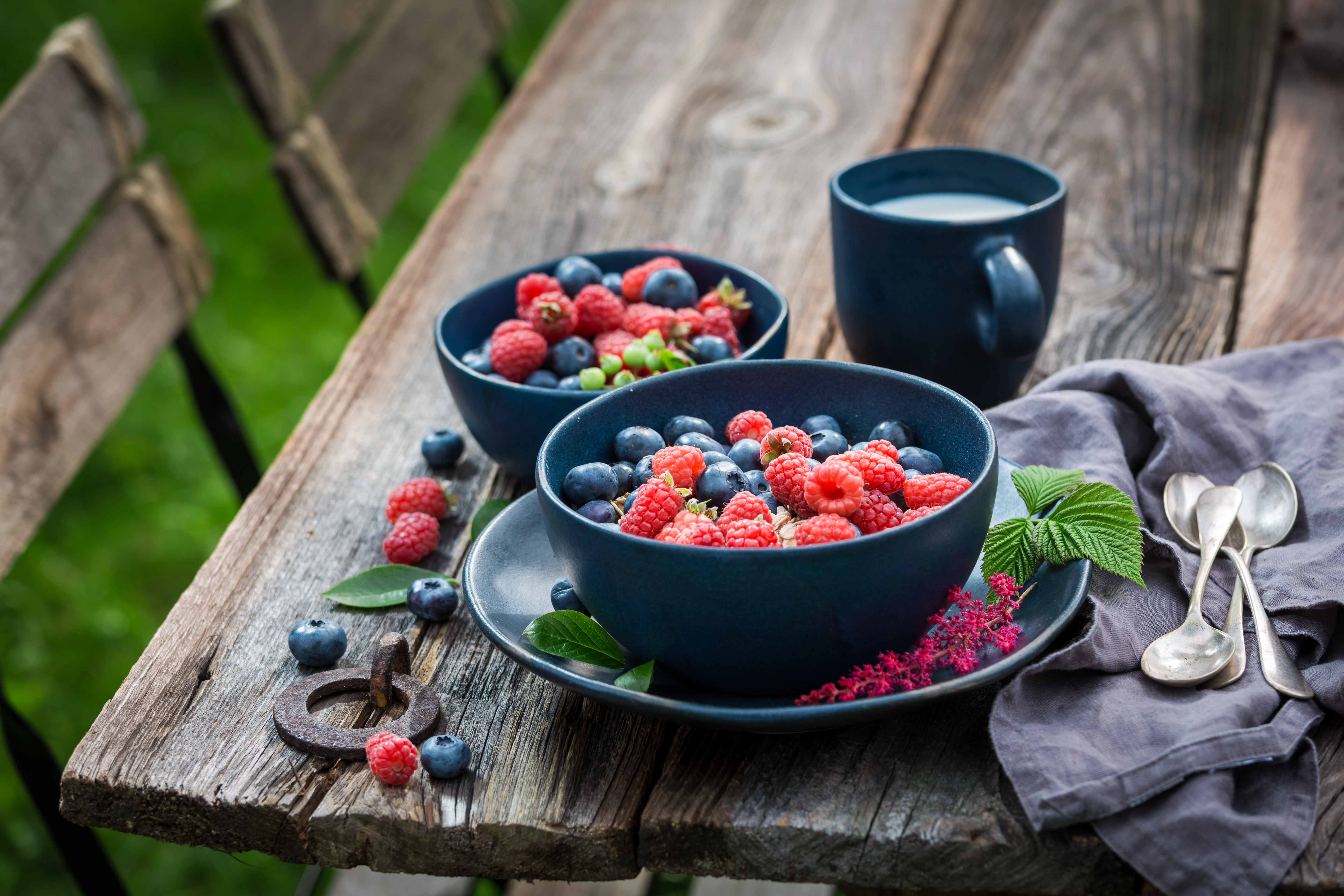 Blueberry Pie Overnight Oats
Serves 4
For the "pie crust" topping:
2 tablespoons old-fashioned rolled oats
1 tablespoon rice flour or all-purpose flour
1 tablespoon raw sugar
1/4 teaspoon ground cinnamon
1 tablespoon coconut oil, at room temperature but not liquid
For the overnight oats:
2 cups old-fashioned rolled oats
2 teaspoons chia seeds
1/3 cup dried, fresh, or frozen blueberries
1/2 teaspoon vanilla extract
1 1/2 cups almond milk or non-dairy milk
1 cup coconut yogurt, homemade or store-bought
To serve (optional): Blueberry jam, fresh or frozen blueberries, and extra coconut yogurt
To make the pie crust topping: Arrange a rack in the middle of the oven and heat to 350 F. Line a rimmed baking sheet with parchment paper.
Place all of the dry pie crust topping ingredients in a small bowl. Rub the coconut oil into the other ingredients using your fingertips. Pour the mixture onto the baking sheet and spread into an even layer. Bake for 5 minutes. Stir the mixture, then return to the oven and bake for 2 minutes more. Set aside to cool completely on the baking sheet before transferring to an airtight container.
To make the overnight oats: Divide the oats, chia seeds, blueberries, vanilla, almond milk and coconut yogurt between four jars or other containers with lids. Screw on the lids and shake well until combined. Refrigerate overnight or for up to four days.
In the morning, stir the oats, then swirl in any extra toppings, if desired. Sprinkle the pie crust topping over top just before eating. Eat while still cold!
Recipe notes: If you can tolerate wheat, then you can use all-purpose flour in the topping instead of rice flour. If you don't have time to make the topping, use granola instead. The overnight oats can be stored in the refrigerator for up to four days.
This article is written by Izy Hossack from The Kitchn and was legally licensed via the Tribune Content Agency through the NewsCred publisher network. Please direct all licensing questions to legal@newscred.com.