I am not personally vegan, but I have a Thing (with a capital "T") for ice cream made with coconut milk. I think it's so dreamy and makes such a perfect base for fresh fruit or chocolate and nuts. So, in short, it's great with everything.
The only thing to know about coconut milk-based ice creams is that you want to go with full-fat coconut milk (avoid the "lite" options, and read the labels carefully). Avoid a product called coconut cream, as it's really not the same thing.
I opted to sweeten the ice cream with agave to make it 100 percent vegan. I tend to choose honey over agave at home, usually because I find the sweetness of agave to be a bit too strong and forward, but in this recipe the creamy coconut milk seems to temper it.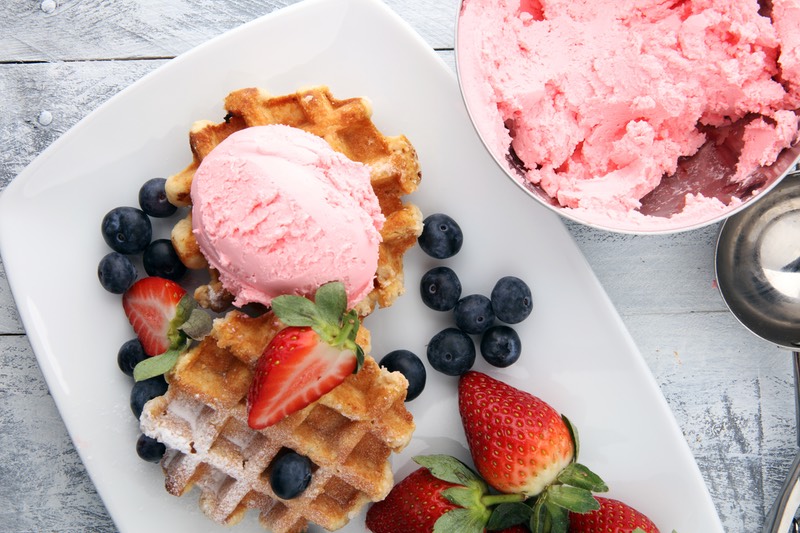 As for the strawberries, the one thing I can't stand with many homemade strawberry ice creams are the chunks of strawberry that inevitably become frozen little pebbles and completely lose any berry flavor. I wanted to avoid that here, so I decided to cook down a strawberry sauce to stream in instead of folding in chunks of whole berries.
The strawberry sauce couldn't be simpler: I quartered 2 cups of berries and cooked them down for about 5 minutes with some natural sugar (I used Zulka brand pure cane sugar, which I've been kind of into lately for baking and adding to coffee and tea -- it's very minimally processed). I let that cool, and slowly streamed it into the ice cream base at the very end.
When I make this again, I'll reserve 1/4 cup of the strawberry sauce and swirl it directly into the finished ice cream instead of processing the whole batch in the ice cream maker. That way, it'll be even more visually swirled and vibrant. And I have to say, some graham cracker bits would be mighty nice here, as might some chocolate chips (or vegan chocolate chips).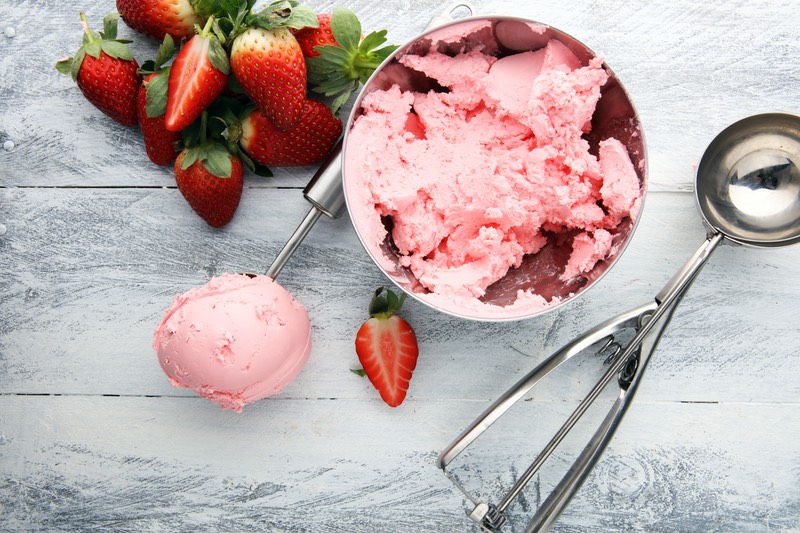 Vegan Strawberry Swirl Ice Cream
Serves 4
2 (15-ounce) cans full-fat coconut milk
1/2 cup agave nectar
1/4 teaspoon kosher salt
2 tablespoons cornstarch
1 vanilla bean, split
1 dry pint (2 cups) strawberries, hulled and quartered
1/4 cup natural cane sugar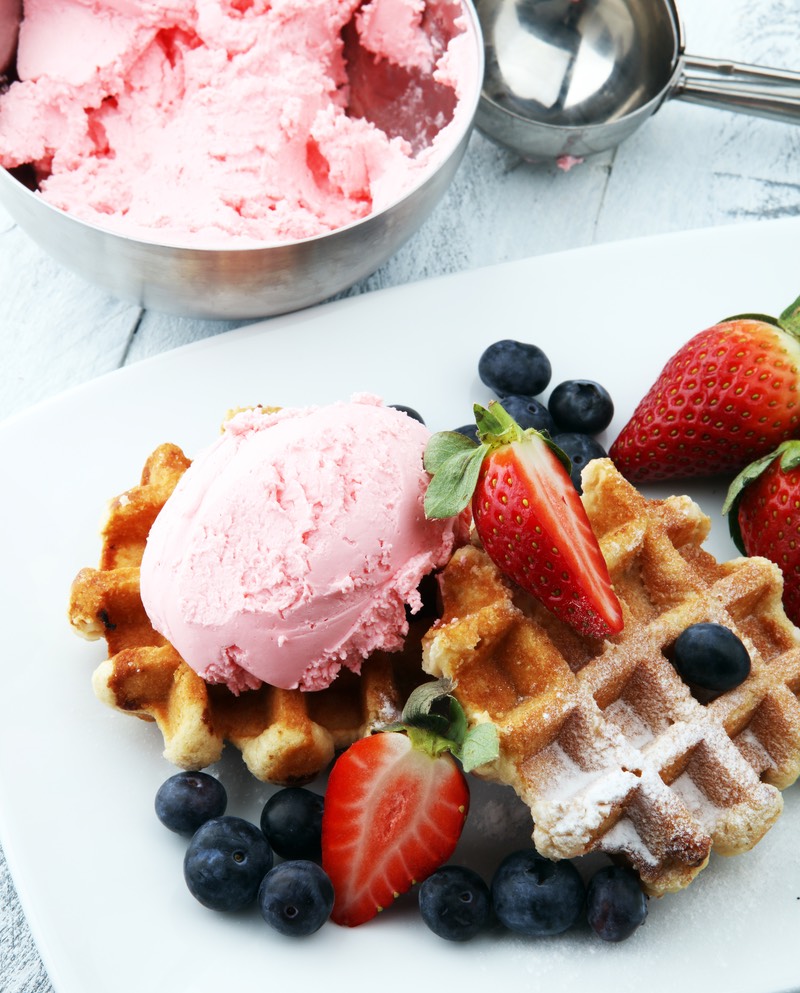 Shake the cans of coconut milk thoroughly before opening. Scoop out 1/2 cup of coconut milk and set it aside. Combine the remaining coconut milk, agave and salt in a saucepan. Bring to a simmer over medium-low heat until all of the ingredients combine smoothly and the mixture is uniformly warmed, about 2 minutes.
In a small bowl, whisk remaining 1/2 cup coconut milk with the cornstarch until well-combined. Stir into the warm coconut milk base. Scrape the vanilla bean into the mixture and slip in the pod as well. Cook over medium heat until the mixture has thickened enough to coat the back of a spoon, 6 to 8 minutes. Do not to allow the mixture to boil.
Remove from the heat, discard the vanilla bean pod and pour the coconut base into a separate bowl. Cool on the counter for 30 minutes, then cover with plastic wrap and chill in the refrigerator for 4 to 5 hours -- you need the base to be very cold before you process it in the ice cream machine.
While the base is cooling, make the strawberry sauce: Mash the strawberries down in a medium saucepan, sprinkle in the sugar and bring to a low boil. Reduce the heat to simmer and cook for about 5 minutes, or until the berries start to lose their shape and become juicy. Remove from the heat, transfer to a bowl and cool on the counter for 30 minutes. Once they're slightly cool, blend in a food processor or blender, or with an immersion blender, for just a few seconds until a thick sauce forms. Set aside.
Churn the coconut ice cream base in your ice cream machine following the manufacturer's instructions. When thickened to a soft-serve ice cream consistency, slowly ladle the strawberry sauce into the ice cream maker as it runs so the sauce gets incorporated into the ice cream base. Spread the ice cream into a large loaf pan (or pie pan) and freeze overnight until the ice cream has firmed up completely.
Recipe notes: While I haven't tested it myself, I have heard that people have had success with tapioca starch or arrowroot starch in place of the cornstarch for a recipe like this.
Coconut milk separates into a fatty layer and a thin watery layer in the can. Before using it, recombine these layers by shaking the cans thoroughly before opening. You can also chill the coconut milk in the fridge for a few hours.
You need to chill your base for a good 4 to 5 hours to cool it down completely before pouring it into your ice cream machine -- so plan accordingly.
(Megan Gordon is a writer for TheKitchn.com, a nationally known blog for people who love food and home cooking. Submit any comments or questions to editorial@thekitchn.com.)
This article is written by Megan Gordon from The Kitchn and was legally licensed via the Tribune Content Agency through the NewsCred publisher network. Please direct all licensing questions to legal@newscred.com.