Flavor Profile
Mustard seed is a playful spice—something that will make most any dish more interesting. Its fresh, clean aroma and sharp, tangy flavor are perfect for cutting through rich ingredients like beef and butter sauce. We love to throw it into a beef or chicken braise with wine. It's also a must-have for making pickles and relishes. But mustard seed works equally well to kick up the flavor of mild ingredients such as potatoes, legumes, chicken and seafood. Add it to the dressing for potato, cucumber or chicken salad. Use it in rubs, marinades and sauces, and include it in curries and bean dishes. Get creative!
Usage
Picture the yellow squiggle of ballpark mustard on your favorite hot dog. You can thank mustard seed for its sharp, tangy flavor. Mustard comes in many forms—Dijon, whole grain, honeyed, hot—but it all begins with mustard seed.
Mustard seed is essential for sharp, zingy flavor in anything pickled—dill, sweet or bread and butter pickles, corn relish, green tomato relish, pickled green beans or cauliflower. We love it in homemade chutney, too!
Any spice blend, rub or marinade is a good home for mustard seed. Try grinding it with cumin seed, oregano and garlic as a rub for roast beef. We like to toast the mustard and cumin seeds lightly in a dry frying pan to mellow their flavor before adding them to the mix.
Perfect Partners
Starchy vegetables and legumes love the friendly kick of mustard seed. Include it in German or American potato salad, potato and salmon frittata, Indian red lentils, "cowboy" baked beans and roasted chickpeas with onion and tomato. Mustard seed makes it easy to amp up everyday chicken and fish. Toast the seeds and sprinkle them on broiled fish, together with parsley flakes and a splash of lemon juice and olive oil. We throw mustard seed in the pan when we're braising chicken with white wine and garlic. The aroma alone is divine!
Indian cooks cherish mustard seed for the tang it lends to curries, chutneys and legumes. Curries are especially fun to play with. Start with McCormick curry powder and add mustard, cumin and coriander seeds for extra flavor. Use in any recipe that calls for curry powder.
Substitutes
Q: If I don't have mustard seed on hand, what makes a good substitute?
A: A good substitute depends on what you're using the mustard seed for. If it's to flavor a sauce or salad dressing, use prepared whole grain mustard. One tablespoon equals one teaspoon of mustard seed. Ground mustard is also a possibility, but it has a hotter flavor than mustard seed. Start with a pinch and taste as you go. Ground mustard will work for pickling as well as sauces.
History/Fun Facts
It's strange to think that mustard seed is the largest selling spice in the world, second only to pepper in terms of its commercial value. But once you start looking at ingredient lists for pickles, chutneys, condiments, sauces and spice blends, you'll see how often mustard seed is in the mix. Move on to prepared mustard with its many styles and flavors, and mustard seed's dominance makes even more sense.
Popular Recipe Recommendations
Apple Sage Chutney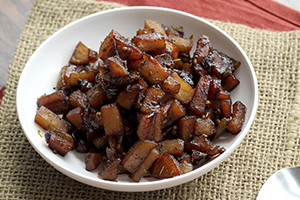 Refrigerator Dill Pickle Slices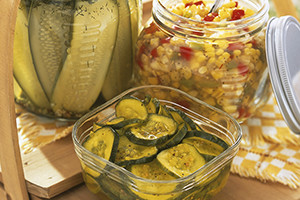 Classic Potato Salad