This time of year, it feels like it's our duty to squeeze winter squash into every corner of our diet, whether it's on pizza or salad, or even in dessert. Here's the best way to get your fill of squash with your pasta: Turn it into a decadent sauce, rich with cream and kissed with nutmeg.
May I introduce you to butternut squash Alfredo?
Rich and creamy fettuccine Alfredo is a fan favorite for good reason, but that doesn't mean you shouldn't play with the classic a bit. Here roasted butternut squash is pureed with cream and Parmesan cheese to create a velvety Alfredo sauce that coats every inch of the al dente pasta.
The squash, along with the garlic that's roasted alongside it, lends a nutty, earthy quality to the sauce that gives it the depth that's often lacking in the classic. It's finished with a sprinkle of chopped parsley before serving, which adds just a touch of freshness to the bowl of comfort. This is one pasta you'll most definitely find yourself craving all season long.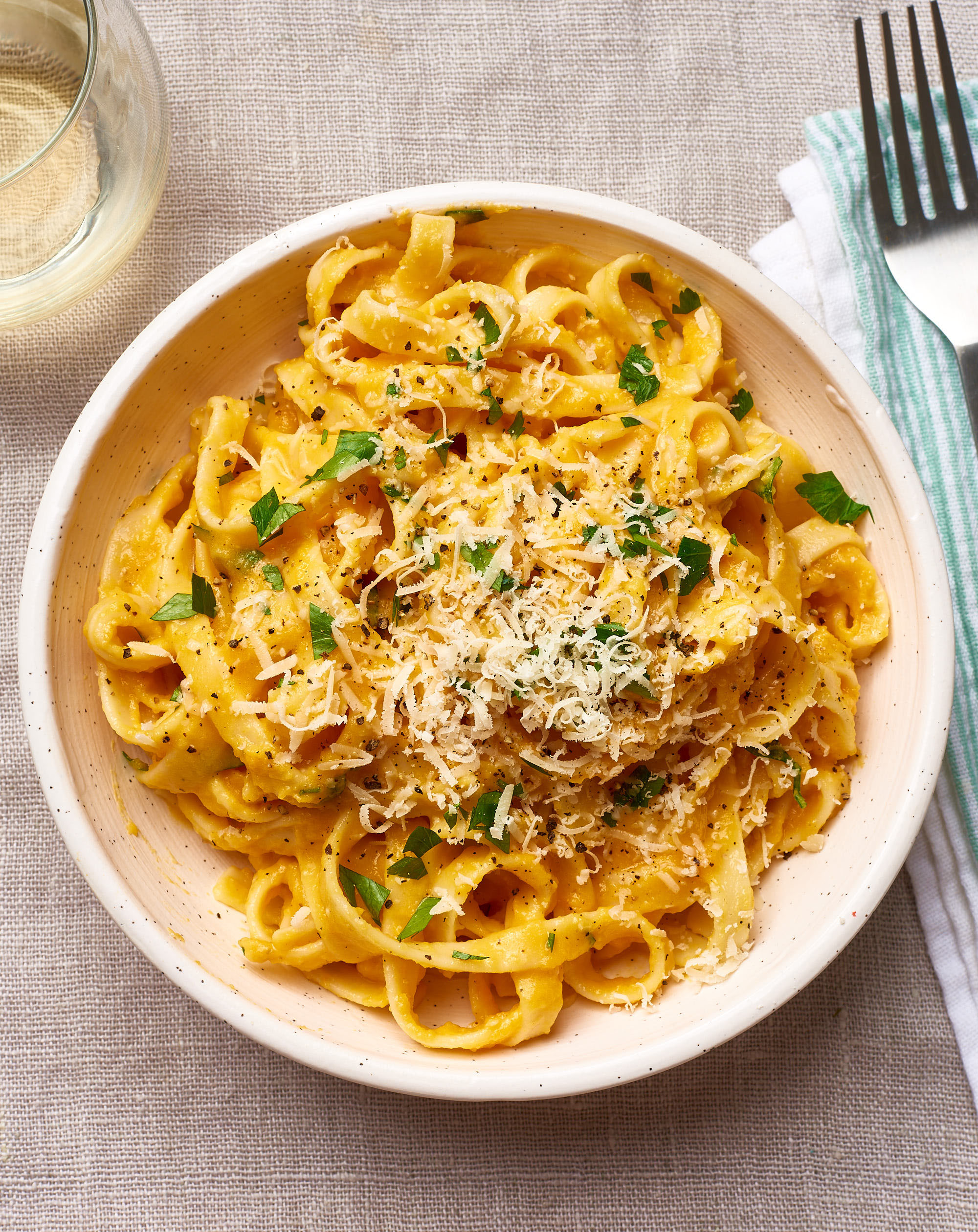 Butternut Squash Fettuccine Alfredo
Serves 6
3 cups (1-inch) cubed butternut squash (about 1 1/4 pounds)
3 cloves garlic, smashed
1 1/2 tablespoons olive oil
1 teaspoon kosher salt, divided
1/4 teaspoon freshly ground black pepper
3/4 cup heavy cream
1/2 cup low-sodium chicken or vegetable broth
1/2 cup grated Parmesan cheese, plus more for serving
Pinch ground nutmeg
1 pound dry fettuccine
2 tablespoons finely chopped fresh parsley leaves
Arrange a rack in the middle of the oven and heat to 425 F.
Toss the cubed squash with the garlic and olive oil in a large bowl and season with 1/2 teaspoon of the salt and the pepper. Transfer the mixture to a rimmed baking sheet, and spread into a single layer. Roast until tender and caramelized, about 30 minutes, stirring once halfway through.
Remove the squash from the oven, and let it cool for 10 minutes. Transfer the squash and garlic to a blender or food processor. Add the remaining salt, cream, broth, cheese and nutmeg, and process continuously until smooth, about 1 minute.
Meanwhile, bring a large pot of salted water to a boil. Add the fettuccine, and cook until al dente, about 10 minutes or according to package instructions. Reserve 1/2 cup of the pasta water, then drain the pasta. Return the pasta to the pot.
Add the Alfredo sauce, and toss with the pasta over low heat. If needed, add some of the reserved pasta water, tablespoon by tablespoon, to loosen the pasta and evenly coat it with the sauce. Sprinkle with the parsley and more Parmesan, and serve immediately.
Recipe notes: Leftovers can be stored in an airtight container in the refrigerator for up to three days.
This article is written by Sheila Prakash from The Kitchn and was legally licensed via the Tribune Content Agency through the NewsCred publisher network. Please direct all licensing questions to legal@newscred.com.